Dr. Chastine, who chose to follow Dr. Tiller's legacy, wants to answer your questions. Ask here.
WICHITA, Kansas -- It's not easy to fill a job when the last person to hold it was murdered. But just over a year ago, that was what Julie Burkhart decided she had to do.
Murder was only the final act of violence committed against Dr. George Tiller, the abortion provider here, and his clinic, five years ago this week. By 2009, when anti-abortion activist Scott Roeder shot Tiller in the head during services at Tiller's church, the doctor had already been shot in both arms -- he continued performing abortions the next day -- and his clinic had been bombed. Abortion opponents had blockaded his clinic repeatedly, and they had gone through the legal and political system (which had its own abuses).
"I was not willing to allow that terrorism to succeed … The people who are harmed by that are the women of Kansas."'
"His is the only abortion clinic we've never been able to close," Troy Newman, president of Operation Rescue, told The New York Times after Tiller's death. 
Roeder, who is serving life in prison for the May 31, 2009 murder, succeeded where others failed. But that wasn't the end of the story. 
Burkhart, who had run Tiller's political action committee, told msnbc recently that after her mourning her boss, she wondered whether it was time to move onto something else: "I don't know. Landscaping or something."
But with Tiller's clinic shuttered, women in the Wichita area were being forced to travel for hundreds of miles – from three to six hours each way -- to end their pregnancies. It would be her task, Burkhart decided, to reopen in Tiller's former clinic.
"This work is important to us because we believe people deserve equality. They deserve good health care. They deserve justice," said Burkhart. "And how can we say that we're really free in the United States of America if some people have this, and some people don't, and if it's determined by where you live?" 
She couldn't do it without a doctor. While Tiller was Wichita-born and bred, and had taken over his father's local practice, it became clear Burkhart would have to look outside the city for a doctor to resume Tiller's work. 
Not all of his work – Tiller was best-known for his later abortion practice, but since his death, Kansas has passed a law banning abortions past 20 weeks. The complex work of second trimester abortions has been taken up in other states, by doctors who had worked with Tiller. Still, the vast majority of abortions take place in the first trimester.
The new doctor would have to weather threats like the jailhouse phone call put on YouTube by anti-abortion activist David Leach last year, where he and Roeder discussed the clinic's reopening. "If someone would shoot the new abortionist like Scott shot George Tiller…hardly anyone would appreciate it, but the babies," Leach says on the recording.
Reopening the clinic, Leach added, "is not the act of someone who values their own safety. It is a gauntlet thrown down, by someone who wants a fight." Roeder calls Burkhart "Julie Darkheart," and says, "I think eight have been shot, so we've got 92 to go. Maybe she'll be number nine. I don't know, but she's kind of painting a target on her."
Leach later denied making a threat. "That's not exactly a call for that to happen," he told the Des Moines Register. 
The next generation
Dr. Cheryl Chastine, a 32-year-old Chicago-based practitioner of family medicine, thought she knew the risks. When she added her name to a network of abortion providers willing to travel, "I felt a sinking feeling when the first place that I heard from was Wichita," she told msnbc in an exclusive interview. But she remembered the words from her involvement with Medical Students for Choice. "The question is, if not you, then who? I didn't have a good answer for that."
She wouldn't let what had happened to Tiller stop her, Chastine said. "I felt that killing an abortion provider is an act of terrorism," she said, "And I was not willing to allow that terrorism to succeed ... The people who are harmed by that are the women of Kansas."
Chastine had hoped to keep her life in Chicago and travel in relative anonymity to Wichita, maybe once a month. But a call from an Operation Rescue activist purporting to be a journalist who exposed her name and face on the internet disabused her of that.
"I had a sense that I had just been forcibly moved to the forefront of the abortion battle in America in a way that I hadn't been counting on," Chastine says now, "but that could not now be undone."
It would cost her, both personally and professionally. After her cover was blown, dozens of protesters bearing graphic signs showed up outside her family practice in Chicago and inundated her and her associates with calls and emails. That led to the loss of their lease and the end of her relationship with her business partner. Two job offers disappeared, Chastine said, because potential employers feared the same kind of disturbances. People close to her stopped speaking to her, though her husband is supportive. She received a letter at her home from an abortion opponent, which she took as a message that they know where she lives.
These days, having given up on finding another job, Chastine has devoted herself even more fully to Wichita, making weekly trips and serving as medical director at Burkhart's South Wind Women's Center. "The harder people have tried to stop me from doing this work, the more important is to me that I continue to do it," she said.
She has to keep her movements secret, and out of concern for her safety, won't show her face in msnbc's video. The protesters only have one photo of her. And because Chastine is young and many young women work at or are patients at the clinic, they often accost the wrong person.
Dr. Chastine is answering your questions in the comment thread of this article. Click here to join the conversation.
A job like no other
The five years since Tiller's murder have seen a drastically altered political landscape when it comes to abortion access.  
Roeder took up his gun just after President Barack Obama was inaugurated, which is part of a pattern. "Many of the killings of abortion providers have taken place under Democratic presidents," said Carole Joffe, a professor at the University of California and author of "Dispatches from the Abortion Wars: The Costs of Fanaticism to Doctors, Patients, and the Rest of Us." That may be because extreme elements of the movement have given up their political hopes, Joffe said. 
But a Democratic president is no guarantee of universal access to reproductive rights – not with most of the action to restrict it taking place at the state level. 
"I thought that Tiller was going to be the start of a whole outpouring of terrorism," Joffe said. "And there are still are serious threats. But the legal and legislative assault has been so phenomenally effective that, to paraphrase the old Woody Guthrie song, they are shutting them down with fountain pens, they don't need shotguns."
Six states -- including Oklahoma this week -- have enacted medically unnecessary requirements that abortion providers have admitting privileges at local hospitals, which in Texas has already closed at least one-third of the state's clinics.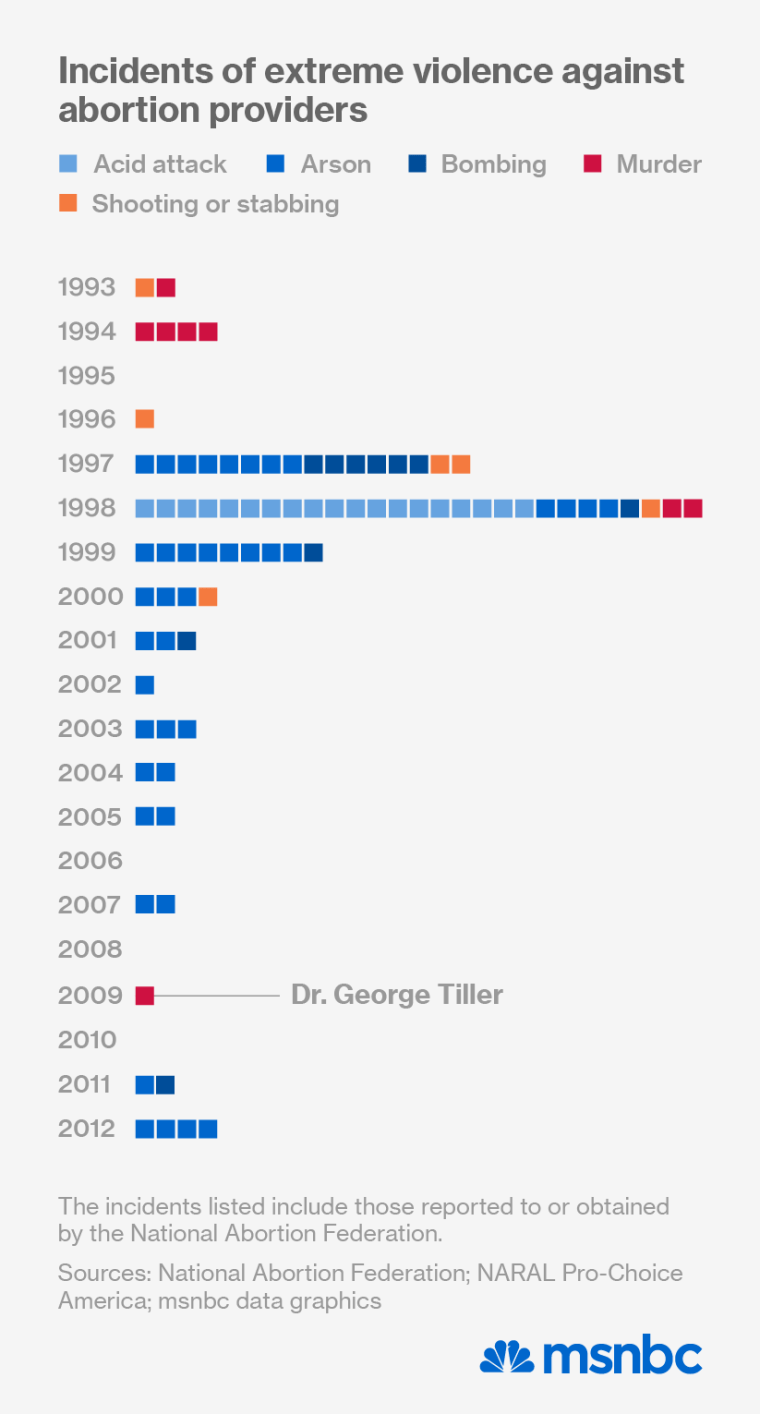 "Just because there hasn't been a murder in the last five years doesn't mean providers aren't being targeted in a daily way," said David S. Cohen, a professor at Drexel University School of Law and co-author of a forthcoming book about abortion providers. "And they aren't just being harassed in Wichita and Pensacola," where abortion provider Dr. David Gunn was murdered in 1993, Cohen said, "they're being harassed all over the country." 
After Tiller was killed, most anti-abortion activists condemned violence against providers and some openly worried it would hurt their movement. While Burkhart pursued a restraining order against the man who put a sign on her lawn asking, "Where's your church?" a reference to where her former boss was killed, most of the messages she and Chastine have received are more subtle.
The doctors who still choose to provide abortions and accept such disruption to their lives are largely motivated by their commitment to the cause. Said Chastine, "I feel a sense of enormous responsibility to do my best to carry on the legacy of someone who helped so many women and girls when no one else would help them." 
Chastine isn't the only young doctor to feel this way. "If there's a bright spot, it's that the younger generation gets it," said Dr. Nancy Stanwood, board chair of Physicians for Reproductive Health and a professor at Yale School of Medicine. "I see a new generation of people that is ready, willing, and becoming able to provide this service." 
That's not the only bright spot. South Wind Women's Center actually plans to expand, to Oklahoma City and possibly beyond. (Chastine will apply for local admitting privilege.) In April, Burkhart threw a first-anniversary party in a tent in clinic's parking lot, and msnbc was there with her. It might seem strange to have a party at an abortion clinic. But for the people who have taken up Tiller's legacy, it was an announcement that they were tired of fear, and that they were open to the community they serve.
Watch the msnbc original on Julie Burkhart and meet the people carrying on Dr. Tiller's legacy in Wichita: Dr. Cheryl Chastine, security guard Carl Swinney, executive  assistant Sara Love. Irin Carmon and Jon Groat produced the videos. Groat produced, shot, and edited the series.
Questions? Dr. Chastine is taking them. Get started here.