Updated at 10:00 p.m. ET, Tuesday -- Matthew Kimball walked away from the Boy Scouts in 2005.
Since he was gay, Kimball knew that his sexual orientation would be at odds with the Boy Scouts of America's policy banning gay Scouts and leaders. Kimball was both: an Eagle Scout and an assistant Scoutmaster.
---
Kimball had not revealed his sexual orientation during his Scouting years. But he decided, like a number of other gay Scouts, that he could no longer stay publicly quiet about the organization's membership policy after learning that Ryan Andresen, a teen from his own Troop 212 in Moraga, Calif., had been denied the Eagle rank last week because he is gay.
"My immediate reaction was frustration with myself, because I felt if I had done what this kid did … he wouldn't have to be going through this, hopefully," said Kimball, referring to Andresen's coming out in July to his troop in a letter.
Kimball has called on other Eagle Scouts to give their pins to Andresen after the teen's story emerged last week. "I never thought I'd ever come out in an explicit way ever," Kimball, who was leaving Scouting as Andresen was joining the troop, told NBC News late Monday. "But I just felt like I had to."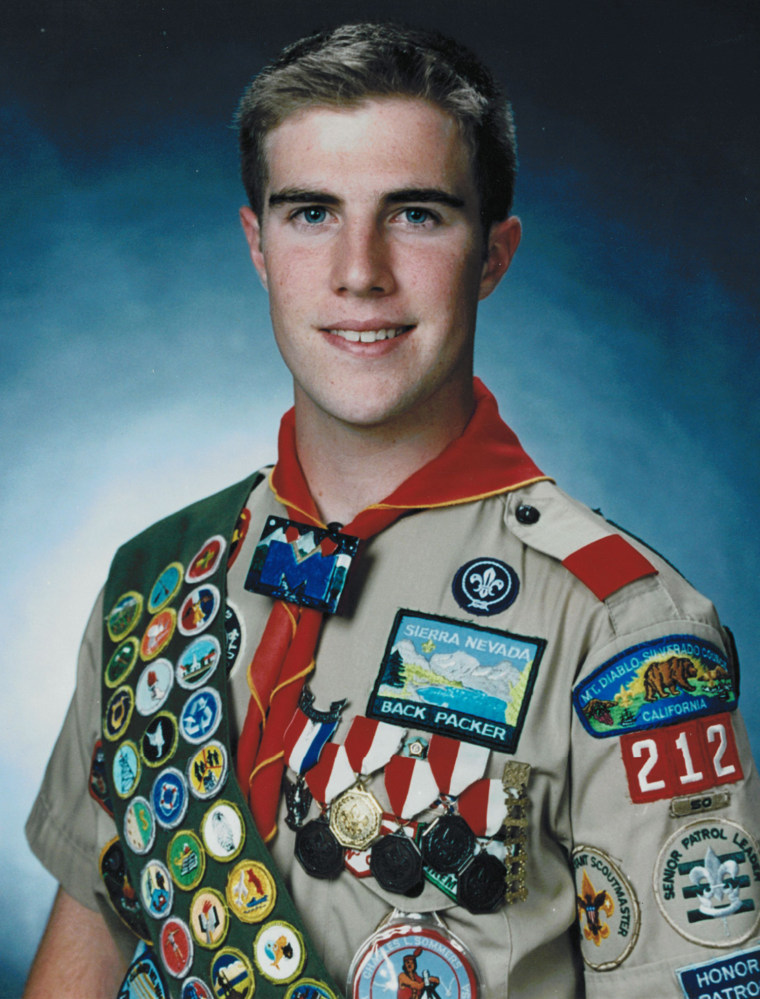 Andresen, 18, had completed the requirements to earn the Scouts' highest honor, but his Scoutmaster would not sign off on the award because he is gay, his mother said. The Scoutmaster has not replied to emails or a phone call seeking comment.
Kimball, a technology entrepreneur in San Francisco, said he has received up to 170 pledges of pins from Eagle Scouts, including about 48 from Troop 212 alumni. Scouts for Equality said last week that some 300 Eagle Scouts had returned their regalia in protest to the Boy Scouts since the organization announced in July that it had re-affirmed its membership policy after a confidential, two-year review.
But many other Eagle Scouts have said they agreed with the policy.
"The BSA's stance on this policy, along with the policy that you must subscribe to a belief in a higher being have both come under attack over the past few years," Scott Prater, a 45-year-old unit commissioner in the Chattahoochee District for the Boy Scouts' Northeast Georgia Council, said last week in an email to NBC News. "Anyone who desires to sign up as a member, either as a boy, or as an adult, must read and sign a statement to the fact that they understand and agree to abide by those principles. If you knowingly sign that you agree to those principles and have no intent on abiding by the rules, then you shouldn't expect to get special consideration."
A spokesman for the Boy Scouts of America, Deron Smith, said 50,000 Scouts earn the Eagle rank every year, and in August noted that a "few" had returned their medals, badges or certificates since the membership policy announcement. On Tuesday, he said he didn't have an update on numbers of regalia returned, but noted such items were either kept at the national office or stored in the National Scouting Museum. He also said Scouting ranks, such as the Eagle Scout, represent a past achievement and the BSA did not revoke them once they were awarded.
Most of the Scouts pledging their pins were heterosexual, Kimball said, though a number of gay Eagle Scouts made similar offers in emails sent to NBC News since hearing of Andresen's story. One of those was Eric-Richard de Lora, an adviser to the Gay-Lesbian Union that Andresen and others founded at his high school in Berkeley, Calif., this fall.
De Lora, 53, said he considered returning his Eagle in 1997 after coming out but felt strongly that he had earned it and decided to keep it. He also thought about returning it in 2000, when the U.S. Supreme Court sided with the Boy Scouts on the anti-gay membership policy.
"Ultimately I held on to the award believing that it might someday serve a useful purpose," said de Lora, a teacher at Maybeck High School.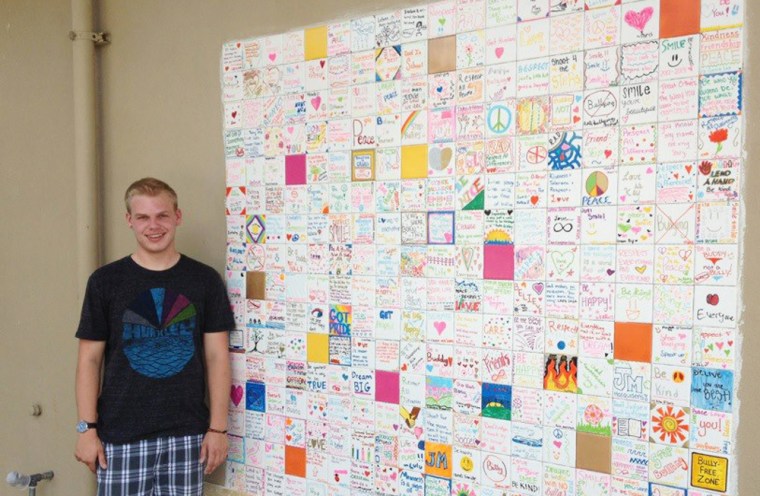 That day appeared to come after Andresen informed de Lora last Monday about what was happening with his Eagle bid. Andresen, de Lora wrote, had completed the requirements for the Eagle, including building a "tolerance wall" for victims of bullying such as himself.
"This week I have finally decided that the best use of my award, short of giving it to Ryan, would be to donate it to the GLBT Historical Society in San Francisco," he wrote in an email to NBC News. " … it seems the right place for both a tribute to homosexual Scouts and all that they have endured."
Almost-Eagle Scout denied award because he is gayEagle Scouts return badges to protest policy banning gaysBoy Scouts: We're keeping policy banning gaysBoy Scouts review controversial anti-gay policyGay mom upset after dismissal by Boy Scouts
Another gay Eagle Scout, Robert Goris-Kolb, a 25-year-old pharmacist from Grand Island, N.Y., said his husband had been pushing him to return his badge after the BSA announced it was sticking with the membership policy.
"Unlike Ryan, at the time I earned my Eagle Scout badge I was not out of the closet, and did not have to face the indefensible discrimination he is currently confronted with," he wrote. Media reports on Andresen have "finally pushed me over the edge and I can no longer stay on the sidelines of this tragedy. Instead of returning my award to the BSA however, I would like to send it to Ryan, so that if he does not win his fight against this organization, he may in one way be granted what he has rightfully earned."
Karen Andresen, who had started an online petition calling for her son to get his Eagle rank, said the Scoutmaster knew about her son's sexual orientation and that Ryan was led to believe he would nonetheless get the award.
But Boys Scouts spokesman Smith said Andresen was no longer eligible for membership in Scouting because he did not meet the membership standard on sexual orientation and he had informed his unit leadership that he did not agree to Scouting's principle of "Duty to God." The family disputed that, saying the only reason Andresen was denied the rank was "because the Boy Scouts of America has a problem with Ryan being gay."
Kimball, who knows Andresen's father, Eric, the troop's chief administrator, attended a troop meeting earlier this week on how to resolve Ryan's case. He said talks were under way on recognizing the teen's accomplishment while keeping the troop together amid the difficult time and some hard feelings.
"I want Ryan to be recognized. I want him to get an Eagle award even if it's mine," he said. "It's a physical symbol that encapsulates so many great memories and a really important time in our lives … it's difficult to let go of, but for me, I knew that it would be a positive thing."
If you are a current or former member of the Boy Scouts and would like to share your thoughts on the membership policy, you can email the reporter at miranda.leitsinger@msnbc.com