The first time William Smith Jr. and James Yates walked into the Rowan County Clerk's office in northeast Kentucky, they were scared to ask for a marriage license. "We had no idea how they would be treating people in there," Yates told reporters outside the clerk's office on Thursday.
The second time they tried, the couple was hopeful but more prepared for rejection.
By the third time, however -- one day after a federal appeals court cleared the way for same-sex couples to begin receiving marriage licenses in Rowan County, and two months after the nation's highest court made marriage equality the law of the land -- the couple knew they'd be waiting a while longer to wed.
"They don't care about it being legal," Yates said Thursday after being denied a marriage license for the third time. "It's just purely, they don't like gays, they don't want them to get married. And they will burn the Earth and not let straight people in Rowan County get married either."
RELATED: Kentucky county clerk must issue marriage licenses: appeals court
Since June, when the U.S. Supreme Court found same-sex marriage bans unconstitutional, Rowan County Clerk Kim Davis has turned away every couple -- gay or straight -- who has come to her office seeking a marriage license. An Apostolic Christian, Davis believes issuing marriage licenses to same-sex couples violates her religious beliefs. So instead she's decided to shut down the marriage licensing department of her office all together.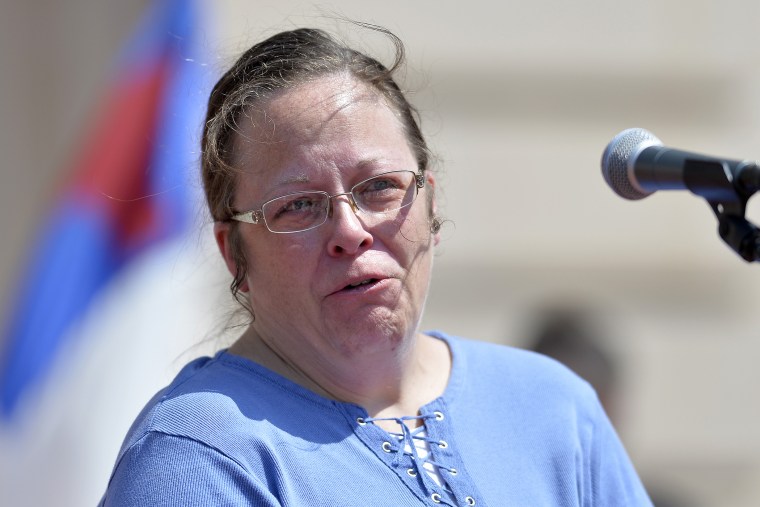 So far, Davis' argument has had little success in court. On Aug. 12, U.S. District Judge David L. Bunning, a George W. Bush appointee, ordered Davis to resume issuing marriage licenses. Davis, he wrote, is "free to believe that marriage is a union between one man and one woman, as many Americans do. However, her religious convictions cannot excuse her from performing the duties that she took an oath to perform as Rowan County clerk." Bunning later issued a temporary stay that delayed the effects of his order until the end of the month, or until the 6th Circuit Court of Appeals could decide whether to intervene.
On Wednesday, the 6th Circuit -- the only federal appeals court to rule against same-sex couples in the last nine years -- denied Davis' request for a stay. That meant gay and lesbian couples could begin receiving marriage licenses in Rowan County immediately. But as of Friday, Davis was still refusing.
Her attorney, the Liberty Counsel's Roger Gannam, said Bunning's original stay would remain in effect until Aug. 31. Gannam told msnbc he had filed a request for a longer stay with the U.S. Supreme Court on Friday afternoon.
RELATED: Kentucky clerk Casey Davis ordered to comply with law on gay marriage
But the effort seems a doomed stall tactic, according to the American Civil Liberties Union, which sued Davis on behalf of several couples denied marriage licenses in Rowan County. Asked if the ACLU would try to find Davis in contempt of court for continuing to deny marriage license applications, the ACLU of Kentucky's Amber Duke told msnbc she "can't speak to that." But, Duke said, it was clear Bunning's stay was no longer in effect and that Davis has been required to issue marriage licenses to all couples since the 6th Circuit's decision earlier this week.
Smith and Yates, meanwhile, don't believe Aug. 31 or a Supreme Court order will bring any change to their situation. "They're ignoring this ruling," said Yates Thursday, "why would they follow the next one?"