MOREHEAD, Kentucky -- Cheers erupted outside the Rowan County clerk's office on Friday morning as William Smith Jr. and James Yates emerged with a newly-issued marriage license. It was the sixth time the couple had tried to get one, having been previously refused by deputies under Clerk of Court Kim Davis, who is currently in jail for defying a federal order that she issue the licenses.
Davis was held in contempt of court Thursday during a lengthy hearing in Ashland, Kentucky. U.S. District Judge David Bunning, who had in August ordered Davis to issue marriage licenses to all eligible applicants -- including same-sex couples -- dismissed her attorneys' arguments that her religious beliefs rendered her "factually unable" to issue marriage licenses to same-sex couples. She was taken into custody by federal marshals and is currently being held at the Carter County Detention Center. Davis' attorneys said Friday she planned appeal the contempt ruling. 
Mat Staver, one of Davis's lawyers, said during a press conference that she has no plans to resign. "She will continue to serve the people of Rowan County as she has done for so many years ... she is prepared for the consequences."
Staver said Davis was in good spirits, adding that she told her lawyers "all is well."
RELATED: Trump: Let Kim Davis' clerks issue licenses
Yates and Smith Jr. received their marriage license Friday from Brian Mason, one of five deputies under Davis who said Thursday he would comply with Bunning's order and issue marriage licenses. It's unclear whether those licenses would be valid if issued without Davis' authorization, but Bunning stressed he expected eligible couples to receive marriage licenses anyway.
As the couple walked out of the clerk's office, someone yelled: "They got it," setting off a chorus of competing cheers. About a couple dozen marriage equality supporters chanted, "Congrats Will and James," and "Love has won." On the other side of the clerk's office, meanwhile, an equal number of Davis supporters started hurling insults and biblical passages condemning homosexuality. At one point, Davis' supporters began chanting: "Jail Bunning."
Yates and Smith Jr., for their part, seemed entirely overwhelmed. Surrounded by cameras and reporters, it took the couple a long time to make it past the sea of protesters, split -- rather poetically -- along ideological lines.
Asked about how the whole process had been for the couple, Smith Jr. told reporters it was "very overwhelming." Yates appeared shaken and asked there to be no more questions. "We want to be with our family," he said. "It's a little overwhelming."
Among the crowd of Davis supporters was her husband, Joe Davis, who hammed it up for the cameras and shouted "Hey, look at my sign" before the clerk's office doors opened. (The sign read: "Welcome to Sodom and Gomorrah.") In an interview with NBC News' Gabe Gutierrez, Davis said his wife was prepared to stay in jail "as long as it takes."
That could be as long as three and a half years from now, when Davis' term expires. Though, as NBC News' Pete Williams reported, she could also be released as soon as she agrees to comply with the federal order or if plaintiffs decide to drop the lawsuit all together since they're no longer being denied marriage licenses.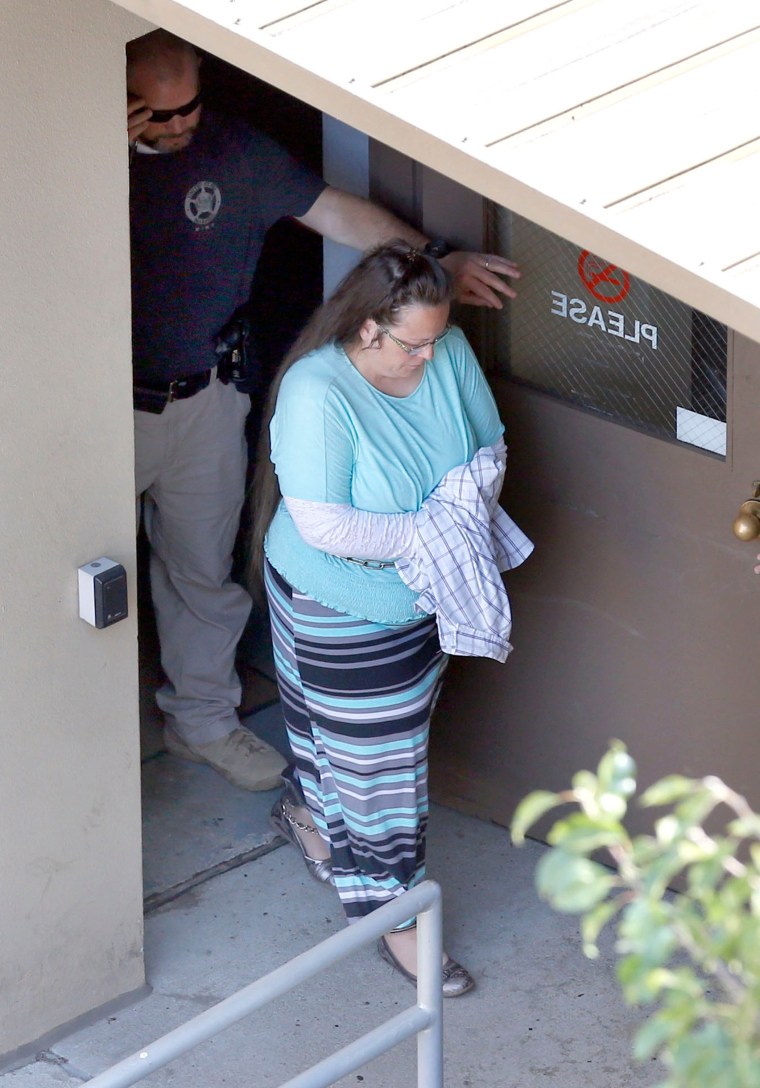 Randy Smith, the pastor of a local evangelical congregation, had an opportunity on Friday to speak with Kim Davis' son, Nate, who also works in the clerk's office. Smith told msnbc that Nate Davis had not yet spoken with his mother, but that "from what he understands, she's doing really well."
"Knowing Kim like I do, she's probably got a lot of friends inside there," Smith added.
Later in the morning Friday, a second couple passed through the crowd of protesters to obtain their marriage license. They had tried once before, but were denied.
"There was a lot of hate," Michael Long told reporters of his earlier visit to the clerk's office. 
"I still feel the hate," said his partner, Timothy Long, referring to the mob of angry Davis supporters still shouting down their union. "But it doesn't hurt as bad. Because overall love wins and love won."
April Miller and Karen Roberts, two of the plaintiffs in the suit against Davis, also received their marriage license on Friday afternoon. It was their fourth attempt.
At first, Miller told reporters outside the clerk's office, "this was about us getting a marriage license." But the battle turned into something greater.
"This was about the civil rights of everybody in this county to get a marriage license," Miller said. "It became about equality."