In his newly-released e-book, "Reply All," Republican presidential candidate Jeb Bush shares a tense email exchange over same-sex marriage with a man described by the former Florida governor as "a gay friend." That's a term the now 50-year-old Xavier Cortada, the gay friend in question, can't dispute. But it doesn't mean Bush will be getting his vote.
"I can separate my friendship from my politics," Cortada told msnbc during a phone interview Wednesday. "Which is why I'm not voting for my friend, Jeb Bush."
A longtime supporter of so-called "traditional" marriage, Bush has said repeatedly that he disagrees with the recent Supreme Court decision legalizing same-sex nuptials across the nation. But the new memoir of his governorship, as told through dozens of email exchanges like the one with Cortada, offers a little more insight into his enduring opposition to same-sex marriage.
Eleven years ago, on March 3, 2004, Cortada reached out to then-Gov. Bush about his support for a constitutional amendment limiting marriage to unions between one man and one woman. The effort failed at the federal level, but ballot initiatives to ban same-sex marriage in nearly a dozen states helped energize social conservatives and, ultimately, reelect Bush's brother, President George W. Bush.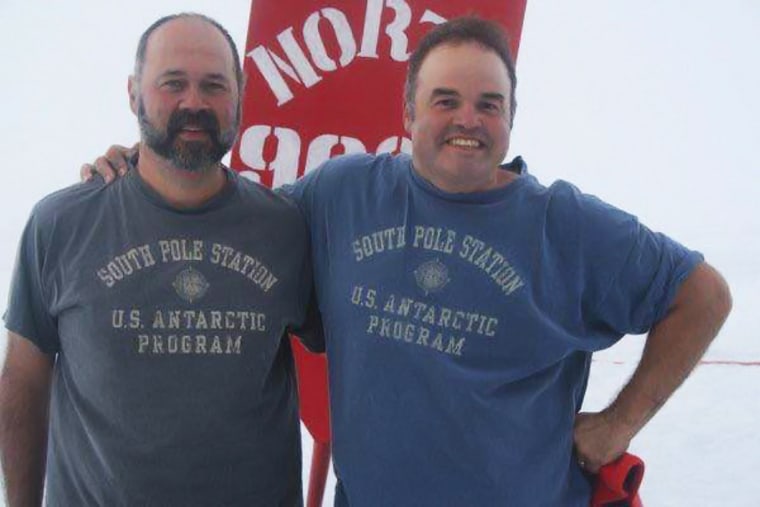 "Today, I am feeling particularly denied and particularly unequal," wrote Cortada, a Miami-based artist, in the 2004 email to Bush. "My life partner, Juan Carlos, and I have been together for eight years and are being denied rights afforded to others who can legally marry. Worst, I feel suffocated — living in a society where liberty evaporates with every attack on people who happen to be gay — and I see it can only get worse as this debate rages on."
"The problem is not just the homophobia and violence (remember Matthew Shepard?) that this marginalization generates," Cortada continued in the email, "but also the image that is generated in society at large: Gays and lesbians as second class citizens. For our beloved Country this would mean that 'all are equal, but some are more equal than others.' Nothing can be more threatening to a democracy."
In his reply, Bush said that he was "sensitive" to Cortada's position but respectfully disagreed.
"If there is discrimination, there are remedies," wrote Bush. "The cases of violence against gay and lesbians are unconscionable and the laws in Florida exist to bring justice. Your relationship with Juan Carlos can be made more permanent through contractual obligations that set forth asset disposition and other issues."
"However," Bush concluded, "I don't believe that your relationship should be afforded the same status in the law as a man and woman agreeing to marraige [sic.] The institution of marraige [sic] is under attack in our society and it needs to be strengthened. This does not have to be at the expense of other kinds of relationships but in support of the most important institution in our society."
Looking back, Cortada told msnbc that Bush's response was "entirely predictable." Less clear, however, is what Bush hopes to accomplish now by including these particular emails in his e-book.
In a statement, Bush spokesperson Allie Brandenburger called the memoir "a different kind of political book."
"Jeb tried to represent all the major issues he faced as Governor, and tell people about them through emails he sent at the time," Brandenburger told msnbc. "Some of these emails are touching, others might be a bit embarrassing, but overall it shows an engaged conservative leader who wanted to get things done. The Xavier email was representative of the conversations he was having about the issue at the time."
Yet judging from Bush's introduction to the exchange, which calls for a "balance between respecting the religious freedom of the American people and ensuring gay and lesbian families are not discriminated against in our society," it's also perhaps reasonable to assume that Bush is once again attempting to thread the needle by appealing to both socially conservative base voters, as well as an increasingly tolerant and diverse general electorate.
Whatever the motivation, though, Cortada and his now-husband Juan Carlos Espinosa remain unswayed -- a position that could indicate holes in Bush's "big tent" approach.
"Jeb Bush is too conservative for me, too conservative a governor, too conservative a nominee," Cortada said. "But what's scary to me is that he's too moderate for the vast majority of that party when a [Donald] Trump and a [Ben] Carson lead him by double digits."
Cortada can't remember exactly when he met Bush, but thinks it was sometime in the early '90s when he was working as an executive director of a drug rehab center. The two would see each other periodically at conferences and fundraisers throughout the years that followed.
"It isn't a kind of friendship that you and I would think about," Cortada said. "It's not like I've been to his house or he's been to mine. We've never spoken on the phone. I'm a constituent who he knows well and, I think, respects and who he admires."
The feeling is mutual, Cortada said, especially in comparison to the rest of the GOP field.
"I am worried for my country after seeing that rally in Mobile, Alabama," Cortada said, referring to Trump's several thousand-person event over the weekend during which the GOP frontrunner vowed to "build a wall" to keep immigrants out.
"If there were going to be a Republican with a finger on the nuclear button, the one I would want most -- the adult in the clown car -- is Jeb Bush," Cortada said. However, he stressed, "I'm not voting for him. Not unless there is no Democratic nominee."