Retired Lt. Gen. Frank E. Petersen, who made history twice as the first African-American aviator in the Marine Corps and then as the Corps' first African-American general, has died at 83, the Marines' announced.
Petersen, who flew more than 350 combat missions in Korea and Vietnam, died Tuesday at his home in Stevensville, Maryland, of complications from lung cancer.
When he retired as a lieutenant general in 1988, Petersen was the senior ranking aviator in both the Marines and the Navy — with which he served before joining the Marine Corps — and held the honorary titles of Silver Hawk and Grey Eagle.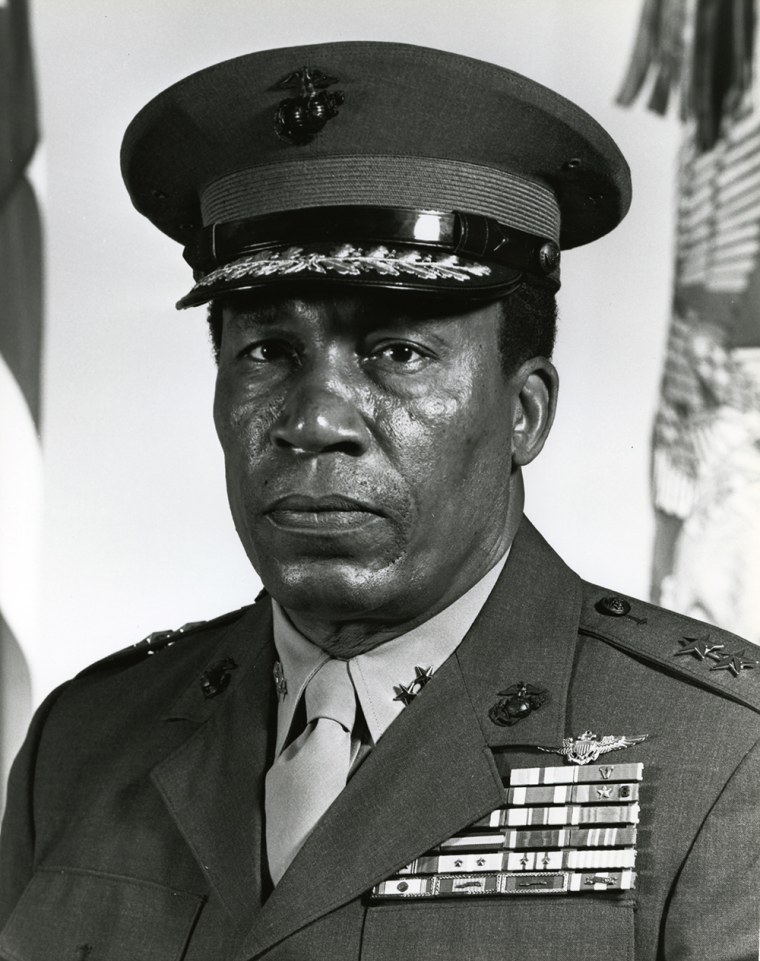 Petersen served two years in the Navy before he was commissioned as a second lieutenant in the Marine Corps in 1952, becoming the first African-American aviator in the service's history. He went on to command his own fighter squadron, then an aircraft group, an amphibious brigade and an aircraft wing.
Petersen was promoted to brigadier general in 1979, becoming the first African-American to hold the rank in the Marine Corps. After serving as special assistant to the Marines' chief of staff, he retired as commanding general of Marine Corps Combat Development Command at Quantico, Virginia.
Gen. John M. Paxton, assistant commandant of the Marine Corps, called Petersen "a pioneer and role model in many ways, a stellar leader, Marine officer and aviator."
In his 1998 autobiography, "Into the Tiger's Jaw: America's First Black Marine Aviator," Petersen wrote at length about the opposition he encountered along his way up the ranks.
"The hate mail was even more revealing, some of it coming, I am sure, from certain officers wearing stars," he wrote.
He finally felt "I was a winner" upon his promotion to brigadier general, "even though "not everybody in the Corps was overjoyed at my selection," he wrote.
"The aide presented my brigadier's flag with its one glaring star to the commandant, who immediately handed it to me. I kissed my wife, left the flag with her, then seemingly floated to the lectern to give the crowd my good wishes and thanks," Petersen wrote.
"'He took that flag,' Alicia [Petersen's wife] likes to remember, 'and he wrapped it around himself and he sat upon his chair like he was on a throne,'" Petersen wrote.
Among his many honors, Petersen received the Distinguished Service Medal, the Defense Superior Service Medal, the Legion of Merit with valor device, the Distinguished Flying Cross and the Meritorious Service Medal, the corps said.