Florida's criminal justice system has received a lot of attention in recent years -- and for good reason.
According to a new report, the state is on the wrong side of international human rights law. A Human Rights Watch review of Florida's policies for juveniles charged with crimes found more than 12,000 children have been moved from the juvenile to adult court system in the past five years -- more than half of whom were charged with non-violent crimes.
The report, released Thursday, found that 98% of all the children who end up in the adult court system do so as a result of Florida's "direct file" statute, which allows prosecutors the discretion to move a case from juvenile to adult court without a hearing or any input from a judge. Between 2003 and 2008, Florida transferred juveniles into the adult court system nearly two times as often as the state with the second highest transfer rate, and five times as often as the average rate in 12 other states.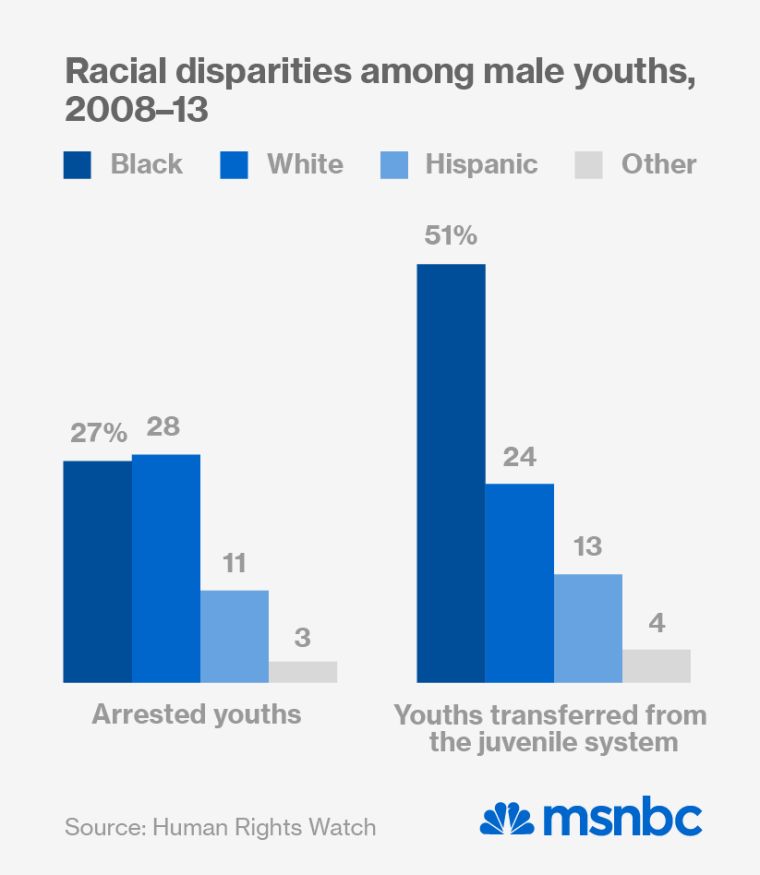 Black youth are also disproportionately affected by the law, according to the report. While black boys make up 27% of those who enter the juvenile justice system, they account for more than half of all transfers to the adult system. White boys actually make up a slightly larger proportion of those who enter the juvenile system -- 28% -- but they comprise slightly less than a quarter of those who end up in adult court.
Heather DiGiacomo, communications director for the Florida Department of Juvenile Justice, said that the department had not had the opportunity to fully review the report and couldn't comment on it.
The report also found that black boys are more likely than white boys to be charged as adults for drug felonies and for violent crimes that are not murder.
The report also alleged that some prosecutors may be using the threat of adult charges to get defendants to plead guilty in juvenile cases. This would not be a new phenomenon; an HRW report released in December claimed that federal prosecutors use the threat of harsh mandatory minimum sentences to extract guilty pleas from drug defendants. Ninety-seven percent of federal drug defendants plead guilty.
Florida is not just out of step with much of the United States when it comes to prosecuting children, the report said. International law requires children be treated differently in criminal cases, something HRW alleges Florida does not do. "To comply with international standards, any criminal process that a child is subjected to must take into account the fact that children are uniquely capable of rehabilitation," the report read.
Even within Florida, the chances a young teenager will end up charged as an adult varies between jurisdictions, something the report's authors want to see changed.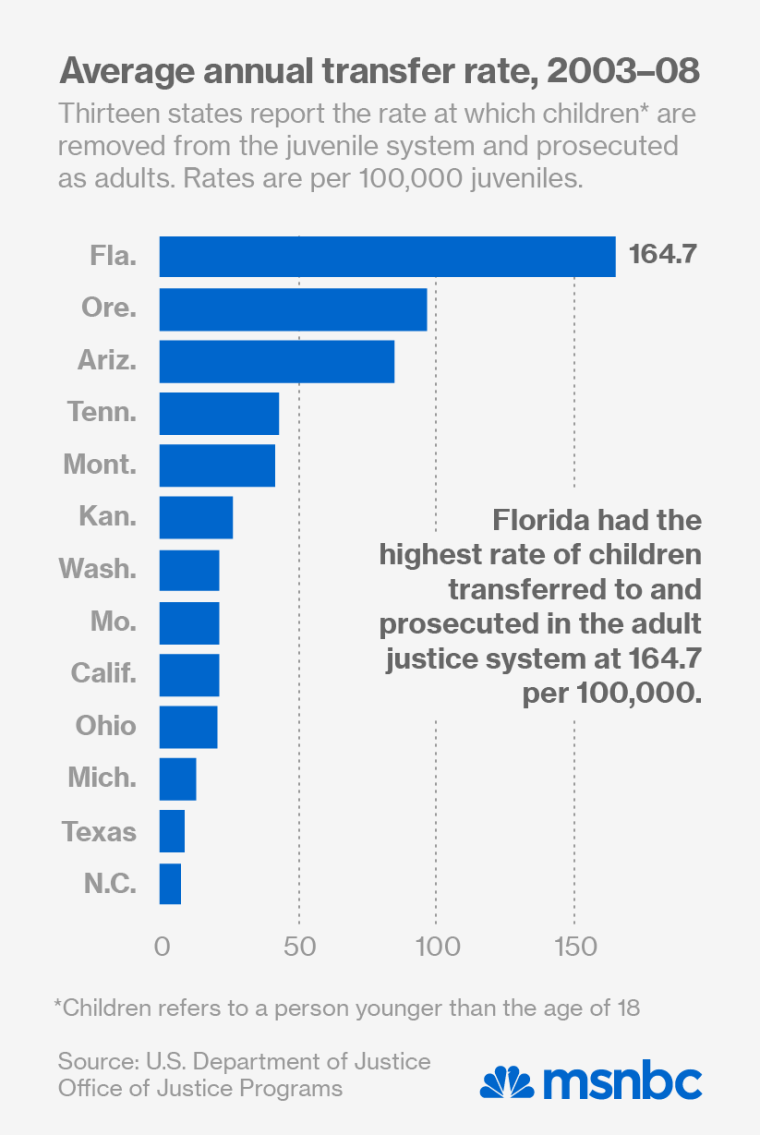 "The same child, accused of the same offense, may receive vastly different treatment based on nothing more than which prosecutor is in charge of their case," Alba Morales, a researcher and author of the study, said in a statement. "These decisions should be handled by Florida's juvenile judges, who can ensure fair treatment, not by prosecutors who have a vested interest in getting defendants to plead guilty or in punitive outcomes."
In recent years, there have been numerous scientific studies that have shown that since children are still developing mentally and emotionally, they are both less able to consider possible consequences of their actions and are more susceptible to rehabilitation than adults. The U.S. judicial system has already taken note. In 2012, the Supreme Court banned mandatory life without parole for children convicted of murder, but Florida still routinely hands out harsh sentences to juveniles that are essentially life in prison.
Even those youths who serve short sentences for felony convictions face a lifetime of consequences. It is essentially impossible for felons to regain the right to vote in Florida, and individuals with criminal records face employment and housing discrimination. Without changes to the law and efforts by prosecutors and judges, which the report recommends, hundreds of children each year could face lifelong effects.
"Florida should stop its widespread practice of saddling children with adult felony records that offer no recognition of their capacity to change," Morales said. "Children, including teens, can be held accountable without subjecting them to treatment as harsh as that which the state of Florida is handing out."