This article has been updated.
At least two people are dead and another is missing as storms thundered through parts of Texas Friday, dumping more than a foot of rain on some areas and causing floods that trapped school buses and other vehicles, officials said.
The body of a driver who went missing in the floods was found in Travis County Friday, the county Officer of Emergency Management said. A woman was also missing after she and another man went missing in the floods, the office said. The man was found alive.
Another body was found at Joint Base San Antonio Camp Bullis in Bexar County after a driver was swept away in flood waters on Camp Bullis Road at around 6:15 a.m., base spokesman Oscar Balladares said. The driver's identity was not released, but Balladres said he was a contract employee.
A possible tornado tossed a tractor-trailer onto the roof of a hotel in Floresville, Texas, and damaged cars and homes.
In the San Antonio area, four special needs students and two adults were rescued from a bus that became trapped in floodwaters just after 7 a.m., the Bexar County Sheriff's Office said.
Another bus with three students and two adults on board became trapped by high water, and five vehicles flooded in other parts of the county, the sheriff's office said. There were no injuries.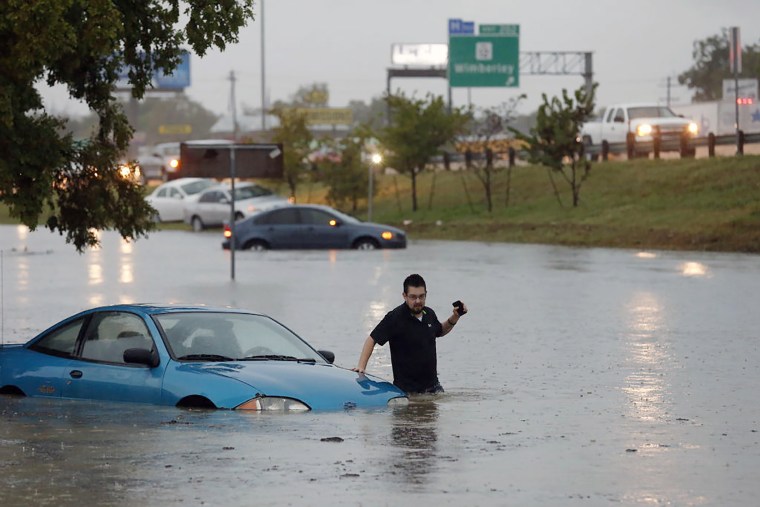 An estimated 14 inches of rain fell near Austin-Bergstrom International Airport Friday, the National Weather Service said. Parts of Travis County got 7 inches of rain in just an hour and a half, the weather service said.
"We really couldn't take this type of rainfall that we've seen today," National Weather Service meteorologist Jim Runyen told The Associated Press.
Homes were ordered evacuated along the San Marcos and Blanco rivers, authorities said.The Blanco River, where a house with nine people inside was swept away in May, surged to more than 26 feet, or 13 feet above flood stage, on Friday. The river later subsided.
"We didn't know where we were going, it was dark — the water was rising so fast," Kathleen Haney, who was trapped at a bed and breakfast near Wimberley, said.
A possible tornado was reported in Hays County on Friday afternoon, and authorities in other towns said they had spotted twisters and the damaging effects of high winds.
Medina County Sheriff Randy Brown said a tornado touched down in D'Hanis, 50 miles west of San Antonio, destroying a bank and damaging other buildings in the tiny town of about 550 residents, reported NBC affiliate WOAI.
A tornado is also believed to have damaged a high school gymnasium in Floresville, southeast of San Antonio, early Friday, according to The Weather Channel. There were occupants inside the school, but no immediate reports of injuries. In response, the local school district said it was canceling school Friday.
Much of Texas, including the San Antonio area, is still recovering from heavy rains that battered the region last week, as remnants of Hurricane Patricia washed over the state.
The rainfall triggered flash flood warnings and caused a train to overturn on waterlogged tracks south of Dallas.