A new bill to strengthen the Voting Rights Act goes out of its way to make an exception for voter ID laws, in a bid to win Republican support. Still, voting rights advocates are expressing cautious support for the bipartisan measure unveiled Thursday—though its chances of passage are uncertain at best.
A group of lawmakers, led by Reps. John Conyers (D-Mich.), James Sensenbrenner (R-Wisc.), and Sen. Patrick Leahy (D-Vt.), introduced the bill Thursday afternoon. It's a response to June's Supreme Court ruling, Shelby County v. Holder, which effectively freed from federal oversight certain jurisdictions with a history racial discrimination. In an opinion written by Chief Justice John Roberts, the court ruled that the formula -- known as Section 4 -- used by Congress to determine which areas were under federal supervision was outdated.
"This bill modernizes the Voting Rights Act, will restore those protections that were gutted by the court, and will ensure that every citizen has an equal opportunity to participate in our democracy," Sensenbrenner said at a Capitol Hill press conference.
The bill aims to address Roberts' concern directly. Its core provision is an updated formula, which would place back under federal oversight any state with five violations of federal voting rights law in the last 15 years, using a rolling calendar. That would include not just court rulings, but objections by the Justice Department. Local jurisdictions would have to commit only three violations, or consistently suffer from low minority turnout.
Currently, four states— Georgia, Louisiana, Mississippi and Texas—would be under federal oversight by that standard, the lawmakers said.
"This is a modern voting rights bill to confront modern voting rights challenges," said Sen. Chris Coons, a Delaware Democrat involved in the effort.
But Conyers said Thursday that the legislation's chances of coming up for a vote in committee are uncertain. He said the bill would fall under the purview of House Judiciary Committee Chairman Rep. Robert Goodlatte, according to Roll Call. "I'm not sure how this is going to play out."
Voting rights advocates are cheering other aspects of the bill:
 -It makes it much easier for new areas to be "bailed in" to federal oversight under Section 3 by changing the standard for bail-in from a finding of intentional discrimination—a high bar, since few lawmakers announce an intention to discriminate. (Rick Hasen, a law professor at the University of California, Irvine, and a prominent voting law expert, said via email that the change "could well be unconstitutional.")
-It requires every jurisdiction in the nation to give notice in the local media and online about certain changes to election procedures, including any change within 120 days of a national election. That makes it harder for changes by local governments to fly under the radar.
-It lowers the standard needed to win a preliminary injunction to block a discriminatory voting law before it takes effect. That provision undoes some of the damage caused by the Shelby ruling, which ended the requirement that jurisdictions "pre-clear" changes with the Justice Department before they went into effect.
"It's responsive to the Supreme Court case, it doesn't overreach, and it restores many of the tools that we lost when we lost Section 4," said Deborah Vagins, senior legislative counsel for the American Civil Liberties Union.
"We are very happy that this bill has been introduced, that it's a bipartisan effort and that its happened so quickly," said Wendy Weiser, the director of the Democracy Program at the Brennan Center for Justice, calling it "a significant step forward."
Sensenbrenner said it was a challenge to craft a bill that could win bipartisan support, and could sustain expected legal challenges. "I think we have threaded that needle," he said. "It was not easy to do."
To do so, lawmakers made some compromises—none more glaring that the bill's carve-out for voter ID. The voter ID exception was added to win the backing of Rep. Eric Cantor, the number 2 Republican in the House, reports The Nation's Ari Berman.
Vagins said the special treatment for voter ID laws sets a troubling precedent. "Treating them any different from any other potentially discriminatory voting change is something we would like to see fixed," she said.
The bill wouldn't stop the Justice Department from challenging voter ID laws as racially discriminatory. But it would treat such laws differently from other types of racial discrimination in voting in two ways.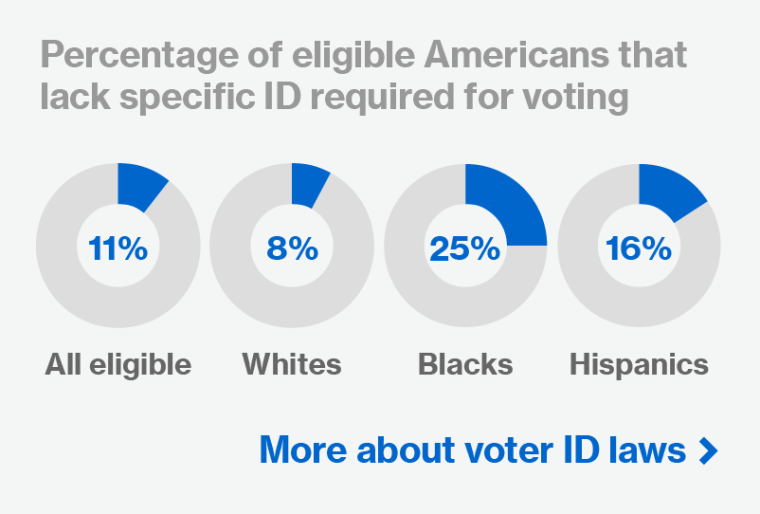 Republicans in numerous states have pushed voter ID laws recently. Voter ID laws in Wisconsin, Texas, and North Carolina are currently being challenged by the Justice Department or civil rights groups. A wealth of evidence shows the laws have a disproportionate impact on minorities, who are more likely than whites to lack ID.
But Spencer Overton, an expert on voting rights at George Washington University Law School, suggested the carve-out might be worth it if it helps gain GOP support.
"These concessions," Overton said, "may be necessary to satisfy the states' rights concerns of the Roberts Supreme Court, and the political concerns of Republican members of Congress.  
There are hopeful signs for the bill: Past reauthorizations of the VRA have been bipartisan affairs. Sensenbrenner said two southern Republican colleagues—Trey Gowdy of South Carolina and Spencer Bacchus of Alabama—had expressed support. And Leahy said several senate GOPers had pledged their support. "This is not something that's going to be filibustered in the Senate," Leahy said.
Still, getting anything substantive through Congress lately has been difficult. And despite Thursday's bipartisan picture, many conservatives believe that, despite Shelby, there's no reason to strengthen the Voting Rights Act.
"They don't like these laws, and so they've brought lawsuits, that's fine," said Roger Clegg, who leads the Center for Equal Opportunity, which opposes tough enforcement of many civil rights laws. "If they can prove that there's been racial discrimination they'll win those lawsuits. Why would the deck be stacked further in their favor?"