When a Syrian-American family left their Pennsylvania home 10 years ago with their young children, they had plans to make their lives in their native Madaya exporting fruit crops. When the Syrian civil war broke out in 2011, they believed they would be safe. Now, they are trapped — and starving.
"Right now, my kids are starving from hunger," the mother said in a telephone interview with MSNBC on Monday. "My baby is 3 years old. All day long, the only words he says are: 'I'm hungry. I need food.'"
Her husband and three of the couple's five children in the family are U.S. citizens, and are among those caught inside the besieged western Syrian town of Madaya, a U.S.-based Syrian activist who's a relative told MSNBC on Monday.
In all, there are at least five U.S. citizens there, said the activist, Hussein Assaf.
RELATED: New photos show the suffering in western Syrian city
Assaf said they include his 87- or 88-year-old grandmother, along with his 43-year-old cousin and three of the cousin's children, ages 14, 13 and 9. 
Assaf asked that the relatives not be named to protect them, but he provided U.S. documentation — including passports, Social Security cards and birth certificates — as verification. MSNBC independently uncovered public records Monday showing that the cousin held addresses in Pennsylvania from 1995 to 2006.
Assaf said that his grandmother has never visited the United States but that she obtained citizenship during the 1990s through the U.S. Embassy in Damascus because her father had been a naturalized citizen.
Assaf said a sixth relative in Madaya is also a U.S. citizen. MSNBC couldn't immediately verify the claim.
Assaf's cousin confirmed to MSNBC on Monday that he is a naturalized U.S. citizen and that three of his five children were born in Pennsylvania.
The man's wife, speaking in English, said she and her husband left the United States in 2006 in order to start an apple export business – but now, the wife said, the family would like to leave and return to the U.S.
More than two dozen people — including at least six under the age of 1 — have died of starvation since Dec. 1, according to Doctors Without Borders, which called the town an "open air prison" with no way in or out. Five people died Sunday.
The wife of Assaf's cousin said in a telephone interview that her children also risk dying from starvation.
"Right now, my kids are starving from hunger," she said. "My baby is 3 years old. All day long, the only words he says are: 'I'm hungry, I need food.'"
A food convoy arrived Monday in Madaya. The woman said that she had been told that food would be distributed the next day but that she didn't know how long it would last.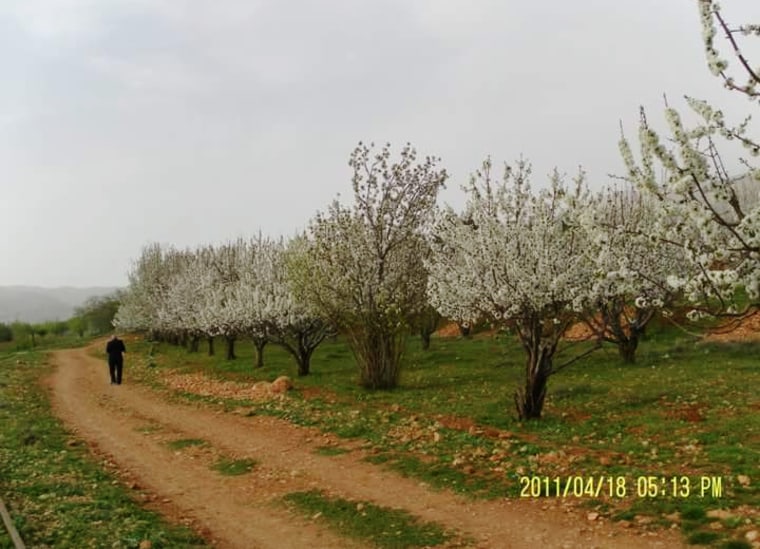 The United Nations, the International Committee of the Red Cross and the Syrian Red Crescent, which jointly arranged the operation, said the food would last a month.
The U.S. State Department wouldn't confirm that the individuals are U.S. citizens, saying it doesn't "comment on citizenship claims."
Assaf said his cousin had made himself known to U.S. officials. Email correspondence he gave MSNBC on Monday purport to show that his cousin has asked U.S. officials for help traveling back to the United States.
"I'm an  American citizen, I live with my family here in Syria in the Zabadani, Madaya area, which is been under siege by Lebanese Hezbollah," the cousin wrote by email in Arabic on Oct. 17.
"The humanitarian situation is very difficult and we want to travel to United States," the man continued. "I have an appointment with the US embassy in Lebanon to renew my US Passport on November 25. But they shut down all roads, and we can't leave. I would like your help if possible."
According to the documents, a response came two days later.
"Dear Sir, unfortunately, we are unable to assist you in this issue and you are advised to consider other options. Thank you," the email, sent from a State Department address, read.
NBC News  asked the State Department to verify the email correspondence, but officials referred a reporter to the original statement regarding citizenship claims. The original statement also noted that the Czech government is working with U.S. citizens in Syria on behalf of the United States, which closed its embassy in Damascus in 2014.
Assaf said that monitoring the situation in Madaya has become a 24-hour occupation and that he recently took off work to pay full-time attention to his relatives. From his home in Pennsylvania, he keeps vigil over texting and chat apps, and the worrying is wearing him down.
"I eat once a day — half a meal. And my wife forces me to do it," Assaf said. "Subconsciously, I feel guilty that I'm eating and they're not."