First Read is a morning briefing from Meet the Press and the NBC Political Unit on the day's most important political stories and why they matter.
Why Trump can't afford to miss that 1,237 magic number
As the Republican presidential race turns next to the April 5 primary in Wisconsin, the reality for Donald Trump is that, heading into the Cleveland convention, he can't afford to miss hitting the magic number of 1,237 -- the delegates needed to clinch a majority to win the nomination. Why? Because there's an active effort to stop him on a second ballot if anyone falls short of the number. "[John] Kasich and [Ted] Cruz are scrambling to secure commitments from bound delegates to break off on a second-ballot and vote against Trump. In many cases, that means asking delegates to buck Republican primary voters in the name of settling on a nominee," Politico writes. An unbound delegate from North Dakota, Curly Haugland, was even more candid with National Review, pointing out that Arizona -- which Trump won on Tuesday -- would probably see its delegates defect to Cruz after the first ballot. "Voters in the primaries are not representative of the people who are gonna' be sittin' in the chairs in Cleveland," he said. "The convention delegates from Arizona are going to be very conservative people, I guarantee ya'." Of course, Trump has threatened that "you'd have riots" if he was just 50 or 100 delegates short of the magic number yet still leading his nearest competition. But you now see why clearing that magic number is so important for Trump.
Where the GOP delegate race currently stands
Here are NBC's updated numbers after allocating additional delegates from the previous contests: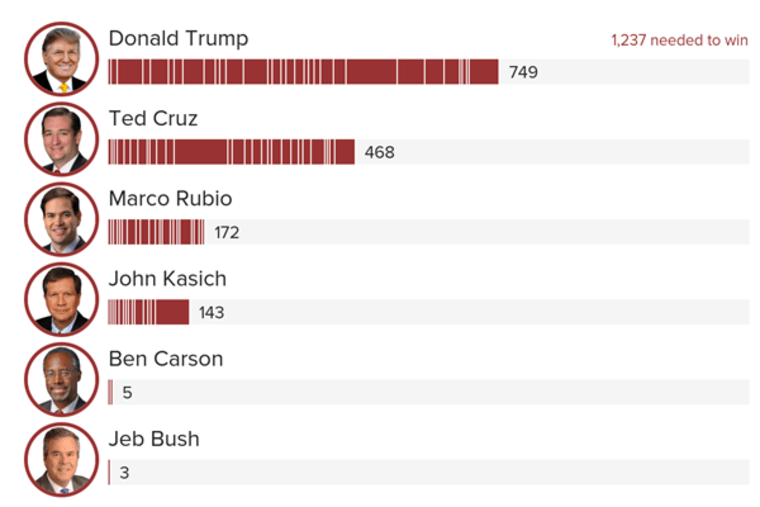 Trump needs to win 54% of remaining delegates to reach 1237 magic number.
Cruz needs to win 85% of remaining delegates to reach 1237 magic number.
Kasich needs to win 122% of remaining delegates to reach 1237 magic number.
The Unbound
We mentioned that North Dakota delegate above who's unbound -- due to the fact that his state isn't holding a presidential primary or caucus. And as it turns out, according to NBC's Decision Desk, there are more than 100 unbound delegates on the first ballot in Cleveland. They include 28 delegates from North Dakota, 37 delegates from Colorado (which also didn't hold a primary or caucus), 54 from Pennsylvania, and even nine from Guam.
Where the Democratic delegate race currently stands
As it turns out, Bernie Sanders had a much better Tuesday after we allocated additional delegates from Arizona, Idaho, and Utah. Sanders ended up netting 17 delegates over Clinton for the evening, 72-55 -- including 13 in Idaho (18-5) and 20 in Utah (26-6), while Clinton netted 16 from her Arizona win (44-28). So after those numbers, as well as additional delegates we've allocated from the previous contests, here is where the Dem delegate race stands:
In pledged delegates, Clinton holds a 298-delegate lead over Sanders
Clinton 1217 (57%)
Sanders 919 (43%)
In overall delegates, Clinton holds a 711-delegate lead over Sanders
Clinton 1653 (64%)
Sanders 942 (36%)
Clinton needs to win 34% of remaining delegates to hit 2383 magic number
Sanders needs to win 66% of remaining delegates to hit 2383 magic number
Look where Kasich is polling in Pennsylvania
While Kasich needs to win 122% of the remaining delegates (!!!) to hit the 1,237 number, look where he's polling in Pennsylvania (April 26), according to a new Franklin & Marshall poll:
Trump 33%
Kasich 30%
Cruz 20%
As our colleague Dante Chinni quips, is it time for Mitt Romney to record a robocall for Kasich in the Keystone State? In the Democratic race in Pennsylvania, it's Clinton 53%, Sanders 28%.
Biden to give speech on SCOTUS battle
The other non-horserace political story we're watching today is Vice President Biden's 12:30 pm ET speech on the Supreme Court vacancy, which he'll deliver at the Georgetown University Law Center. He's expected to say, per excepts of his speech: "In my time as the ranking Democrat or as Chairman of the Senate Judiciary Committee, I was responsible for eight nominees to the Supreme Court—some I supported, others I voted against. And in all that time every nominee was greeted by committee members. Every nominee got a committee hearing. Every nominee got out of the committee to the Senate floor. And every nominee, including Justice Kennedy—in an election year—got an up or down vote by the Senate. Not much of the time. Not most of the time. Every single time." The Republican National Committee is pre-butting Biden's speech by calling him out for "hypocrisy." Per the RNC: "Today, Vice President Joe Biden will give a speech calling on the Senate to take up Obama's election year Supreme Court nomination, despite creating an "election-year blockade" while serving as Chairman of the Senate Judiciary Committee in 1992."
On the trail
Bernie Sanders campaigns in Washington state…. Ted Cruz spends his day in Wisconsin… And Chelsea Clinton also stumps in Wisconsin.