First Read is a morning briefing from Meet the Press and the NBC Political Unit on the day's most important political stories and why they matter.
Trump's immediate challenge -- uniting a fractured party
So Donald Trump essentially wrapped up the Republican presidential nomination last night by winning in Indiana and forcing Ted Cruz's exit, while the Democratic contest will march on for another month after Bernie Sanders' narrow victory over Hillary Clinton in the Hoosier State. (Though you could make a strong case that Sanders would still be marching on to California even had he lost.) And that reality raises an immediate question for both Trump and Clinton. We'll start with Trump's: Can he unite a fractured party? There were some signs of progress here last night. RNC Chair Reince Priebus declared Trump the "presumptive GOP nominee" (even with John Kasich still in the race), and asked Republicans to "unite and focus on defeating Hillary Clinton." John McCain, the party's 2008 presidential nominee, told NBC's Kasie Hunt that he'd advise Trump on foreign policy if he asked. "I would advise anyone who asks," McCain said. But other Republican voices didn't sound as eager to board the Trump Train:
"If we nominate Trump, we will get destroyed.......and we will deserve it," tweeted GOP. Sen. Lindsey Graham (R-SC).
"Overwhelming majority of Americans think both the D and R frontrunners are dishonest," said GOP Sen. Ben Sasse (R-NE) before the polls closed in Indiana.
Mitt Romney congratulated Cruz for his campaign, but said nothing about Trump
And it's worth emphasizing that Cruz also didn't mention Trump's name when he announced his exit from the GOP race. Asked on "Today" this morning if he could unite the party, Trump answered, "I am confident that I can unite much of it. There are parts of it I don't want." Hmmmmm.
Party or Principle?
Still, it's possible to see how many of these critics eventually come back home, especially during the heat of a general election. "Get ready to hear this a lot over six months: 'Of course I said never Trump, but that was before Hillary Clinton's shocking comment today,'" MSNBC's Benjy Sarlin mused. Then again, will social conservatives go to the polls to vote for a GOP nominee who's been squishy on abortion and who has praised Planned Parenthood? Dartmouth professor Brendan Nyhan puts it well: "What happens when partisanship and principle collide? Will be fascinating to see." But the GOP primary season NEEDED to end for the party: 56% of Indiana Republican voters said the GOP contest was dividing their party, versus 73% of Indiana Democrats who said the race was energizing theirs, according to the exit poll. And in a new national CNN poll out today, Clinton holds a 13-point lead over Trump, 54%-41%. So what does Trump do to unite the party -- to make folks like vulnerable Sens. Pat Toomey (PA) and Rob Portman (OH) comfortable? Because he's going to need those Rust Belt senators…
The updated GOP delegate math (perhaps for the last time):
Trump holds a 491-delegate lead over Cruz (was 433 before last night)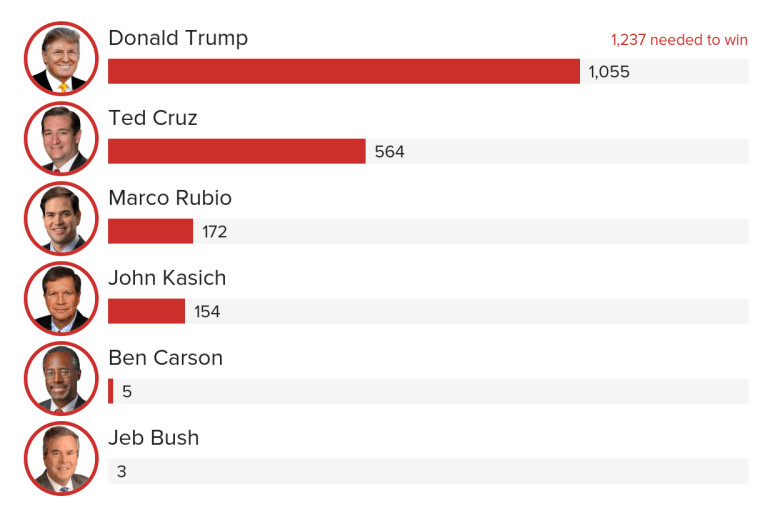 Trump needs to win 40% of remaining delegates to reach 1,237 magic number (was 46%)
Kasich needs to win 235% of remaining delegates to reach 1,237 magic number (was 209%)
Clinton has to fight a two-front war for another month
Yes, Hillary Clinton didn't spend a single dollar on ads in Indiana, versus $1.5 million for Bernie Sanders. Yes, Sanders' five-point win last night only netted him a gain of seven (!!!) delegates. And, yes, Sanders must now win 83% of all remaining delegates to beat Clinton -- which is UP from the 81% it was before his victory last night. But here's the question for Clinton after her loss last night: How does she fight a two-front war against Sanders and Trump? Politico reports that Clinton has already been pivoting towards the general election. "Over the last two weeks, Clinton has been quietly accelerating her swing-state operation, organizing what amounts to a shadow general election campaign at the same time she is fending off a rival who insists he'll continue to fight until the Democratic convention in July. In recent days, the Clinton campaign has finalized a series of senior hires around the country, expanded the size of her central swing-state planning team in New York, and hundreds of thousands of dollars have been transferred to strategically important state parties from the Democratic National Committee. She's also scheduled a series of public speeches and private meetings in states that will be crucial to her general election campaign." Here's the Democratic delegate math:
In pledged delegates, Clinton currently holds a lead of 314 delegates with Washington delegates to still be allocated (it was 321 before last night)
Clinton 1,679 (55%)
Sanders 1,365 (45%)
Clinton must win 34% of remaining pledged delegates to get a majority in pledged delegates (was 35%)
Sanders must win 66% of remaining pledged delegates to get a majority in pledged delegates (was 65%)
In overall delegates (pledged + super), Clinton holds an overall lead of 783 delegates (it was 790 before last night)

Clinton must win 17% of remaining delegates to reach 2,383 magic number (was 19%)
Sanders must win 83% of remaining delegates to reach 2,383 magic number (was 81%)
Who better shores up his/her weaknesses?
One of the fundamental questions in a Clinton-vs.-Trump general election will be: Who better shores up his/her weaknesses? As the Wall Street Journal's Jerry Seib recently wrote, Clinton and Trump are two COMPLETELY DIFFERENT politicians. "The very attributes where Mrs. Clinton is strongest with voters—being knowledgeable, experienced and having the right temperament to be a good president—also happen to be areas where voters harbor some of their biggest doubts about Mr. Trump. And the attributes where Mr. Trump gets strong mark from voters—an ability to bring change to the country and being honest and straightforward—happen to be areas where Mrs. Clinton is weakest." On a campaign level, Clinton excels at tactics, while Trump is a disruptive force. Clinton needs to become more spontaneous, and Trump needs to start raising money.
Lesson learned: Believe the polls on Trump
A final point we want to make: Many have said that because Trump surprised the political world in the GOP primary race, he can do the same in a general election. And while anything is possible in politics, do remember that he LED in almost every Republican poll starting last summer. It was just that many in the political world didn't believe the polls. But those same polls show Trump being the BIG underdog in a race against Clinton.