First Read is a morning briefing from Meet the Press and the NBC Political Unit on the day's most important political stories and why they matter.
NBC battleground map: Trump, GOP begin with disadvantage:
In our first general-election battleground map of the 2016 race, Hillary Clinton and Democrats start with the advantage, while Donald Trump and Republicans are playing catch up.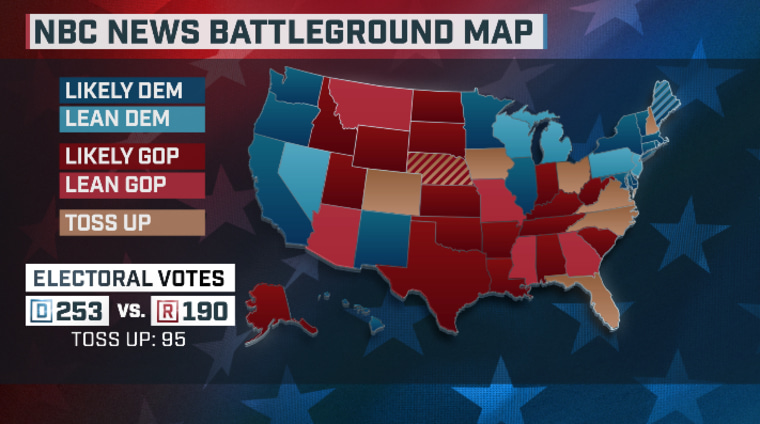 Likely Dem: CA, CT, DC, DE, HI, IL, ME (3 EVs), MD, MA, MN, NM, NY, OR, RI, VT, WA (186 electoral votes)
Lean Dem: ME (1EV), MI, NV, NJ, PA, WI (67)
Tossup: CO, FL, IA, NE (1 EV), NH, NC, OH, VA (95)
Lean GOP: AZ, GA, MS, MO, MT (46)
Likely GOP: AL, AK, AR, ID, IN KS, KY, LA, NE (4 EVs), ND, OK, SC, SD, TN, TX, UT, WV, WY (144)
That map gives Clinton and the Democrats a 253-190 edge in electoral votes, with 95 in the tossup column. And here's why Dems have the advantage: They surpass the 270 electoral votes needed to win the presidency by just winning one of Florida or Ohio. Or a combination of Colorado and Virginia. Some notes here: We put former battleground New Mexico in Likely Dem since it's overwhelmingly Latino; Trump's Rust Belt targets are in the Lean Dem column (MI, PA, WI); Clinton's expanded targets are in Lean GOP (AZ, GA); we put Mississippi in Lean GOP due to its sizable African-American population; and Nebraska's Omaha congressional district is in Tossup. One other thing: Our Tossup designations are very conservative; it's where we think things *could* be later this summer. But right now, there are more polls showing Clinton ahead in these states than ones with Trump leading.
The party that isn't united typically loses
It's not just the battleground map where Trump and Republicans are at disadvantage six months until Election Day 2016. They're also trailing when it comes to party unity. Remember when we told you just two days ago that Trump's immediate goal after becoming the likely/presumptive nominee was uniting his party? Well, since that time, George W. Bush and George HW Bush have said they'll sit out 2016; Mitt Romney said he wasn't planning to attend the GOP convention; and House Speaker Paul Ryan yesterday said he couldn't endorse Trump right now. Folks, party unity matters. Why? The party that is NOT united typically loses. Think back to 2000, when Al Gore was distancing himself from Bill Clinton. Or 2008, when Republicans were running away from George W. Bush and his low approval ratings. Or 2014, when Senate candidates like Alison Grimes in Kentucky were refusing to say if they had voted for Obama. By contrast, the united party wins -- think back to 2012, when Bill Clinton gave that speech at Obama's convention.
Ryan is sending two different signals to Republicans
Ryan's I'm-not-ready-to-endorse message sends two different signals to Republicans. One, it's cover for other Republicans who might want to distance themselves from Trump. Two, it's a signal to GOP donors that they don't have to give money to Trump right now. The first few days after a candidate has wrapped up a presidential nomination are supposed to be THE EASY PART. But it's anything but easy right now. A final point to make here: Trump-ism and Ryan-ism are incompatible, especially on the issues of immigration, trade, and entitlements. In fact, you could make the case that Ryan could work more with Clinton on these issues than Trump can.
Clinton email story is back in the news
But the news isn't all great for Clinton and the Democrats. The email story has returned. "Some of Hillary Clinton's top aides when she was Secretary of State have been interviewed by the FBI 'within the past few months,' officials familiar with her email investigation confirmed to NBC News on Thursday. Among them was Huma Abedin, who will soon also be deposed by lawyers for Judicial Watch in their separate Freedom of Information case against the State Department,"NBC's Pete Williams reports. Yet CNN added this: "The investigation is still ongoing, but so far investigators haven't found evidence to prove that Clinton willfully violated the law the U.S. officials say." Good news for Team Clinton: There's no evidence, per CNN's report, that Clinton willfully violated the law. Bad news: The investigation isn't over. By the way, here's the delegate math in the Dem race:
In pledged delegates, Clinton currently holds a lead of 317 delegates with Washington delegates to still be allocated.
Clinton 1,683 (55%)
Sanders 1,366 (45%)
Clinton must win 34% of remaining pledged delegates to get a majority in pledged delegates (was 35%)
Sanders must win 66% of remaining pledged delegates to get a majority in pledged delegates (was 65%)
In overall delegates (pledged + super), Clinton holds an overall lead of 793 delegates

Clinton must win 16% of remaining delegates to reach 2,383 magic number
Sanders must win 84% of remaining delegates to reach 2,383 magic 
On the trail
Hillary Clinton campaigns in Oakland, CA… And Donald Trump holds rallies in Omaha, NE at 5:00 pm ET and Eugene, OR at 10:00 pm ET. 
This article originally appeared on NBCNews.com.