It was Saturday morning, usually a quieter day at the Chabad-Lubavitch Jewish center in Kathmandu, Nepal, when the ground began trembling beneath our feet. Running outside, I witnessed absolute destruction. Buildings crumbled in front of my eyes — there was pandemonium, voices crying out in fear. The world around us had turned upside down. I was in absolute shock. Just moments before, we were peacefully reading from the Torah scroll as part of the Shabbat service, as we do every week on the Jewish Sabbath.
Over the years, our Chabad-Lubavitch Jewish center has become a pseudo-embassy for Jewish visitors and Israeli travelers — a family whose members often change from week to week. My first reaction was to worry about the trekkers we knew, who may be trapped on remote mountain trails.
We immediately got to work, gathering the names of the missing. Scattered in the mountains and the trails of the Himalayas, they are hard to locate. Our hope is to gather all the names of the people — the people who are in the mountains, the people who are in the city. The intensity is palpable; it feels like we are in the center of a war zone.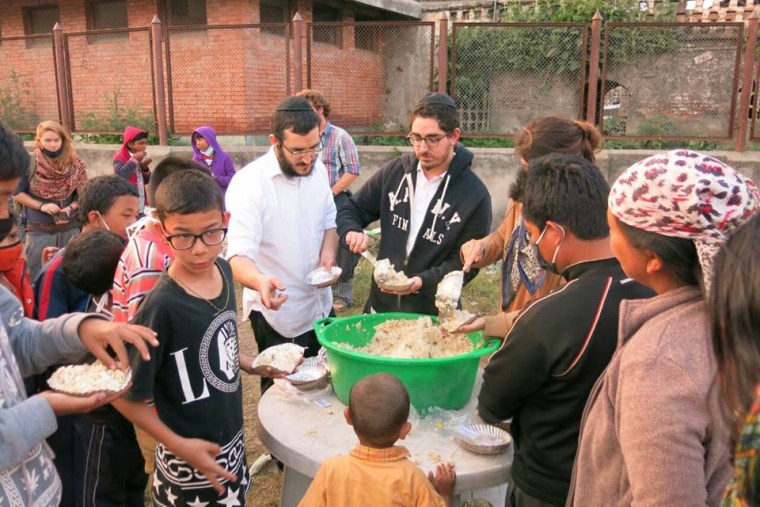 We created lists of the missing and injured, started updating our Facebook page. The phones have sporadic reception, and the Internet is hardly working. And then, the calls began coming in from abroad: "Please help locate my son, my daughter ...." They are frightened, and so are we.
Since last year's ferocious blizzard — when we had to resort to primitive methods to find the missing, including passing handwritten notes on horseback — we began stocking satellite phones that we give to backpackers when they leave the Chabad center. This way, we can stay in touch. We are now communicating by satellite phone with many of those who are stuck in remote areas such as Dhunche and Syrabrubesi. As soon as we can determine a location, we pass it along to the Nepalese government.
It was much easier to locate trekkers this time around as a result of these phones. Earlier today, I traveled by helicopter to bring back to Kathmandu some stranded trekkers, who we located because of the phones.
Soon after the initial quake, volunteers quickly began to treat a number of injured on the couches of the Chabad center. Many of the travelers in Nepal come from Israel after their military service. We organized volunteers with military medic training.
RELATED: Protests in earthquake-stricken Nepal
As the hospitals are overwhelmed with the wounded, we began regularly treating those with moderate injuries at the Chabad center.
We dispatched a group of 20 Israeli volunteers on motorcycles, who can get to the very distant places. All throughout the day, hundreds of trekkers return to Kathmandu, coming from the mountains and villages.
They arrive, weak, tired and hungry. We were constantly bringing huge pots of hot soup out of the kitchen, and we started spreading out sleeping bags and blankets everywhere, arranging places for hundreds to sleep.
Dozens of Israelis who came to Nepal to rest or to trek the Himalayas are now out in the field, volunteering and helping the local population. They have joined our team and are now feeding thousands of people.
Over the next day, periodically, we heard a building shaken off its foundation by the earthquake collapse. The amount of devastation is almost impossible to describe.
There were quite a few more big tremors after that, but it feels like the worst is over. We soon realize that the worst is yet to come. Thousands perished. So many people have lost everything. The kind and gracious people we have come to know since 1999 need our help, too. We are determined to feed the hungry and shelter the homeless. We will stand together.
With supplies rapidly dwindling, thousands of stranded individuals are now relying us to provide shelter, daily meals and medical care. Working closely with Chabad-Lubavitch headquarters, we launched the "Nepal Jewish Relief Fund," an international effort to raise money so we can continue to provide humanitarian aid to those affected by the disaster.
As help and assistance began to pour in from abroad, we were uplifted by the compassion from around the globe. Our hearts soared with pride as members of the Israel Defense Forces arrive, immediately setting up a field hospital and beginning search and rescue work. Many other groups are rushing in as well.
There's no way anyone here can wrap their heads around the devastation. I definitely do not to dare answer the question of why this happened. But in that same mindset, I'd like to see the rays of light as well. The compassion and care of humanity have been heartwarming. That may be one of the greatest lessons of all, as the Lubavitcher Rebbe — Rabbi Menachem M. Schneerson, of righteous memory — once said to New York Mayor David Dinkins in the wake of a tragic riot many years ago: "We were all created by the same G-d for the same purpose of bringing goodness around us."
Rabbi Chezky Lifshitz is a director of Chabad-Lubavitch of Nepal. To contribute to relief efforts, visit Nepal Jewish Relief Fund.