LOS ANGELES — George Martin, the Beatles producer and arranger who supervised most of the band's era-defining recordings — from "Love Me Do" through the psychedelia of "Sgt. Pepper's Lonely Hearts Club Band" to their final collaborations on "Abbey Road" — has died at the age of 90.
Martin's management company confirmed to NBC News early Wednesday that he had "passed away peacefully." Ringo Starr, the Beatles drummer, spread the word through a Twitter message.
Paul McCartney described Martin as "like a second father to me."
In a statement, he added: "If anyone earned the title of the fifth Beatle it was George. From the day that he gave The Beatles our first recording contract, to the last time I saw him, he was the most generous, intelligent and musical person I've ever had the pleasure to know ... The world has lost a truly great man who left an indelible mark on my soul and the history of British music."
Martin was an EMI staff producer who had the foresight and the ear to sign a band that had been turned down by virtually every other major label in London in 1962, before Starr was a full-fledged member. Martin signed the group from Liverpool to the Parlophone imprint he oversaw before meeting the members on the strength of demo tapes shopped by manager Brian Epstein. He often said in interviews that he was initially impressed as much by their wit and natural charm as he was by their musical abilities.
In a story that has become Beatles legend, as Martin showed the group around the EMI recording studio at their first extended recording session, he asked if there was anything they didn't like about the configuration of the studio. Guitarist George Harrison quickly responded: "For starters, I don't like your tie."
Martin proved to be a huge influence on the group's sound — he famously suggested they speed up the tempo of "Please, Please Me," turning a Roy Orbison-esque ballad into a rocker that marked the Beatles' first No. 1 record in Britain. Perhaps most significantly, he expressed his faith in McCartney and John Lennon as songwriters by conceding to their demand to record their own material and rebuffing his suggestion that the pop tune "How Do You Do It" be their first single.
Through the band's ups and downs in the late 1960s, Martin remained a constant for the Beatles, a figure who commanded respect from Lennon, McCartney, Starr and Harrison no matter how fierce the in-fighting was among the foursome.
Martin's skill as a producer and arranger allowed the band to flourish as they evolved from recording the material they'd worked out on stage for years in clubs to the more intricate recordings found on the 1965 album "Rubber Soul" and 1966's "Revolver." He helped them arrange strings for "Yesterday" and work with more exotic instruments such as the Indian sitar that Harrison began experimenting with on such songs as "Norwegian Wood."
The band's major collaboration with a producer other than Martin came on tracks that comprised the 1970 album "Let It Be," which by many accounts was a frustrating experience as producer Phil Spector applied his "Wall of Sound" formula to songs such as the title song and "The Long and Winding Road." After "Let It Be," the group enlisted Martin for producing duties on "Abbey Road," which was released prior to "Let It Be" but was recorded afterward.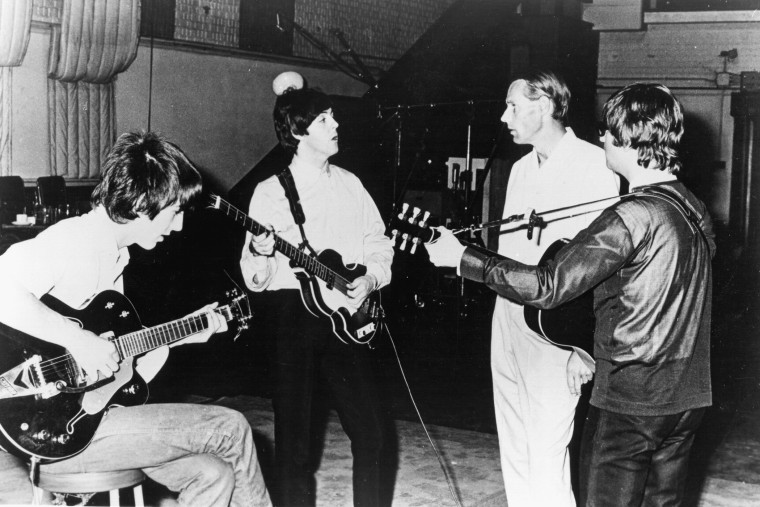 Martin worked with a range of other artists during and after the Beatles' era, from Cilla Black to Tom Jones to America to solo works by Paul McCartney and by Wings. But it was his success with the Beatles that made Martin one of the most famous record producers of all time. He earned Britain's prestigious CBE honor in 1988.
Born in 1926, Martin became interested in music at a young age. During World War II, he worked as a surveyor and clerk for the War Office and joined the Royal Navy working as a pilot in its Fleet Air unit. He left the service in 1947 and enrolled in Guildhall School of Music, where he studied piano.
He began working for the BBC's classical music department after graduation but by 1950 had joined EMI. He worked as an assistant to the head of the low-profile Parlophone imprint, which was known for novelty and comedy records including a recording of the famed Beyond the Fringe comedy outfit featuring Peter Cook, Dudley Moore and Alan Bennett.
By 1955, Martin had taken over as head of Parlophone. His experience with cutting-edge British comedy talent resonated would later help him bond with the Beatles. Martin by his own account was intrigued by the surge of pop and R&B acts in Britain in the early 1960s. He was in the market for a group to work with when Epstein called on him with tapes that had been recorded — and rejected — by Decca Records. Martin set a handshake deal with Epstein in May 1962 but didn't finalize the contract until he met the band the following month.
In a statement Career Artist Management said: "In a career that spanned seven decades he was recognized globally as one of music's most creative talents and a gentleman to the end. The family ask that their privacy be respected at this time."