FERGUSON, Missouri — The plan was to shut down a section of Interstate 70. But by about 3 p.m., police had beaten them to the proverbial punch, cutting off the off ramp where protesters had planned to march. Officers stretched across the roadway, warning more than 100 protesters and dozens of media drawn there by them, that if they blocked the highway they'd be arrested.
At one point protesters marched up to the waiting line of officers, standing face to face, shouting many of the protest chants that have become a staple of protests in Ferguson since the police killing of unarmed teenager Michael Brown sent hordes of residents and supporters into the streets for nearly a month.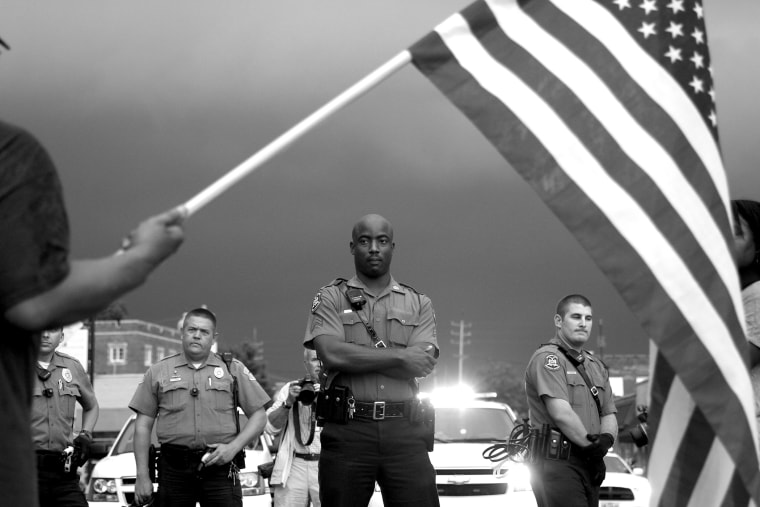 In short order on Wednesday, several protesters were arrested, slapped on the wrist with plastic cuffs and hauled off into a sea of blue and brown uniforms.
The protesters never did block the highway. The police did that for them in a show of force and flashing lights that made for good footage for the nightly news.
"This was a success," said Eric Vickers, a long-time St. Louis activist who was an organizer of Wednesday's action. "We didn't shut down the highway but we were able to send a message and bring attention to our cause."
Vickers and other organizers said the highway shutdown was to fuel their demands that a special prosecutor be appointed to oversee the case of Brown's killing and that St. Louis County Prosecutor Bob McCulloch be removed. Many supporters of Brown's believe McCulloch is incapable of leading a fair, un-biased prosecution of the case because of his strong ties with law enforcement. McCulloch's father was an officer, killed on-duty by a black suspect.
There were many tense moments Wednesday, as police repeated their warnings of arrest, which included members of the media. On at least two occasions a protester threw a rock at officers, and officers responded to that -- and unheeded warnings to stay out of the street -- with brute force and arrests.
One after another, protesters were descended upon. Some went kicking and yelling. Others were tackled or taken down. Police also chased a few young men, and as they did, the crowd cheered them on and clapped when they eluded officers.
It has been just over a month since Brown was shot and killed by Ferguson police officer Darren Wilson. And the initial violence and mass protests and showdowns with police that put Ferguson on the map and Brown's name and face on t-shirts and protest posters, had dimmed in recent weeks.
But Tuesday's City Council meeting, the first since the shooting, seemed to mark another turn in the movement for justice for Brown's supporters. One by one, residents, at times angrily, other times poignantly, voiced their displeasure and distrust with the nearly all-white leadership in the city. They questioned the mayor vociferously and demanded Wilson's arrest.
One man summed up the tone of the evening succinctly, saying, "This ain't over. It's just the beginning."
But through the din of grievances at the council meeting was also a clear focus on institutional and political change, a demand for greater voter participation and engagement by African-American voters and community unity. Residents offered to pay to help people get the required identification needed to register to vote and challenged them to wipe the local leadership posts clean through the electoral process.
The highway blockade action seemed a direct outgrowth from the pool of energy that brimmed over on Tuesday night. Still, there was some who saw the planned shutdown as a botched opportunity.  "I don't think it got anything accomplished but got a bunch of innocent people arrested," said Myron Goodlett, a protester. "I believe it was a bad idea to broadcast out there."
Another protester, Maurice Brown, said the police may have gotten the jump on their plans, and that the numbers the protest drew was in itself a show of force.
"What was gained was regardless if we were able to shut the highway down we still were able to get our point across," said Brown, no relation to Michael Brown. "The point is that we are still here and we ain't going nowhere. We're going to be out here until we get justice."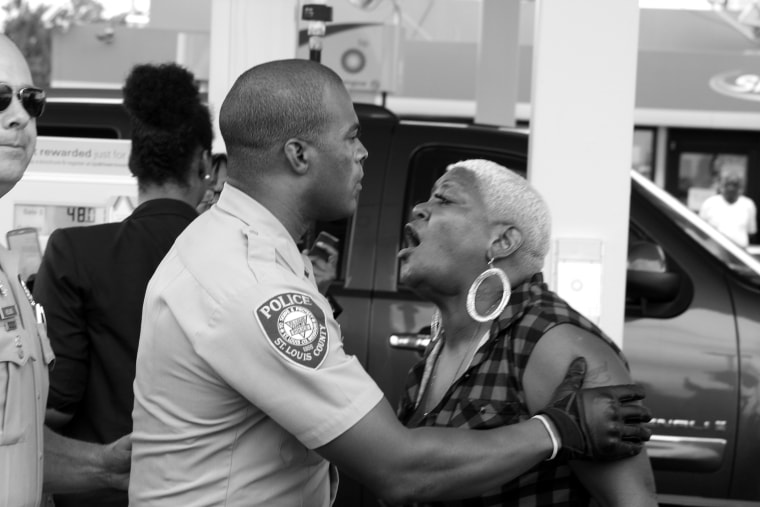 Police eventually broke up the protest, marching toward the crowd, arresting some and warning others.
At the same time, a group of protesters left the highway and headed to Ferguson police headquarters a few miles away and quickly assembled in the street in front of it. They parked a couple cars in the middle of the road and gathered in the street, taking up both lanes.
While protesters were unable to shutdown the highway, they were successful in shutting down a main stretch of road in town and just yards from the police headquarters. For about 15 minutes there wasn't a single officer in sight. Then, as night began to fall and dark clouds began to thicken above, a caravan of county police SUVs with lights flashing slowly rolled down the street. The officers stopped about 50 yards from the line of protesters.
As rain began to fall, protesters marched closer to the handful of officers who stood stern-faced and quiet, watching the group as they closed in.
"We're fired up," they chanted. "We can't take it no more!"
 Then, as they got within just a few yards from the officers, the sky rumbled and then opened up, dumping down a torrential rain.
What police were unable to accomplish, the forces of nature did. Protesters ran off into the dark, wet night, and the street returned to order.