FERGUSON, Missouri -- The grief-stricken community of Ferguson was once again wracked by violence and chaos overnight Monday.
Police fired tear gas at protesters amid the sound of explosions, shots rang out and armored police trucks sped down Florissant Avenue. At least two people, both males, were shot "in the dark of night," Capt. Ron Johnson of the Missouri State Highway Patrol said at a press conference. Two guns and a Molotov cocktail were confiscated. There were two fires, one at a local business and another at an unoccupied residence, Johnson said. Police were hit with bottles and rocks. Thirty-one people were arrested by 2 a.m. CT.
Johnson said police did not fire any bullets at protesters, whom he encouraged to turn out for demonstrations during the day.
"There is a dangerous dynamic in the night," Johnson said, noting that the criminal activity overnight "came from a tiny minority of law-breakers."
Just before midnight, police cracked down on some of the last remaining protesters. The driver of a pickup truck offered to give rides home to some protesters who looked to be teenagers. Riot police stopped them and told them to put their hands in the air. What appeared to be a glass bottle with a cloth coming out of it could be seen in the back of the truck. The driver and the protesters were all detained. 
Minutes later, police told reporters to leave the designated media staging area, saying their lives were in danger and that shots may have been fired. Two journalists were reportedly taken into police custody overnight, and rocks were thrown at msnbc hosts Chris Hayes and Craig Melvin while they reported on air. Earlier, a Getty photographer was detained and later released.
Earlier in the evening Monday, the mood was calm. Religious leaders sang spirituals, the elderly found ways to keep moving and protesters traded days of unrest for celebrity sightings including hip-hop artist Nelly who joined this community ravaged by violence and grief for a few hours of relative calm Monday under the watchful gaze of the National Guard.
Monday was the first night since Friday without a police imposed curfew, and Ferguson residents braved the 90-degree heat to call for justice in the killing of Michael Brown, the 18-year-old teenager who was unarmed when a police officer shot him at least six times on Aug. 9. The officer has not been arrested.
Over nine days, police in Ferguson have repeatedly shifted tactics and strategies -- often deploying a heavily armed force against a few hundreds demonstrators. They have fired rubber bullets and tear gas on crowds that included children, they have locked down areas, and widened mistrust among residents of this predominately African-American suburb of St. Louis. By Sunday night, the town was engulfed in violence including random shootings and attacks from some protesters against the police. Gov. Jay Nixon Nixon blamed the unrest on "a violent criminal element intent upon terrorizing the community."
Monday, the state offered a new game plan: The curfew would end and the National Guard would move in. Soldiers arrived Monday evening at the police command center in Ferguson.
Capt. Johnson, who was tasked last week with enforcing security in Ferguson, told protesters, "You can stay here all night long. You can march up and down this street."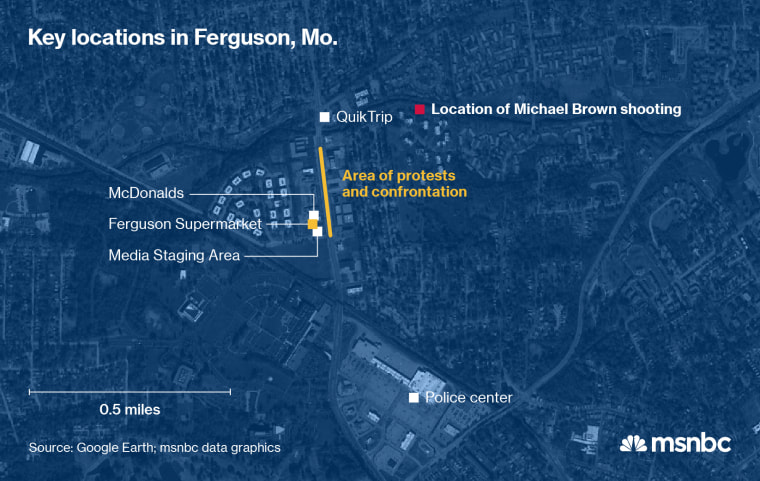 A crowd of mostly young protesters chanted the now-familiar slogan "hands up, don't shoot!" One group instead chanted "hands up, shoot back," suggesting the peaceful mood might not last. 
President Obama said Monday afternoon that Attorney General Eric Holder, whose department is conducting a civil rights investigation into Brown's death, would visit Ferguson Wednesday. Another Justice Department official was scheduled to arrive there on Tuesday.
Obama also made a plea for calm on all sides. "While I understand the passions and the anger that arise over the death of Michael Brown, giving into that anger by looting or carrying guns, and even attacking the police only serves to raise tensions and stir chaos," he said. "It undermines rather than advancing justice." 
Also Monday, a spokesman for St. Louis County Prosecuting Attorney Bob McCulloch, who is investigating the killing of Brown, said the prosecutor would attempt to present evidence to a grand jury Wednesday. That came after an autopsy conducted at the request of Brown's family, and released Monday morning, showed that the unarmed teen had been shot six times, including twice in the head.
At a "civil disobedience" rally in downtown St. Louis, a group of roughly 100 protesters, many from out of the state, attempted to occupy a state building, demanding an audience with Gov. Nixon to discuss racial profiling and police brutality. St. Louis police said eight people were arrested.
"If you are not prepared to fight and die for this, then what are you here for?" one female speaker asked the crowd.