Kentucky Senator Mitch McConnell and Democratic challenger Alison Lundergan Grimes may not participate in a formal debate ahead of the 2014 general election for McConnell's Senate seat, but they sure came close at Saturday's Fancy Farm Picnic.
The annual event, which serves as a fundraiser for the St. Jerome Catholic Church in Fancy Farm, Ky. where the event takes place, is known for being a raucous political heckle-fest, and despite the organizers' best efforts to tone down the crowd, this year's lineup didn't disappoint. Decked out in Grimes and McConnell campaign garb -- which the campaigns handed out for free in tents ahead of the event -- audience members cheered for their candidates and booed at their counterparts across the political aisle.
The state's Democratic Governor Steve Beshear kicked off the event by taking a photo of McConnell, joking that he wanted a final picture of the senator before McConnell "retired."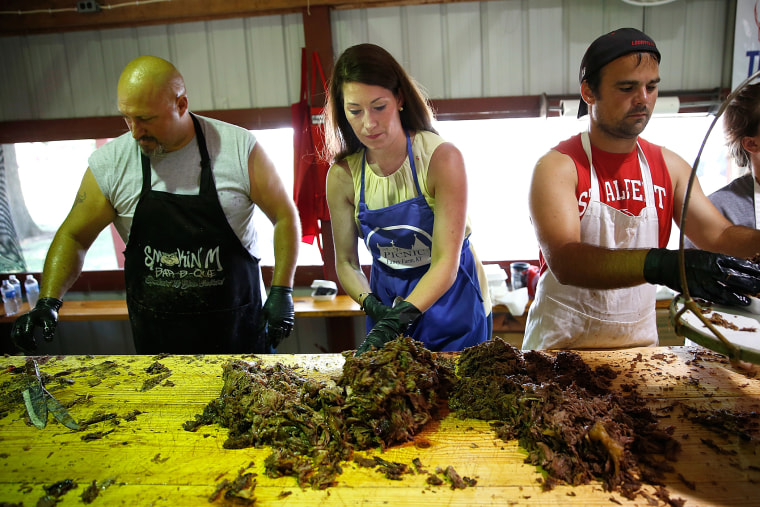 Grimes, the secretary of state for Kentucky, engaged her supporters in a call-and-response chorus of "Mitch McConnell doesn't care; I do," and predictably took jabs at the Senate minority leader for a variety of issues including equal pay ("Only one of us believes women deserve equal pay for equal work"), the minimum wage ("It's not a minimum wage, it's a living wage"), and job creation, which Grimes called her "number-one priority." But Grimes's overarching theme was McConnell's long-enough five-term tenure in the Senate. "One of us represents the past," Grimes said, "One of us represents the future," adding that "30 years is long enough."
But despite Grimes's vocal contingent of supporters, McConnell's allies could often be heard chanting "We want Mitch" above Grimes's battle cries.
For his part, McConnell talked up Grimes's alliances with President Obama, whom McConnell criticized for failing to visit the U.S.-Mexico border amid the latest immigration crisis, and Senate Majority Leader Harry Reid. McConnell blasted Obama's presidency, drawing parallels between him and Grimes. "By any standard Barack Obama has been a disaster for our country," McConnell said, adding, that's what you get for electing someone with "no experience" -- "Sound familiar?"
Republican Sen. Rand Paul, Kentucky's junior senator and likely 2016 presidential candidate, stumped for McConnell, saying "a vote for Grimes is essentially a vote for the Obama-Reid agenda," and summoning the rowdy audience -- which Kentucky Supreme Court Justice Bill Cunningham called the largest in the picnic's 134-year history -- to chant along with him, "Obama needs Grimes; Kentucky needs McConnell." Kentucky's Democratic Attorney General Jack Conway -- who has thrown his hat in the ring to run for governor in 2015 -- meanwhile, championed Grimes, calling her "the fresh face to shake [Washington] up."
According to RealClearPolitics' latest polling figures, McConnell and Grimes are nearly neck-and-neck in the race, with the incumbent holding a small but consistent lead.