Seizing the opportunity to define his legacy on immigration, President Obama on Thursday will unveil the most sweeping executive actions on the issue in U.S. history, setting the stage for a political retribution from Republicans who have vowed to fight him "tooth-and nail."
The president will lay out the details of his unilateral actions during a prime-time address Thursday evening in a pitch to an American public weary from years of failed attempts to overhaul the immigration system amid a deeply-divided Congress. After that, the president will hit the road Friday, traveling to the Las Vegas high school where he first made his push form immigration reform nearly two years ago.
The announcement is sure to enrage many Republicans, who argue the president is overstepping his authority. Some are threatening to derail an upcoming spending bill, due by Dec. 11, to keep the government running, as political leverage. Several dozen House Republicans have signed on to tie funding for the executive action to a spending bill, setting in motion another possible showdown over a government shutdown.
Related: Nearly half of Americans disapprove of Obama immigration plan
Others have gone as far as to say the president should be impeached, while House Speaker John Boehner is currently preparing to sue President Obama for executive overreach.
Meanwhile, GOP firebrand Sen. Ted Cruz has already called on his Senate colleagues to block any Obama nominee (save for "vital" national security positions) as long as "illegal amnesty" exists.
Establishment Republicans and others in the GOP leadership have asked that the president wait until after the lame-duck session, when Republicans are set to take over both chambers in the new Congress convening in January.
"My question to the president is, why couldn't he wait and see what this new Congress does. Give them some time. Not a deadline. But some time," Arizona Sen. John McCain told MSNBC's Chris Matthews. "You'll know whether they are going to be able to move forward or not. You don't have to set a timetable. And see then. But obviously that's not going to be the case. "
Though the scope of proposed action remains unclear, the president is expected to provide relief to undocumented immigrants who have U.S.-born children, and those with high-tech skills. The president is not able to provide a pathway to citizenship for immigrants, but the White House argues that it is within his power to protect large swaths of the undocumented immigrant population from deportation. The action is unlikely to provide health care benefits for those protected by it and may not cover the parents of young immigrants, according to The New York Times. 
The announcement follows months of preparations and delays as the Obama administration searched for options to address immigration without going through Congress. Speaking at a National Press Club event Wednesday morning, Department of Homeland Security Secretary Jeh Johnson said the administration had "identified a number of executive actions" that the president is willing to implement after the House failed for more than a year to push comprehensive immigration reform through.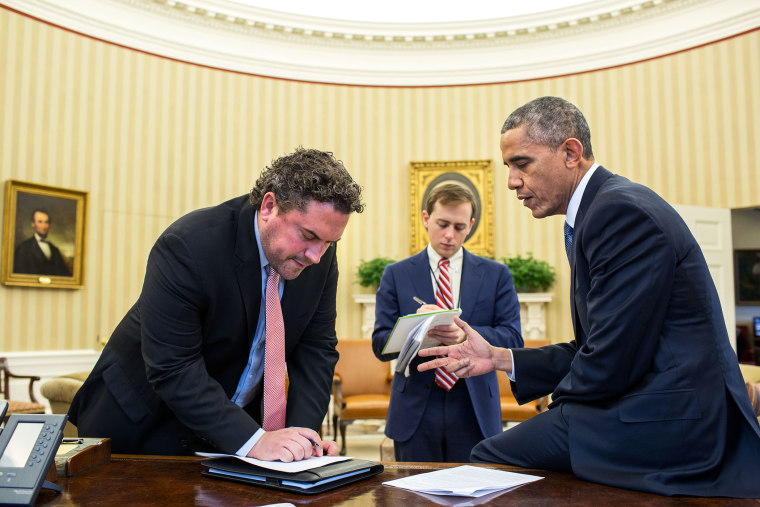 "I am satisfied that our reforms are within our existing legal authorities and they will address a number of things including border security," Johnson said. "The president is committed to border security. The president is committed to reducing illegal migration in the future. And so we will be announcing a set of comprehensive reforms, all within our existing legal authority to fix the broken immigration system."
Nearly half of Americans surveyed in the latest NBC News/Wall Street Journal poll said they did not approve of the president's proposals. Roughly 48% oppose of the executive action, while 38% approve it. But the results are divided on largely partisan lines, NBC News reports. While 63% of Democrats say they support the president's move, only 11% of Republicans say the same.
The details of the president's plan will be unveiled in a prime-time address, which White House Press Secretary Josh Earnest defended as part of strategy to "talk to as many Americans as possible." 
"The intended audience for this message is the American people," Earnest said. He repeatedly dismissed questions during a White House briefing about whether an executive order could invite a host of legal problems for the president. While he was unwilling to get into how the actions would be implemented, he said "there is a solid legal foundation for the president to take these actions."
The high school where the president is expected to rally support behind his immigration plan -- Del Sol High School in Las Vegas -- is symbolic in marking where Obama launched his push for a legislative solution to overhaul U.S. immigration laws.
"I believe we are finally at a moment where comprehensive immigration reform is within our grasp," Obama said in January, 2013.
But nearly two years later, comprehensive immigration reform appears dead in the water, having been passed in the Senate but stalled in the House, with no chance of a vote before the end of this legislative session.
Wisconsin Governor Scott Walker told NBC's Kasie Hunt, "It was the president years ago who talked about the audacity of hope -- this is the audacity of a power grab." He went on to say the Republicans in Congress should take Obama "to court" for violating the separation of powers. 
DREAMers, young immigrants brought to the United States as children, are in Washington this week to keep up pressure on lawmakers who threaten to put the executive action in jeopardy. It's estimated that as many as 4 to 5 million undocumented immigrants would likely qualify for relief, and for many who are here and were born in the U.S., the president's action would mean that their parents can remain in the U.S. -- at least temporarily -- without having to fear that they could be deported.
Related: Money men hop on immigration reform bandwagon
Meanwhile, congressional Democrats in the last week have started to coalesce behind the White House on this issue. Earlier this week, a group of top Democratic senators sent a letter to the president to express their support for him circumventing Congress to act on immigration. House Democrats meanwhile have started to take on the White House's central messaging that Obama is far from the first president to take executive action even on immigration -- Ronald Reagan and George H.W. Bush have done similar -- albeit far more limited -- actions in the past.
And though last week Senate Majority Leader Harry Reid cautioned to reporters that he hoped the president would hold off until December to allow lawmakers to get the country's finances in order, Reid told Univision Monday that he hoped Obama would put pen to paper "as quickly as possible."
"This is personal to me," said Reid in a statement. "There is no issue I have worked on more in my time as Democratic Leader, than immigration reform. Comprehensive immigration reform brings relief to families being torn apart by our broken system. Comprehensive immigration reform is an economic issue and one we must address. That's why I have been so disappointed that Republicans have ducked, dodged and skirted taking up legislation this Congress forcing President Obama to act administratively. There is no better place than Nevada for President Obama to outline the actions he is taking to keep families together, improve the economy and protect our national security. I look forward to attending Friday's event."
President Obama will discuss his decision with Democratic leadership from both the Senate and House at a dinner on Wednesday night, ahead of his prime-time announcement from the White House at 8 p.m. ET on Thursday. NBC has confirmed that Senators Reid, Dick Durbin, Chuck Schumer and Patty Murray will be among those in attendance, as well as Rep. Steny Hoyer from the House of Representatives. An aide for Republican leader Sen. Mitch McConnell confirmed that he was not invited to the meeting at the White House, while House Minority Leader Nancy Pelosi said she is unable to attend.
Illinois Rep. Luis Gutierrez also said he will be attending the White House dinner Wednesday. "It's going to be a great evening," Gutierrez told msnbc. "I look forward to hearing how the president will move the country forward on immigration."
When asked if failing to include Republicans in the Wednesday dinner at the White House failed to heed the lessons of the midterm elections, Earnest said:  "Well Roberta, sadly if it were only dinner that was required to get Republicans to act in a bipartisan fashion, then we would've passed bipartisan compromise immigration reform legislation years ago."