NEW YORK -- Republican Sen. Ted Cruz of Texas – who this week became the first candidate to officially announce his 2016 presidential bid – on Wednesday laid out his game plan to win over young voters, and part of that strategy, he said, is to use his sense of humor.
"Would it kill Republicans to tell a joke? Some it might, actually."'
It's about "speaking their language, having a sense of humor," Cruz told msnbc at a "young professionals event" at The Campbell Apartment, a swanky cocktail bar in midtown Manhattan. "Would it kill Republicans to tell a joke? Some it might, actually," he added, with a glass of red wine in hand.
The tea party favorite has indicated he will make a big pitch to younger voters as he lays the groundwork for his 2016 campaign. Even on Monday, he chose Liberty University – the world's largest Christian college—to make his presidential ambitions known in front of thousands of students. And on St. Patrick's Day, he drank green beer at an event in Arlington, Va. filled with young conservatives.
The crowd on Wednesday night was small, with just about two dozen attendees, many of whom worked in the tech and finance industry. Cruz's wife and two young daughters were also in tow. 
RELATED: Ted Cruz: Climate change believers are the new 'flat-Earthers'
Cruz said to win over younger voters he will focus on issues including the growing national debt, stagnant job growth and Obamacare, which he described as a "massive wealth transfer from young healthy people to everybody else." Ironically, Cruz – a vehement critic of Obama's signature health care law—said on Tuesday that he was signing up for health insurance under the Affordable Care Act after losing coverage when his wife decided to go on leave from her job with Goldman Sachs. He made no mention of social issues.
Critics say Cruz may have an uphill battle in appealing to millennials on social issues, while at the same time trying to appeal to evangelical conservatives and those on the far right of the Republican Party, especially as he pushes a message to repeal Obamacare (which allows Americans under 26 to stay on their parents' health plan), criticizes the president's executive action on immigration (which expands a 2012 program that provides some relief to young people brought to the country illegally as children) and talks about defending the "sanctity of human life" and protecting the "sacrament of marriage." Not exactly what many students are talking about at college campuses around America.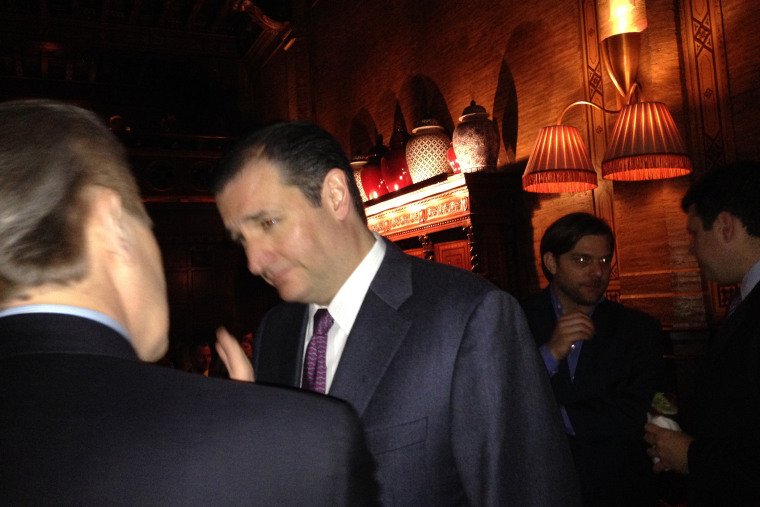 Morley Winograd, a millennial generation expert and senior fellow at the University of Southern California's Annenberg School's Center on Communication Leadership and Policy, told msnbc that while Cruz will be an attractive candidate to some young conservatives, he predicted the support wouldn't be significant.
"His posture and his positions are not likely to attract any sizeable segment of the millennial generation, whose general political orientation and behaviors are oriented to tolerance, inclusion and looking for consensus solutions to problems," said Winograd. "These stand in direct opposition to the way Sen. Cruz approaches political debate, and so he will find it difficult to attract any significant support from this generation. As for his use of social media or doing other things to demonstrate his desire to engage young people, these tools are available for anyone to use but that doesn't mean the audience will be listening, which has more to do with what you  have to say." Mike Hais, who co-wrote "Millennial Momentum: How a new generation is remaking America" with Winograd, added that overall, the greatest number of millennials identify with and vote for Democratic candidates.
At the event on Wednesday, several attendees -- who shelled out a minimum of $250 in donations and enjoyed drinks and hors d'oeuvres --  said they weren't 100% sold on Cruz as president.
RELATED: Ted Cruz is signing up for Obamacare
One Bay-Area-native-turned-New Yorker in attendance said he was there doing "market research," seeing where Cruz landed on major foreign policy issues of the day. The 24-year-old financial analyst said, "I'm here because for the first time in a long time there's no clear winner, and both the Republican and Democrat sides are fraught with factions. I'm still finding my own political voice and philosophy, and the way best way to do that now is to understand the personalities behind the theory, behind the titles."
But not everyone there was looking to be convinced. Some, like Sam Baron, 25, were quick to tell msnbc they already knew for whom they would cast their vote -- and that they want others to do the same. "I have [been telling] my entire office, all day long, 'you gotta vote for Ted Cruz.' Every day I take the train home and I try to convince one Democrat just to even know who he is, just to look him up."
Even as Cruz is in the back of the pack of many polls surrounding the Republican presidential nomination, his campaign managed to rake in an impressive $500,000 in his first day as an official presidential candidate. Cruz told Fox New's Megyn Kelly on Tuesday that the campaign hit $1 million in fundraising after 36 hours, but msnbc has not confirmed that number.
RELATED: Ted Cruz quit on rock 'n' roll because of 9/11
The senator's young professionals meet and greet was his second Big Apple event this week, with Cruz holding another fundraiser on the Upper West Side on Monday night.
Cruz on Wednesday acknowledged to msnbc that young voters by a majority cast their ballots for Barack Obama. But he insisted, "it's interesting, in the last couple of years, young people have become demoralized. They've become disillusioned. There's an awful lot of people with faded posters of hope and change on the wall, and they're still sleeping in their parents' basement. Now, I don't think right now those young people have moved over to Republicans. We've got to demonstrate that we have a better path, that we have an attractive future."