Democrats are making sure this is one anniversary New Jersey Gov. Chris Christie's constituents won't forget.
The Democratic National Committee is launching a geographically-targeted ad blitz on Monday, the one-year anniversary of the scandal known as "Bridgegate," to remind New Jersey and New York commuters about the epic traffic jams that ensnared thousands of people during four days in 2013. E-mails made public have since shown that some of the Republican governor's staffers and allies ordered lane closures on the George Washington Bridge — seemingly for political retribution. Christie, who recently visited Mexico, strengthening rumors that he will make a 2016 bid for president, has denied any prior knowledge of the plot.
Those living in or commuting through Fort Lee (the town on the New Jersey side of the bridge) and in the Washington Heights area (on the Manhattan side of the bridge) will see or hear the zip-code targeted ads on Monday via their mobile phones.
The cell phone web ad simply reads "Gov. Chris Bridgegate Christie." For those listening to the Pandora radio app, a banner and 15-second audio spot will play, with a narrator declaring, "Gridlock. That's what happened one year ago in Fort Lee, when the Christie administration shut down lanes to the George Washington Bridge. But it's also what Chris Christie has brought to New Jersey — wrecking our economy and losing our trust."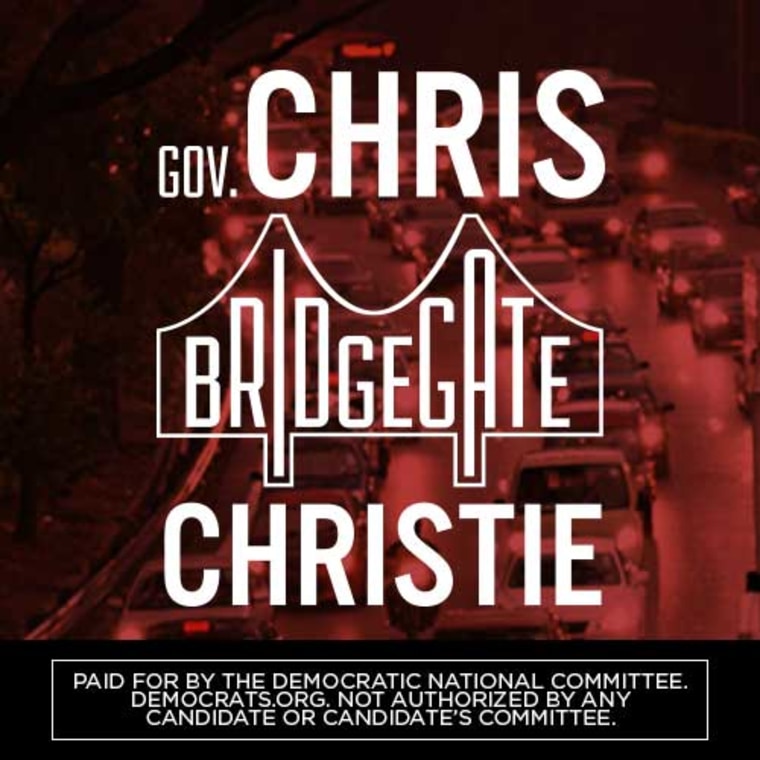 Michael Czin, the DNC's press secretary, said the purpose of the ads — which target cellphone users by location through "geofencing" — is simple. "We want to remind folks that there are still a lot of unanswered questions, including why the lanes were shut down in the first place. … What we do know is the lanes were shut, and Christie created a culture where something like this happened."
Czin would not disclose the exact size or price of the ad buy, but said thousands of people would see or hear the ads on Monday. That includes those going through the George Washington Bridge Bus Terminal, which accommodates 950 buses a day that go over the bridge.
Christie's office declined to comment for this story.
Christie has maintained that he was completely unaware of the plot. However, an email was made public showing his top aide, Bridget Anne Kelly, sent a now-infamous message to a Port Authority executive, saying "time for some traffic problems in Fort Lee." Christie has since fired Kelly and cut ties with his former campaign manager Bill Stepien, who called the Democratic mayor of Fort Lee, Mark Sokolich, an "idiot."
There is a theory that the governor's aides were seeking political retribution against Sokolich for not endorsing Christie in his gubernatorial re-election 
A state legislative committee has been investigating the lane closures, although there has not been any evidence linking the governor directly to the scheme. Christie's administration is also under a federal investigation regarding his staffers' plot. 
The governor commissioned a separate, internal investigation into the lane closures — costing New Jersey taxpayers more than $7 million. The firm released its report clearing the Republican governor of any wrongdoing on March 27. But the internal report was immediately criticized by its opponents who argued it wasn't independent, did not involve key people at the center of the scandal, and was being done by a law firm with known ties to the governor. Polls have shown that New Jersey voters are also skeptical of the report.
Meanwhile, Christie has been generating buzz that he's seriously considering making a bid for the Oval Office in 2016. He has recently visited the political powerhouse states of Iowa and New Hampshire and has a visit scheduled to South Carolina later this month. The governor's visit last week to Mexico left many to believing that he's trying to beef up his foreign policy resume.
Back in May, Christie predicted the traffic scandal would only be a "footnote" on his record and will have no impact on 2016 "because I didn't do anything."
The Democrats will continue to hammer Christie on the Monday anniversary with a press conference in Fort Lee with DNC Chair Rep. Debbie Wasserman-Schultz, New Jersey Assemblywoman Bonnie Watson Coleman and New Jersey Democratic State Committee Chair John Currie.