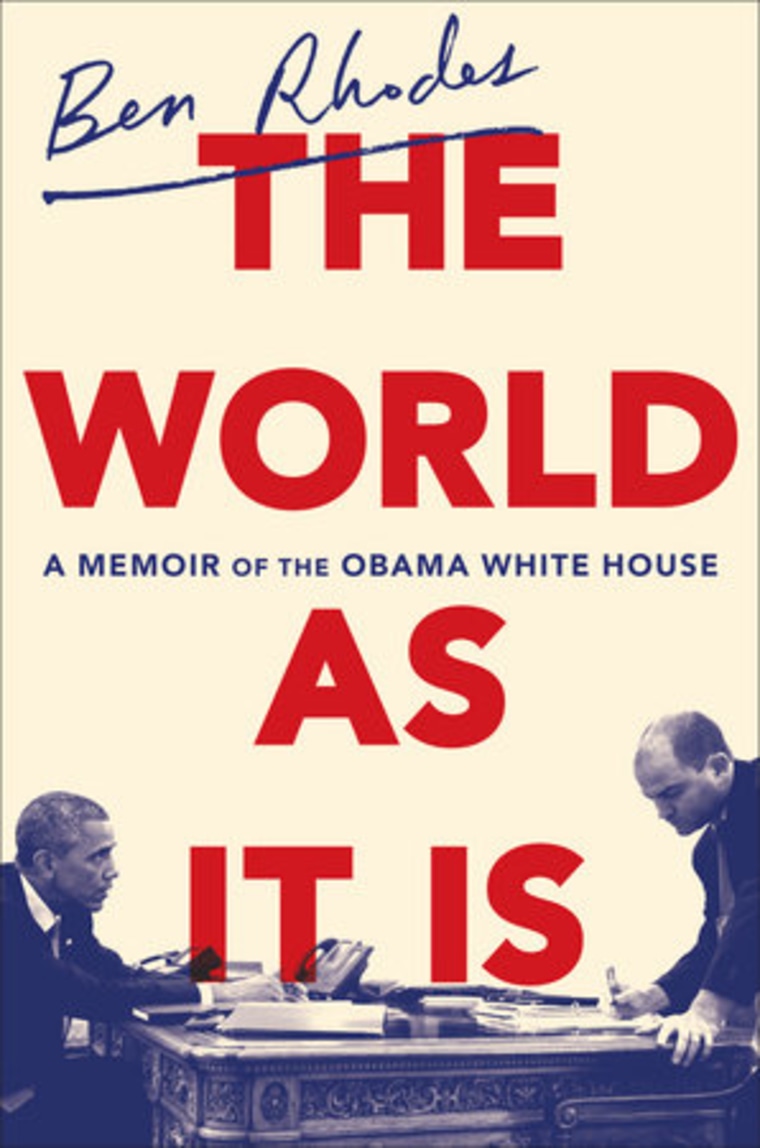 For the final time in a foreign country as president of the United States of America, Barack Hussein Obama eased into his seat as a Secret Service agent shut the heavy door. "Let's go home," he said.
Inside the presidential limousine—known as the Beast—the world outside is silent and kept at a distance by inches of bulletproof glass and armored metal. There is an eerie familiarity to riding in a motorcade, whether you are in an empty Saudi Arabian desert or a crowded street in Hanoi. The front two seats are always occupied by Secret Service agents who never say a word; while they sit there scanning the road ahead, you learn to talk as if they are not present.
Obama glanced across at me and a light crept into his eyes. "Did you see Ben forgot his socks?" he said to Susan Rice, peeling back a wrapper and popping a piece of Nicorette into his mouth. He laughed in anticipation of his own words. "I mean, come on, man. Your socks!"
Each day that you travel abroad with the president, you place your suitcase outside your hotel room door and someone picks it up at a set time. This was part of the easy rhythm of travel that would soon disappear. I began to explain that when I'd shoved my bag outside my door at three in the morning, I thought I'd set aside a pair . . .
He waved a hand at me. "I get it. It was a late night. I'm glad you guys had a good time while I was reading my APEC briefing book."
I looked out the window at one last stretch of crowds. The streets of Lima were littered with onlookers set against a backdrop of rising modern towers and older, more dilapidated buildings. They were watching, waving, and holding up smartphones—one more trickle of humanity among the millions of faces I had seen over the years through the window of a passing motorcade, straining for a glimpse of Barack Obama. Every now and then on these drives, Obama would glance out the window and offer a casual wave and I'd see someone's face freeze in a shock of recognition. Sometimes I would hold up my phone and take pictures of the crowds taking pictures of us, the only way to feel a connection with a mass of human beings whom I would never, could never, really know.
Normally, Obama would take out his iPad and scroll through the news or rejoin an endless game of Scrabble and ask us how we thought he did in the just-concluded press conference. I sat opposite him, just as I had on trips to dozens of countries over the last eight years. But—after the laughter at my socks faded away—he sat silently, chewing his Nicorette and staring out the window. This was the final trip, and despite the familiar rhythms, nothing about it felt normal. The whole world seemed to be passing us by.I glanced across at the presidential seal affixed to the wood paneling next to the seat that Obama occupied—a seat that would be taken by Donald J. Trump in a couple of months.
At our first stop, in Athens, we had planned to give a speech celebrating the resilience of democracy in its birthplace, with the Acropolis as the backdrop. As we'd sketched it out, we'd foreseen a defiant challenge to Russia and its revanchist leader, Vladimir Putin. Somehow, that setting no longer felt equal to America's moment. It was two weeks after the election of Donald Trump. We moved the speech indoors to an auditorium that could have been anyplace.We ended up touring the Acropolis instead, on a pristine, warm morning. From its perch up on a hill, the world was lovely and calm—in the clear blue sky and sweeping view of Athens, there was no hint of the financial crisis gripping Greece, the flow of refugees crossing its borders, or the uncertainty that those forces had unleashed in the world beyond. I trailed Obama as he wandered through the collection of ancient pillars and scaffolding and tributes to the gods, a monument to the origins of democracy and the ruins left behind by lost empires and expired beliefs. When I saw him afterward, he repeated a maxim that he'd shared with me in the early morning hours after the election of Trump, a refrain that sought out perspective: "There are more stars in the sky," he said, "than grains of sand on the earth."
At our second stop, in Berlin, Angela Merkel asked to see Obama for dinner our first night there. Merkel has a kind of reverse charisma—stoic, self-possessed, with a slight smile that draws you in, a woman at ease in power and her own skin—and she greeted him with a hand on each arm. She was his closest partner in a world that offered few friends, and she had risked her political future by welcoming a million Syrian refugees to Germany. Obama admired her pragmatism, her unflappability, and her stubborn streak. Over the previous year, he had battled his own bureaucracy to increase the number of refugees that America would welcome, telling us again and again, "We can't leave Angela hanging."The two of them sat alone at a small, simple table in the middle of a hotel conference room. They ate and talked for three hours, the longest time Obama had spent alone with a foreign leader in eight years. A few of us dined with her staff in an adjoining room. The Germans looked stricken; they spoke with unease about the new world coming, and the burdens on Merkel within it. "To the leader of the free world," I toasted, ruefully. One aide told me that Steve Bannon's appointment to the White House staff had been front-page news in Germany. "We know Bannon," he said, leaning toward me as if passing on a secret in confidence. Outside the window you could see the Brandenburg Gate in a gold light, and the Reichstag building, the replacement for the one that was set on fire as Hitler took power.
Later, Obama told us that Merkel had talked to him about her looming decision on whether to seek another term, something that she now felt more obliged to do because of Brexit and Trump. At the end of our time in Germany, when Obama bade her farewell at the door of the Beast, a single tear appeared in her eye—something that none of us had ever seen before. "Angela," he said, shaking his head. "She's all alone."
At this third and final stop, a summit of Pacific nations in Lima, Obama was pulled aside by leader after leader and asked what to expect from Donald Trump. Ever conscious of the norms of his office, Obama dutifully urged his counterparts to give the new administration a chance. "Wait and see," he told them. The leaders of eleven other countries who had painstakingly negotiated the Trans-Pacific Partnership (TPP) trade agreement met with Obama on the first day. If they were angry at having taken tough political decisions to bind their economic futures to the United States only to see the new president-elect commit to pulling out, they concealed it. Instead, they were almost apologetic in their suggestion that they'd probably just move forward with some form of the agreement without the United States.
For the first time in eight years, history felt out of our hands.
The Japanese prime minister, Shinzo Abe, apologized for having breached protocol by meeting with Trump at Trump Tower without telling Obama beforehand. The Japanese felt they had no choice but to strike up a relationship with a man who had threatened to charge Japan for the troops that we stationed there. Abe confirmed his plans to visit Pearl Harbor when Obama would be in Hawaii in December—a gesture of reconciliation that mirrored Obama's own visit to Hiroshima, and that suddenly seemed out of step with the times.
Obama met with the president of China, Xi Jinping, in a sterile hotel conference room, untouched cups of cooling tea and ice water before us. There was a long review of all the progress made over the last several years. Xi assured Obama, unprompted, that he would implement the Paris climate agreement even if Trump decided to pull out. "That's very wise of you," Obama replied. "I think you'll continue to see an investment in Paris in the United States, at least from states, cities, and the private sector." We were only two years removed from the time when Obama had flown to Beijing and secured an agreement to act in concert with China to combat climate change, the step that made the Paris agreement possible in the first place. Now China would lead that effort going forward.
Toward the end of the meeting, Xi asked about Trump. Again, Obama suggested that the Chinese wait and see what the new administration decided to do in office, but he noted that the president-elect had tapped into real concerns among Americans about the fairness of our economic relationship with China. Xi is a big man who moves slowly and deliberately, as if he wants people to notice his every motion. Sitting across the table from Obama, he pushed aside the binder of talking points that usually shape the words of a Chinese leader. We prefer to have a good relationship with the United States, he said, folding his hands in front of him. That is good for the world. But every action will have a reaction. And if an immature leader throws the world into chaos, then the world will know whom to blame.
On this final day, Obama held his last bilateral meeting with Prime Minister Justin Trudeau of Canada. In a back room at the convention center where the summit was held, the two sat in chairs next to each other with a few of us flanking them on either side. I avoided crossing my legs and instead kept my feet tucked under my backpack to hide my lack of socks. Obama—not usually an outwardly sentimental man—attempted to pass a torch of sorts. "Justin, your voice is going to be needed more," he said, leaning forward and putting his elbows on his knees. "You're going to have to speak out when certain values are threatened."
Trudeau said that he felt he had to, drawing on the example of his own father, who transcended his role as leader of Canada to become a global statesman. I modeled my campaign on yours, he added, referring to a brand of politics that now felt under threat.
In person, Trudeau's good looks tend to make him look younger than he is. Watching him, I thought about how much I had aged in my job; Trudeau looked younger than I did. I will fight them, he said, referring to the authoritarian trends in the world, with a smile on my face. That is the only way to win.
When they were done, we walked through the back passageways of the convention center, Obama clutching a Styrofoam cup of tea and waving to the maintenance staff as he made his way to a final foreign press conference. I didn't feel like watching. Instead, I sat alone on a bench in the fading light of dusk, fumbling through my BlackBerry, ensconced within a security perimeter guarded by men in suits with earpieces who folded their hands in front of them. When the press conference was over, I joined the pack around Obama walking out of the room, passing Trudeau and his team as they moved in the other direction.
Along the streets of Lima the crowds still waved as the president of the United States passed by."What if we were wrong?" Obama said, sitting opposite me in the Beast."Wrong about what?" I asked.
For days, we had been trying to deconstruct what had happened in the recent election. Obama had complained he couldn't believe that the election was lost, rattling off the indicators—"Five percent unemployment. Twenty million covered. Gas at two bucks a gallon. We had it all teed up!" Now he told me about a piece he had read in The New York Times, a column asserting that liberals had forgotten how important identity is to people, that we had embraced a message indistinguishable from John Lennon's "Imagine"—touting an empty, cosmopolitan globalism that could no longer reach people. Imagine all the people, sharing all the world.
"Maybe we pushed too far," he said. "Maybe people just want to fall back into their tribe."
His comment rested heavily as Susan and I made eye contact. Over the last couple of weeks, Obama was the one who had been putting on the bravest face. The night of the election, after he reminded me that there were more stars in the sky than grains of sand on the earth, I'd sent him a simple note, trying to cheer him up: "Progress doesn't move in a straight line." In private conversations with staff and in public interviews ever since, he'd been repeating a version of it: "History doesn't move in a straight line," he'd say, "it zigs and zags."
What if we were wrong?
Since I went to work for Obama in 2007, the one thing I never lost faith in was the confidence that I was a part of something that was right in some intangible way. Sure, we—the Obama White House—had gotten some things wrong. But the larger project—that was correct. The belief in America becoming a better place. The hope that if we can find strength in containing multitudes, then so can the world.
Something stung a bit in Obama's words, the suggestion that what he represented was, in the current moment, a lost cause. "But you would have won if you could have run," I said. Grasping for a different argument, I talked about the young people he had spoken to in a town hall meeting just the day before in Lima, as he had done in so many countries around the world. "They get it," I said. "They're more tolerant. They have more in common with young people in the United States than Trump does. Young people didn't vote for Trump, just like young people in the UK didn't vote for Brexit."
He didn't look up. "I don't know," he said. "Sometimes I wonder whether I was ten or twenty years too early."
The silence lingered. Over the past eight years, we'd had a thousand conversations that all felt like part of one running thread, talking about books we'd read and foreign leaders who frustrated us, about race and old movie lines, sports and theories of everything. My role in these conversations, and perhaps within his presidency, I had come to see, was to respond to what he said, to talk and fill quiet space—to test out the logic of his own ideas, or to offer a distraction—as he scrolled through his iPad or looked out the window, mind churning.
The motorcade reached the airport and pulled onto the tarmac before a waiting Air Force One. We stopped near the edge of a group of Peruvian and American "greeters" in a long, straight line to bid farewell.
As we waited for the agent to open the door, Obama leaned forward, elbows on his knees. "Maybe you're right," he said, returning to my comment about young people. "But we're about to find out just how resilient our institutions are, at home and around the world."
With that, he stepped out of the Beast and began to work his way down the receiving line. I got out and walked, my bare feet sticking against the worn leather of my shoes, to a spot under the wing of the plane where clusters of people stood, journalists recording the moment for posterity, staff posed for pictures with one another. The scene was entirely familiar to me after flying well over a million miles around the world on this plane, but it was about to disappear forever.
Barack Obama shook the last hand and made his way up the stairs. He always moved with ease, like an athlete playing a basketball game at slightly less than a hundred percent, holding some energy in reserve for the key moments of the fourth quarter. A man constantly in the public eye who hid important parts of himself. Over the last two years, I'd seen him become increasingly comfortable being both himself and the president—in individual moments, singing "Amazing Grace" in a black church that had been targeted by a white supremacist in Charleston; or in policies, ending an approach to Cuba that he had long told me he opposed. This evolution had made him more effective, more interesting, and ultimately more appreciated in these waning days of his time in office. This was one possible and painful answer to the question he had raised in the Beast: We were right, but all that progress depended upon him, and now he was out of time.
For the first time in eight years, there was no trip left to plan. Obama would board the plane as a successful two-term African American president and a vessel for the aspirations of billions of people around the world. But he was about to hand power over to a man who represented every political, economic, and social force that his own identity opposed. One joke that he told in the days after the election expressed his frustration at how this would impact the rest of his life: "I feel like Michael Corleone," he'd say. "I almost got out."
I was twenty-nine years old when I went to work for the Obama campaign. From the tarmac in Lima, I could no longer recognize the person who had moved out to Chicago to write speeches and live in a studio apartment with a few scattered Ikea items and a mattress on the floor. The catastrophes of 9/11 and the Iraq War had propelled me there, in search of a better story about America, and myself. I'd spent eight years pursuing it in a windowless West Wing office where I could hear rats scurrying in the ceiling above me and could walk into meetings where the fate of nations was discussed. I'd experienced highs I could never have anticipated, such as walking into the Vatican to tell a cardinal we were normalizing relations with Cuba. I'd suffered lows I couldn't yet understand, being demonized by the same forces that led to the rise of Donald Trump. Most of all, I'd subsumed my own story into the story of Barack Obama—his campaign, his presidency, the place where he was leading us.
Standing there, I struggled to find some feeling within myself that would sum up what it felt like to watch our country represented abroad for the last time by this man—decent and determined, at times reticent, at others bolder than any politician I'd seen. But watching him make his way up the stairs of the plane, all I could conjure up was a flood of disconnected images from trips past: a sea of humanity waiting to hear him speak in Berlin; a greeting party of drummers in the middle of the night in Ghana; millions of smiling people lining all the routes of our motorcade in Vietnam; the unlikely sight of Havana from the window of Air Force One. The sense of excitement that people had, all those people in all those places, all those faces looking back with hope. That is what I'd been looking for when I moved out to Chicago ten years before. And that, I realized, would no longer greet an American president abroad, so it was hard to feel anything other than tired and sad. I could not remember what I was like when the story began, and I had no idea what I—or the world—would be like after it was over.
There are more stars in the sky than grains of sand on the earth.
Obama reached the top of the stairs, and I thought he might stop for just an extra moment to take it all in, to offer himself some opportunity to mine the kind of thoughts that were racing through my head. But whatever memories were passing through his own head, however he felt about the hundreds of places he'd been as president and the millions of people he'd seen, despite the uncertainty that now awaited, he offered only a routine wave before disappearing through the doorway of the plane and into the journey home.What if we were wrong?