The neurological disorder CTE -- chronic traumatic encephalopathy -- has been ubiquitous in the headlines recently, due to several high-profile posthumous diagnoses among former NFL players; a feature film about its discovery; widely publicized research studies; and even an admission from the league that head injuries and football can be linked to the degenerative disease, which can lead to memory loss, dementia and even suicidal tendencies. But very little attention has been paid to the impact CTE can have on the loved ones of athletes who have watched their partners deteriorate before their eyes.
Keana McMahon's ex-husband, former Pittsburgh Steelers lineman Justin Strzleczyk, was one of the first players to be diagnosed with CTE after his death in 2004. Dr. Bennet Omalu, who was portrayed by actor Will Smith in the film "Concussion," diagnosed Strzleczyk.
The ordeal has led McMahon to become an advocate for other women who've seen the men in their lives taken far too soon. She's joined Sisters In Sports, a nonprofit organization that was initially a kind of sorority for the spouses of athletes, which has since expanded to include mothers, ex-wives, daughters and sisters. They are fighting a battle on three fronts right now -- to raise awareness about CTE, domestic violence and the lives of players and their families after retirement. Her work with groups like this and others, like Flag Until 14 and StopCTE.org, has helped provide some measure of solace in the wake of her ex-husband's death.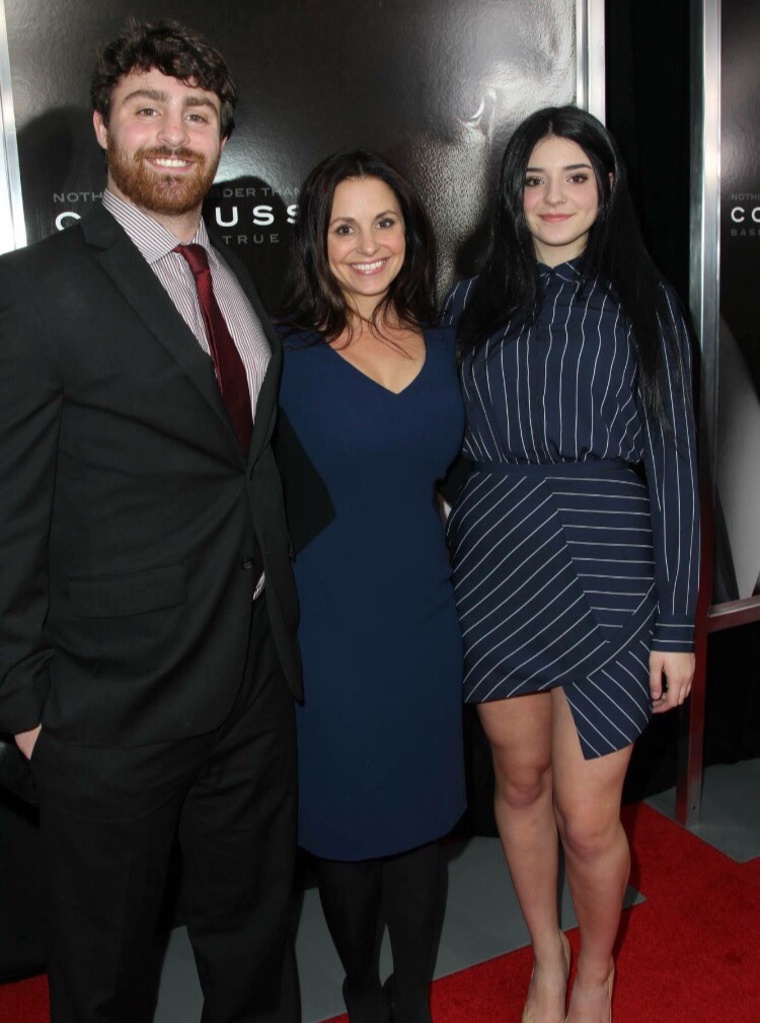 "I think that I'm luckier than most women," she told MSNBC on Friday. "I've had 11 years to deal with this … to grieve and work through it.
RELATED: NFL can't make up its mind about CTE
McMahon was always more of a hockey fan, so when she was introduced Strzleczyk in the early '90s, the fact that he was on the Steelers' roster wasn't what attracted her. It was their common blue-collar background and his free-spirited sense of humor.
"He was a lot of fun to be around, he always made me laugh," she said. They were married just three months after they met and would go on to have two children together. It was around the birth of their second child that McMahon started to notice a change in her husband's demeanor.
When Strzleczyk started to have mood swings and behave erratically she initially attributed it to the stress of struggling to maintain a spot on an NFL team. "I thought it was bipolar [disorder] right up until I got the phone call that it was CTE," she said. There were more angry outbursts, excessive drinking, the squandering of finances and unexplained disappearances on his part. And although he was never physically violent with her, she begun to fear for her safety. "I was never super scared, but I didn't know when that line would be crossed," she said.
Eventually, the couple divorced, and McMahon says she saw his symptoms go from "0 to 100 in six months." The last straw was a confrontation at her children's pediatrician's office, where an irate Strzleczyk raged at their child's physicians, who confided in McMahon that they feared he would "come back with a gun." McMahon notified her children's school not to allow her ex-husband to pick up their kids anymore.
Just a few days later Strzleczyk was killed in a car accident after leading police on a high speed chase in Herkimer, New York. He was just 36 years old.
McMahon had just gotten engaged to her second husband two weeks earlier and suddenly had to help two young kids cope with the premature death of their father. When Dr. Omalu contacted her three years later to first seek permission to study her ex-husband's brain, and later to inform her that he had CTE, she was at first struck with a sense of disbelief. She remembers thinking it was "insane" that physicians thought football might have played a role in Strzleczyk's death and initially wrote it off when it was just three or four former players who were posthumously diagnosed with the condition.
But as the number has progressively creeped toward the hundreds, McMahon has revised her thinking. Now she is on a crusade to get parents to look differently at the game they love, too. She has become a full-time activist, pushing for an end to youth football and providing a voice for women who are often bearing a financial and emotional burden because of the after-effects of on-the-field injuries. Without naming names, McMahon says she gets calls from wives of current players distressed by their husband's behavior and worried about the future for their families.
When McMahon watched her husband play on the sidelines with the other wives, it was neck injuries, not head trauma, that they feared the most. She says the No. 1 fear was that their spouse could wind up being paralyzed. "How do you take care of a 6-foot-6, 300 pound man who can't walk?" she remembers thinking. Her husband never had a concussion, and in those days players went right back in the game after suffering from one anyway. In fact, her ex-husband used the same helmet for all nine years of his career without any upgrades.
"Nobody ever told us that was a problem," she said, "Nobody handed us a piece a paper and said you may die and leave your kids fatherless. Nobody said that death was option."
This is why she bristles when she hears the counter-argument that football players know what they're getting into and the risks they take are acceptable since they get to reap significant financial rewards for playing a game professionally. Beyond the fact that many NFL players, particularly those who play less glamorous positions, don't have very long careers or necessarily make budget-busting salaries, many of them were pressured and encouraged by their parents to play the game at a young age, forming an attachment that is not so easy to break.
"They followed a dream, and unfortunately that dream can kill them," McMahon said.
Today, it appears that several would-be and current players are wising up to the dangers of the game and impact prolonged physical punishment could have on their lives. A slew of NFL players have begun retiring early in recent years, and the growing chorus of public figures – including President Barack Obama – have expressed reticence about allowing their kids (actual or theoretical) to play football at all.
This position has provoked complaints from influential NFL figures like Arizona Cardinals coach Bruce Arians, who recently called people who have taken the anti-youth football stance "fools," and Indianapolis Colts owner Jim Irsay, who argued in an interview with Sports Business Journal last month they playing football is just as risky as taking aspirin.
"It blows my mind," McMahon said regarding what she considers insensitivity from coaches and owners, and she faults the NFL for not better educating people in their organization about the real effects of head trauma. She is frustrated that what she calls "ignorant owners" are speaking out on this issue, while "the owners that get it" aren't. She also believes the league will "never" get on the right side of the CTE fight because their preoccupation is always profits first, with players a distant second at best. 
"They have had numerous chances to say the right thing and do the right thing," she said. "As I see a glimmer [of hope] they snuff it out."
She cites the league's more cautious statements in the aftermath of Jeff Miller, the NFL's senior vice president for health and safety, admitting to Congress that there is indeed an "unequivocal link" between CTE and football as an example. And she doesn't even fully fault embattled NFL commissioner Roger Goodell. "He's just a puppet for the owners," she argues.
RELATED: NYT: Concussion studies contain deep flaws
The NFL has long held the position that more research into CTE needs to be done, but their credibility is in question after a New York Times article published on March 24 alleged that the league had been downplaying the number of concussions suffered by players for decades while employing tactics similar to the tobacco industry's. The NFL has vehemently denied the veracity of the Times story and has demanded a retraction, and they have instituted several new rules to the game over the last few years to cut down on violent hits and collisions.
Still, McMahon believes that more drastic measures need to be taken, from the potential removal of helmets from the game altogether (because players will likely think twice about head shots) to a standing offensive line. "They're not going to lose money, you're not going to lose fans," she said.
"I am sure there are things to do to make [football] safer," she added, while admitting that "you're trying to change the safety of the game without undermining the fundamentals of it -- it's almost impossible." Her son with Strzleczyk, now 21, briefly flirted with following in his father's footsteps as an offensive lineman, but his heart wasn't in it. According to McMahon, her father's tragic fate was never far from his mind.
Like many critics of the game, McMahon understands fully that for many Americans football "is a religious event on Sundays," but she can't bring herself to watch it anymore. She would rather turn her attention to converting the minds of parents and young people before they make the same mistakes she believes her ex-husband did.
"It's like chipping away at a mountain," she said.