Alison Lundergan Grimes may be Kentucky's best known Democratic woman running for office this year. But she is hardly alone: 31 progressive women candidates, hand-picked and trained by Emerge Kentucky, have filed for elective office in the Bluegrass State this year.
The Democratic Party is banking on their success. For the first time in nearly 100 years, control of the Kentucky statehouse is up for grabs. Eight female candidates represent the Democratic Party's best hope to retain the majority, no longer a safe bet as Republicans have increased their numbers in recent years.
Two dozen other Democratic women are running in city and county races. All of them graduated from a program run by Emerge Kentucky, part of Emerge America, a national organization working in 14 different states to prepare women to run for office.
"In a lot of cases, women have the edge," said former Secretary of State Elaine Walker, a Democrat. "As usual, people are not happy with politics, and when you see a woman running, there's this feeling like 'oh, good, there's not going to be an all boys' network again.'"
An all-boys network is what Kentucky currently has in Washington.
"Most women don't know that when women run, they're just as likely as men to win."'
Elisabeth Jensen is challenging freshman Republican Rep. Andy Barr for Kentucky's 6th Congressional District. If Jensen wins, she will crack the state's all-male representation in the House as Grimes hopes to do if she takes the senate seat currently held by Republican leader Sen. Mitch McConnell.
The Democrats aren't alone in understanding the importance of appealing to the influential female voter. After its 2012 losses, the Republican Party issued an "autopsy report" acknowledging that it needed to do a better job in winning over women voters alienated by male candidates who criticized women for using birth control or who engaged in sexist, offensive rhetoric.  
James Young, Vice Chairman of the Kentucky Young Republican Federation, is guardedly optimistic that Republicans could take control of the House for the first time in a century. But he acknowledged that strong women candidates recruited by Emerge Kentucky pose a real challenge to his party.
"Let's just say, it's going to be close," Young said.
Emerge Kentucky launched its first class in 2010 and has trained 85 women. In 2012, 11 Emerge graduates were on the ballot and nine won.
While Kentucky has a Democratic governor and a strong progressive streak, it has been solid red in Washington for a generation. The last Democratic presidential candidate to win in Kentucky was Bill Clinton. Both senators -- McConnell and Rand Paul -- are Republicans, as are five of Kentucky's six representatives in the House.
But Sannie Overly, a three-term Democrat in the Kentucky House, said the state's conservative reputation doesn't tell the whole story. Gov. Steve Beshear implemented Obamacare and remains popular. In March, the state's Democratic Attorney General refused to defend laws that prohibit gay marriage.
Still, Kentucky lags far behind other states in the number of women in office.
Kentucky's only female governor, Democrat Martha Layne Collins, served from 1983-1987. The state ranks 37th in the number of women in its Legislature, where women currently hold just 26 of 138 seats. The state has never had a female senator and elected just two women in history to its U.S. House.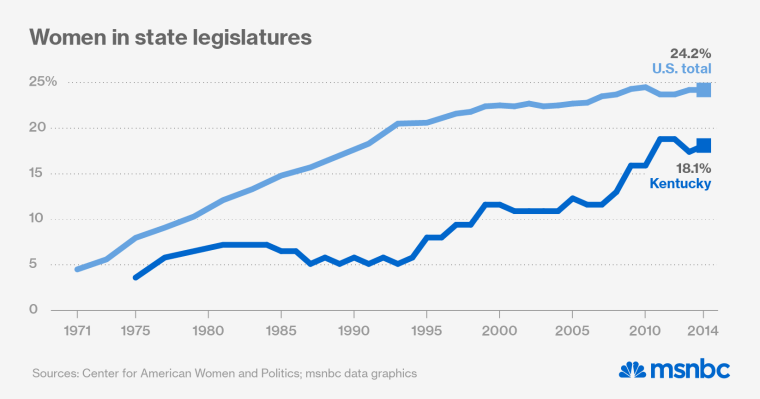 In addition to Emerge's 31 candidates, other Democratic and Republican women are considering seeking office. A total of 36 women, both incumbents and challengers, have filed for the 100 state House seats; seven female incumbents and challengers have filed for the 38-member state Senate. Still, the numbers represent less than 20% of all state legislative candidates in 2014.
"We've hit a plateau of women in office," said Jennifer Lawless, professor of government and director of the Women and Politics Institute at American University. Lawless said she is concerned women are simply too intimidated to run, based on previous biases and sexism.
But that's not systematically the case. "Most women don't know that when women run, they're just as likely as men to win," Lawless said. "Most people don't know that women are just as able as men to raise money."
Activists are generally optimistic, as Grimes – and the potential presidential candidacy of Hillary Clinton – have helped raise the bar for women.
"With the exciting things going on at the top of our ticket, these folks are saying, 'This is our time, this is the time to step forward and take a stand,'" Overly says.
Emerge America encourages women to run for lower-level offices to get them into the pipeline – with the goal of building a presence in the state legislature and eventually Congress. The group rigorously recruits Democratic women of different ethnicities and backgrounds from all sectors of the state to assemble a class of about 20-25 per year.
"It's almost like a sorority of sorts," said Ashley Miller, a Planned Parenthood nurse practitioner now running for the state House. "There's nothing like being in a room full of women who are passionate about the same thing."
Miller, the 30-year-old African-American woman crowned Ms. Kentucky United States in 2013, said she decided to pursue politics because Kentucky needed women leaders – particularly those who can represent the state's lower and moderate income residents.
"We may have to deal with certain stereotypes about being a female -- or being a female candidate -- but how do we overcome those things? That's what we learn at Emerge," says Miller.
"This is our time, this is the time to step forward and take a stand."'
The 70-hour, six-month program trains candidates in the fundamentals of running for office, including public speaking, fundraising, putting together a field plan, ethics and leadership, and networking.
The Kentucky Republican Women's Roundtable created a similar program in 2002 and assembles classes of roughly 10 to 15 potential candidates each year. This year, five graduates of the program are running for office in the state, including three for state House seats.
"We just go out there and encourage women to put their name on the ballot," said Gail Russell, the group's president.
Jess McIntosh, communications director at EMILY's List -- an organization that also recruits, trains, and supports Democratic women running for office -- says there's a huge demand for women leaders, especially in 2014. "This year, Democratic women are running in the top races across the country – from Kentucky and Georgia and West Virginia, to governors' races in Texas, Pennsylvania, Wisconsin and more."
Jensen, Emerge Kentucky's first graduate to run for a U.S. House seat, never envisioned a career in politics. She got involved in Emerge America at first as a way to use the valuable skills in her career in business manufacturing – perhaps she would work one day on a campaign. But then she started considering a run for office herself.
"My dad reminded me that I'm almost 50, and if I don't take advantage of this, it might be another four or six years till this opportunity rolls around and then I'll be 60 and I will regret it," Jensen says.
Jensen is running in the 6th Congressional district, an urban-rural hybrid home to the state capitol, Frankfort. Women in her district are concerned about issues affecting families, Jensen said, such as education, workforce development and increasing the minimum wage. It is time their voices were heard, she said.
"We're going to step up and say it ourselves," she said
Audrey Haydon, a 28-year-old native of Nelson County, which she describes "as the heart of bourbon country," is hoping to preserve the Democrats' majority in the statehouse. A woman has never won the seat she is running for.  
"A lot of people are saying 2014 is going to be 'The Year of the Woman' -- and, well, I think they're going to be right," Haydon said.
"At the local level, we really like Democrats," Haydon says. "We had a female governor 30 years ago and people kind of forget that. When it comes down to it, Kentuckians just like good people."