Chris Christie raised eyebrows this week when he suggested that Republicans would benefit in 2016 from having friendly governors running the election process in key states.
"Would you rather have Rick Scott in Florida overseeing the voting mechanism, or Charlie Crist?" the New Jersey governor asked a Chamber of Commerce audience. "Would you rather have Scott Walker in Wisconsin overseeing the voting mechanism, or would you rather have Mary Burke? Who would you rather have in Ohio, John Kasich or Ed FitzGerald?"
But Christie wasn't wrong. You only need to remember Florida 2000, when Gov. Jeb Bush and Secretary of State Katherine Harris, both Republicans, helped secure the state and the presidency for the governor's brother, to know that who controls the "voting mechanism" can make all the difference in a close election. 
The Supreme Court may have had the final say lately on some major voting restrictions for this election. But our system gives state officials lots of latitude to make it easier or harder for votes to get cast and counted. And this year, a slew of states have races for governor or secretary of state where the candidates have wildly divergent approaches.
That's not the only way in which what happens this fall could have a big impact on voting rights in 2016 and beyond. Several states have closely-watched initiatives that seek to expand or contract access to the ballot. 
And of course, if Republicans retake the Senate, it would wipe out any remaining hopes—already slim—that Congress will act to strengthen the Voting Rights Act in the near future.
Beyond the states Christie name-checked, Republican governors in three other possible swing states—Pennsylvania, Georgia, and Maine—who have supported restrictive voting measures face challenges from Democrats who favor more expansive policies. And in Texas—not yet a presidential swing state, but still a crucial stronghold for the GOP—Attorney General Greg Abbott, a Republican whose office has aggressively defended the state's strict voter ID law, is up against state Sen. Wendy Davis, a Democrat and voting rights champion.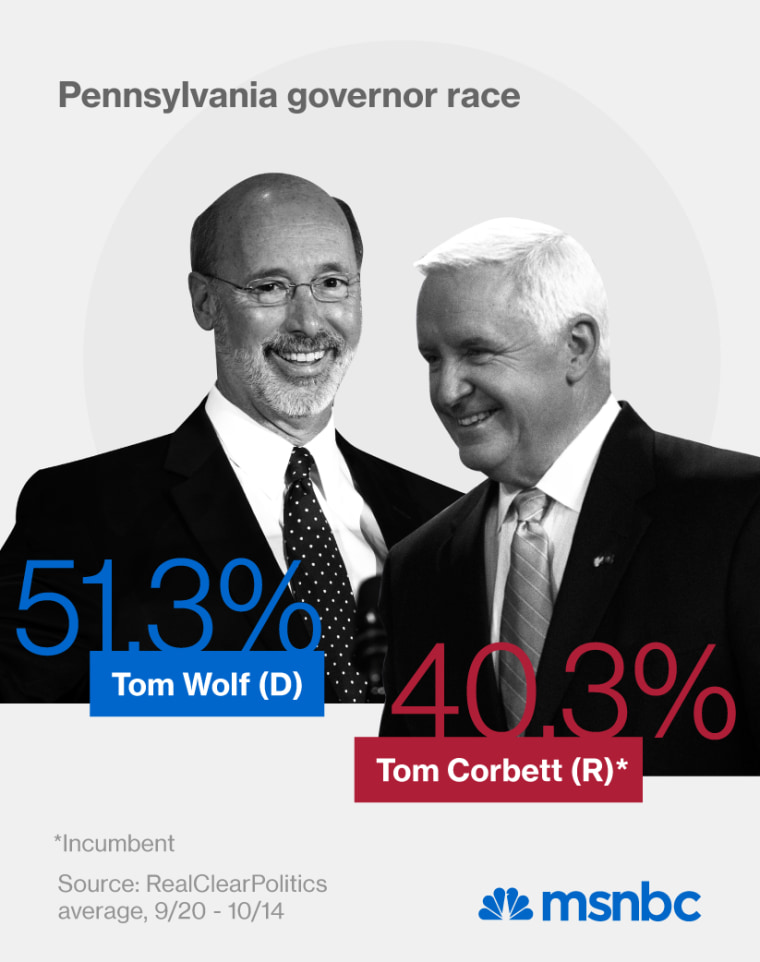 In Pennsylvania, Democrat Tom Wolf has a big lead over Gov. Tom Corbett, while Abbott is comfortably ahead of Davis in Texas. The Georgia and Maine races are expected to be close.
But it's the races for secretary of state where the fight over voting rights is fiercest in this fall's campaign. In a recognition that a state's top elections official can make a huge difference, both parties have formed outside groups that aim to sway key secretary of state contests. They're active in races in at least ten states—Arkansas, Arizona, Colorado, Iowa, Kansas, Michigan, Nevada, New Mexico, and Ohio.
Perhaps the highest stakes are in Ohio, where the incumbent, Republican Jon Husted, is favored against Democratic state Sen. Nina Turner. Husted has gained a national reputation as an advocate of restrictive voting rules. He's been trying since coming into office in 2010 to cut the state's early voting period, and, thanks to the Supreme Court, he finally succeeded for the upcoming election. Turner has made expanding access to the ballot a centerpiece of her campaign.
Anyone who doubts that Ohio's top election official can play a key role in a presidential election must have forgotten 2004, when Ken Blackwell's restrictive voting policies helped caused lines of ten hours or more at the polls, in predominantly Democratic areas. One study found that the number of people who left in frustration was far more than President Bush's margin of victory in the state, which determined the election winner.  
Kansas isn't realistically up for grabs in 2016, but its secretary of state, Republican Kris Kobach, has played a major role in the GOP's nationwide campaign to restrict voting. Kobach, a former GOP operative, was the force behind a state law requiring proof of citizenship when registering to vote, leaving the registrations of 22,000 in limbo because they didn't include such proof. And the legal effort he waged on behalf of the law has opened the door for other states to impose similar laws.
Kobach is in a tight race with Democrat Jean Schodorf. Taking him out would represent a victory for voting rights that would resonate far beyond Kansas.
But even where high-profile opponents of voting rights aren't on the ballot, plenty of other races are attracting attention.
iVote, which was set up by former Obama campaign veterans, recently launched a six-figure TV ad campaign in support of Kate Marshall, the Democratic candidate Nevada, and plans a similar push for Democrat Brad Anderson in Iowa. Meanwhile, the Republican Secretaries of State Committee is working to boost GOP candidates. It's chaired by Georgia Secretary of State Brian Kemp, who himself is embroiled in a bitter dispute with a voter registration group which has sued his office, claiming it's failing to process 40,000 new voter registrations.
Then there are the ballot initiatives. The most closely-watched may be in Montana, where voters will decide on a Republican-backed measure to eliminate same-day registration in the state. If approved, the initiative could hamper voting for some residents of the state's remote rural areas—who may live an hour's drive or more from their polling place—as well as those who move frequently, students, and the disabled. There's been little evidence of a public campaign in support of the plan, and a recent poll found just 36% of voters supporting it, compared to 56% opposed.
In Missouri, a Republican-backed constitutional amendment would permanently create six days of early voting—but only during weekday business hours, and only if state lawmakers and the governor agree to appropriate the money each time. Voting rights advocates and Democrats oppose it, saying the goal is to fight off the more extensive early voting period they've been proposing for years. The Kansas City Star called the measure a "sham."
Some states are looking to move in the opposite direction. Illinoisans will vote on a proposal to enshrine voting rights in the state constitution, making it harder for a future Republican government to pass voting restrictions. And Connecticut will decide whether to expand early voting, an idea supported by the Democratic governor and secretary of state.