Young immigrant activists crashed Jeb Bush's speech before the Hispanic Chamber of Commerce on Monday afternoon, heckling the presidential candidate and sending a message to Republicans regarding their controversial rhetoric on immigration issues in recent months.
"No hope without our vote!" a handful of DREAMers, young undocumented immigrants brought to the U.S. as children, chanted on Monday.
The hecklers temporarily derailed Bush's remarks, which were originally billed to highlight the contributions of women in business leadership roles. He then recovered quickly, cutting away from his prepared remarks to address the chants.
RELATED: Bush goes after Clinton for 'disgraceful' 9/11 ad
"DREAM Act kids should have a path to citizenship," Bush said.
"I've been consistently for it and I will continue to be consistently for it, irrespective of what the political ramifications are," he added to a round of applause. 
Bush has been chomping at the heels of front-runner Donald Trump's lead in the polls ever since the celebrity billionaire starting rising to the top with his fiery rhetoric on immigration. On Monday Bush continued his strategy of taking a more aggressive stance against Trump, pushing back on criticism from his fellow Republican for speaking Spanish to a group of high school students earlier this month.
"Donald Trump apparently said I should not speak Spanish to them for some odd reason -- they spoke in Spanish to me and I spoke in Spanish to them," he said. "They all speak English by the way, in case you were worried. They're bilingual -- they're going to be extraordinarily competitive."
The substance of the heckles on Monday hits at a weak spot for the GOP. Their 2012 standard-bearer Mitt Romney performed disastrously with Latinos, which played a crucial part in costing him the presidency. There are some signs that if the 2016 election were held today, Republicans wouldn't fare much better. A recent poll found that Trump, the party's front-runner by a significant margin, would earn even less Latino support now than Romney did in 2012.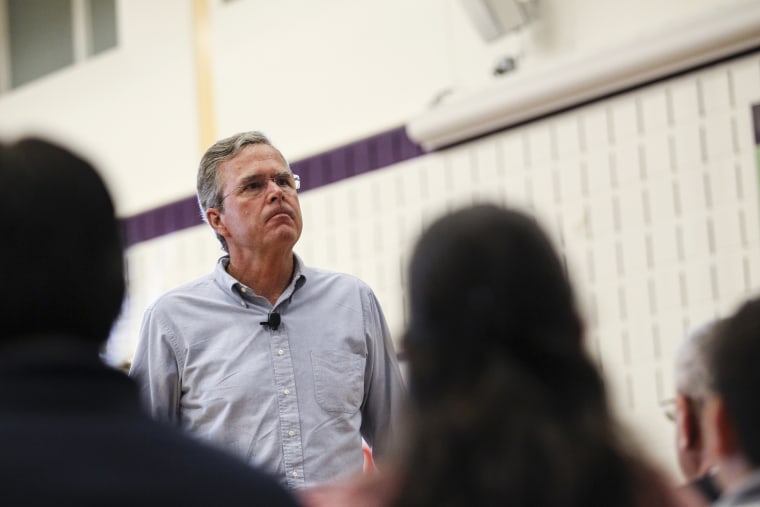 Bush has been somewhat of an outlier in the crowded Republican field by describing immigration as an "act of love" and calling for a pathway to earned legal status for undocumented immigrants. He highlighted his personal story on Monday, drawing parallels with his Colomba, who is an immigrant from Mexico.
"And my wife is an American -- just as many people in this room are -- and the notion that somehow she's not, it's laughable, it's totally laughable, it's so sad that people don't have any sense of what the immigrant experience is about, the drive, the determination, the joy and love of one's country, but also the joy of the new country they come to," Bush said.
Latino advocates and immigrant groups disappointed with the sharp language used by Republican candidates on immigration -- including Bush -- accuse him of dramatically tailoring his message depending on his audience. A small crowd of Latino families and immigration activists also rallied outside of the event Monday to highlight the double standard. 
"He's trying to play both sides -- he's trying to be reasonable on immigration but he's trying to appeal to the Trump aspect of the debate," Mary Moreno, an activist with the Texas Organizing Project, said. "When he delivers his message in Spanish it's one thing, and when he delivers his message in English it's another."