Michael Graham killed himself a year ago. The 13-year-old was at home in Brewster, N.Y., and used one of his father's unsecured guns to shoot himself on Jan. 14, 2013. The boy "definitely" acted on impulse – "without a doubt," his aunt Maureen Hutchins told msnbc.
"Did he have a bad day at school? Fight with a girlfriend? Things that happen to a 13-year-old – when you're that age – can seem overwhelming, but two hours later, you know, you move on," said Hutchins. Michael had not appeared depressed, his aunt said. He had gone snowboarding and had starred in a basketball game the weekend before his death.
Mason Hanaway, also 13, died last year on April 8 from a self-inflicted gunshot wound. A child of divorced parents, he split his time between his mother (who kept her guns locked in a safe) and his father (who rarely locked his guns). He used his father's unlocked gun to take his own life.
"I don't know if it was something that was impulsive. I don't know if it was something he had debated on, but I think because it was there, it was just maybe easier for him," his mother, Katrina Burgess, told msnbc.
Too Young to Die: Mason Hanaway
Hanaway, like many adolescents, struggled with impulse control, his mother said. But, she added, he was aware of the rules of gun safety; that was never a concern for the family. Burgess said her former husband trusted his son's respect for safe practices. The dad would have blocked access to his firearms if Hanaway showed signs of unhappiness or had previously attempted suicide.
But the boy didn't seem depressed, his mother said. He hadn't been acting abnormally.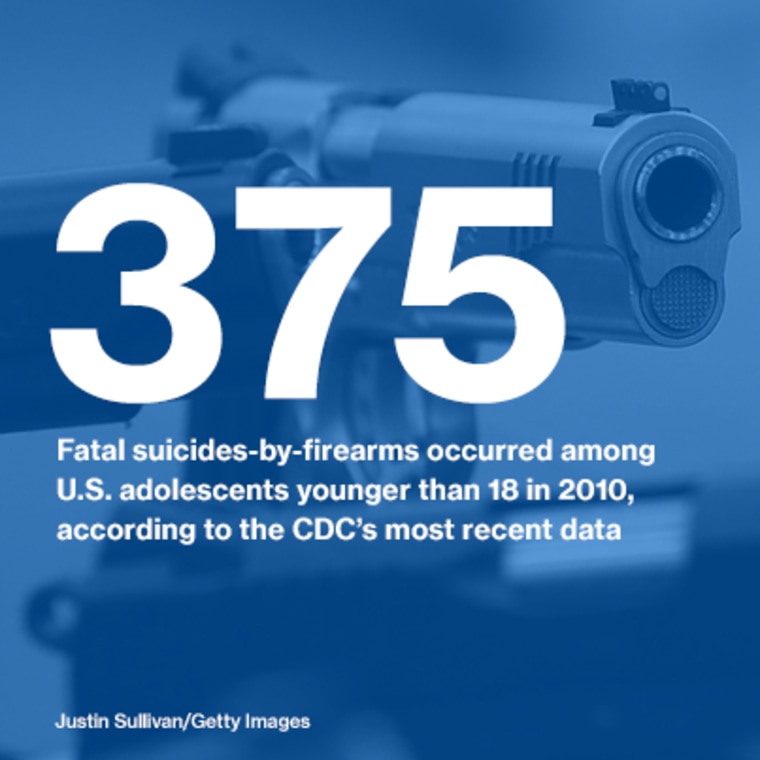 "We were all shocked. No one saw any glimpse of this coming--family, friends, teachers," Burgess wrote in an email to msnbc. "I still can't believe this is my life or how something like this happens without any warning."
Guns in the house
The Graham and Burgess families are not alone. What the gun lobby doesn't tell you – and the statistics do – is that most gun owners are not the heroes of their own stories: they are the victims.
Individuals or families might buy guns for hunting or self-protection. But firearms are more likely to be used in suicides, criminal assaults, homicides, and unintentional shooting deaths and injuries than in self-defense. People in possession of a gun were more than four times more likely to be shot in an assault than those not in possession of a firearm, according to a case study from 2009.
For each time a home firearm is utilized for protection, there are about 11 completed and attempted firearm suicides, seven assaults and homicides with a firearm, and four accidental firearm deaths or injuries, according to the Journal of Trauma, Injury, Infection, and Critical Care.
There were 375 fatal suicides-by-firearms among U.S. adolescents younger than 18 in 2010, according to the most recent data from the Centers for Disease Control and Prevention (CDC). The organization also found nearly 149,000 adolescents between the ages of 10 and 24 annually receive medical care for self-inflicted injuries. 
Firearms, which are used in more than 67% of suicides, were the most common method of death by suicide in youth of all races in 2000, according to the American Academy of Pediatrics (AAP). Data from the CDC in 2010 differs somewhat; it indicates that most adolescent suicide deaths in both genders are from suffocation or hanging, followed by firearms. Out of the 264 girls younger than 18 who died from suicide in 2010, 55 used a firearm, according to CDC data. Of the 745 boys of the same age group who killed themselves that year, 320 died from a gunshot.
An adolescent girl is three times more likely than a boy to survive a suicide attempt because girls tend to use non-violent methods such as ingesting pills or poison, according to CDC statistics.
An adolescent boy is five times more likely than a girl to die by suicide because he is more likely to use lethal means – handguns mostly, or in rural areas, shotguns or rifles – according to the AAP. More than 90% of suicide attempts with a gun are fatal.
"Guns don't kill people, but the gun helps. It's really deadly," Dr. Laura Richardson, a licensed clinical psychologist who works with suicidal and self-harming children and adults, told msnbc.
Four separate practices--keeping a gun locked, unloaded, storing ammunition in a separate location, and locking the ammunition storage--help reduce suicide attempts and unintentional gun injuries in homes with firearms, according to a gun storage practices study published in 2005.
"One of the most important considerations in trying to reduce the toll of suicide in the United States is reducing access to firearms in the home for all age groups, for both sexes, but especially for the most impulsive actors like children and young adults," Matthew Miller, associate professor of health policy at the Harvard School of Public Health, told msnbc.
Acting impulsively
Nigel Hardy wasn't taking his ADHD medication on the day he fatally shot himself.
Thirteen-year-old Hardy, who lived with his father in Indiana until last fall when he moved to the West Coast with his mother, left his home – alone – during the afternoon on April 15, 2013, with a gun that belonged to his mother's live-in boyfriend, who left it unlocked. Hours later, he entered a restaurant, ordered food – though he had no money on him – and spoke with staff members until they asked him to leave for closing.
Hardy went to the register and pushed a note toward the cashier, asking the restaurant to call his father to tell him his son was dead. Then he shot himself.
"I think probably it was going back and forth in his mind quite a bit because he was there for so long," his father, James Hardy, told msnbc. "'Oh, I don't have the money.'  'Oh, they're closing, I got to go.' 'Oh well, I might as well do this now.' That's where I think the more impulsive stuff came in."
The teenager was distressed after receiving administrative punishment at school for misbehavior and a subsequent court date, his father said. When other students antagonized him, Hardy would fight. The day he died, he left a note at his mother's home, saying his family would be better off without him because he couldn't fix his own problems.
"I think it was a very impulsive decision. He just felt like he had been in so much trouble, and I think that he knew that he could not stop it. He wanted to, inside he really wanted to be a good kid, but when he couldn't control his impulses, he got in trouble," his father said.
Studies show that one-third to four-fifths of all suicide attempts are impulsive. Many suicidal crises are often caused by an immediate stressor, such as the ending of a relationship, unemployment, or legal punishment. 
"They're not well thought out," Stephen Brock, professor and school psychology program coordinator at California State University, Sacramento, told msnbc. "Adolescents are by nature more impulsive than are older adults. Brain development is not complete until about 25 years of age; as a result, teens are more likely to engage in impulsive acts."
"If we get kids the right help, the chances of them ending their lives prematurely is dramatically reduced," Brock added.
Lasting effects
Guns continue to create victims and claim lives long after a bullet is fired. 
Sheila Graham's life was destroyed by her son Michael's death, Maureen Hutchins said about her sister. Graham, divorced from Michael's father, moved to Menifee, Calif., to live with Hutchins after the tragedy. "She did nothing but cry," Hutchins said. She introduced her sister to other people who also lost children and took her to a psychiatrist and grief support groups, to no avail.
"She didn't seem to want to get better," Hutchins told msnbc. "Michael was her whole world, she had nobody else."
Nine months to the day after Michael Graham fatally shot himself, his mother committed suicide.
"Sometimes I wake up and think it was a bad dream," Hutchins said. "It just can't be true that they're both dead."