Republican presidential candidate Donald Trump on Friday retweeted what appears to be a neo-Nazi Twitter account that posted a photoshopped picture mocking rival Jeb Bush. 
The tweet by user "@WhiteGenocideTM" featured an image of Bush dressed as a panhandler outside Trump Tower with a "Vote Trump" sign.
WhiteGenocideTM's profile picture is an image of George Lincoln Rockwell, the infamous founder of the American Nazi Party, with the caption "The Man Who Wants To Be Hitler." His listed location is "Jewmerica."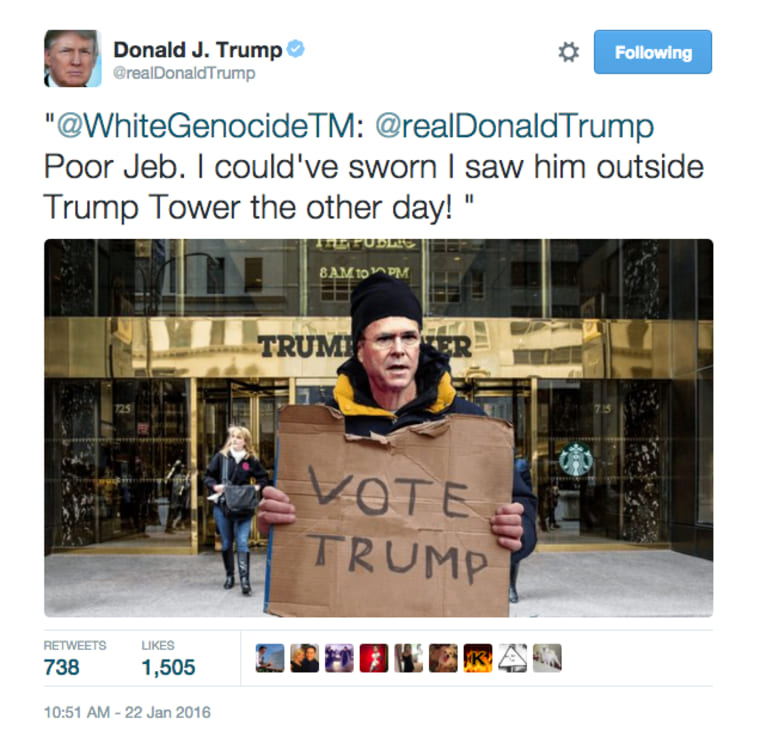 An additional banner image on his profile reads: "GET THE F--- OUT OF MY COUNTRY." Recent tweets and retweets from the account include anti-Semitic imagery, quotes from Nazi propagandist Joseph Goebbels and tweets deriding Martin Luther King Jr. The profile also listed a link to a website promoting a biographical documentary of Adolf Hitler, including a section that casts doubt on whether the Holocaust actually occurred. 
Trump, whose Twitter account is a central piece of his messaging operation, with more than 5 million followers, has passed on tweets from users who espouse white supremacist and openly racist causes in the past. Most infamously, he retweeted phony crime statistics in November that falsely claimed black Americans committed 81% of murders against white victims — in fact, 82% of white murder victims were killed by white attackers in 2014, according to FBI data.
Trump never deleted the crime statistics tweet and defended his decision to spread the racially inflammatory hoax online. He did, however, issue an apology in October after retweeting a user who mocked Iowans for eating too much corn, which Trump said was the fault of an intern. 
Bush's spokesman reacted on Twitter. "The Godwin's Double: Trump's anti-Jeb retweets now include one from a Nazi's account and another calling Jeb a Nazi," he wrote.
A spokesperson for Trump did not immediately respond to an email seeking comment.