NORWOOD, Mass. -- Donald Trump ratcheted up his attacks on Hillary Clinton at a private house party on Friday night, taking particular aim at Clinton's aide Huma Abedin and Abedin's husband Anthony Weiner.
Speaking to a boisterous audience of donors in the yard outside the home of car czar Ernie Boch in Norwood, Massachusetts, Trump hit Democratic presidential candidate Hillary Clinton and lodged multiple attacks on Abedin, saying the aide should not have had access to the kind of information she did while Clinton was secretary of state. He also chastised Weiner, calling him a "perv."
WATCH: Trump: 'There is a movement going on'
Trump stepped on a stage in front of hoards of cheering spectators and a sea of cell phones, launching into a description of Clinton's "big problems" and a reminder of the ongoing email scandal, saying, "You know when you look at what she's done and how she's done it and the servers and Huma - how about Huma?" he boomed. "So, Huma now is one of the people that it all sort of came through… Who is Huma married to? One of the great sleazebags of our time, Anthony Weiner. Did you know that?"
"So Huma is getting classified secrets. She's married to Anthony Weiner, who's a perv. No he is."
Trump told the crowd that he suspected Abedin must have been sharing information she learned with her husband. "Do you think there's even a 5% chance that she's not telling Anthony Weiner - now of a public relations firm - what the hell is coming across? Do you think there's even a little bit of a chance? I don't think so," Trump said.
He continued his personal attacks on the couple by using hand motions and subtly referencing Weiner's sexting affair - the scandal that forced the former congressman to resign in 2011 and that sidelined his 2013 New York City mayor bid.
"If you think that Huma isn't telling Anthony, who she's probably desperately in love with, in all fairness to Anthony. Cause why else would she marry this guy? Can you believe it? Can't see straight."
"I knew before they caught him with the bing bing bing," Trump continued. "Right? And he was a bad guy then, it turned out that he was a really bad guy."
Approximately 1,500 people attended the event, according to the campaign. Prior to Trump's arrival, the well-dressed crowd sipped on cocktails and noshed on lamb pops and other hors d'oeuvres. Some snapped photos of a custom cake decorated like Trump's "Make America Great Again" hat while others gawked at an expressionist-style portrait of Trump, a painting the artist was gifting to the night's host.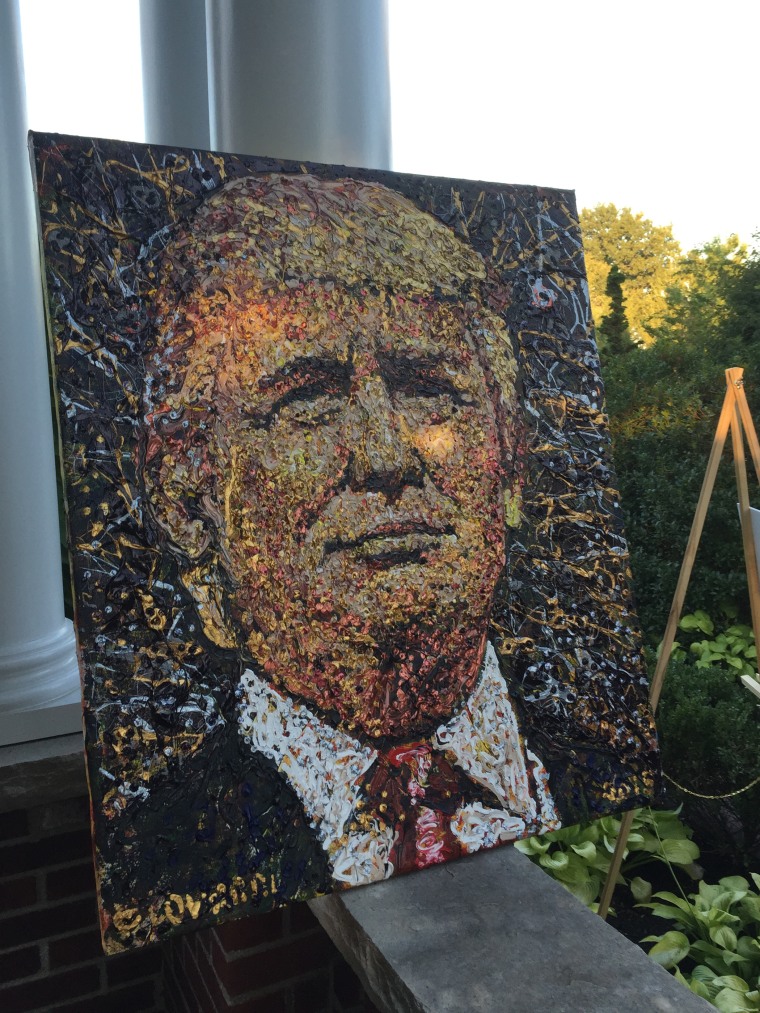 Shortly after the event, Trump defended his attacks on Abedin and Weiner, telling NBC News over the phone that Abedin should not have had access to confidential information.
"I don't think she should have been part of the people receiving it, whether it's confidential, why would she be involved?" he said, but noted, "I know her husband, I know him very well."
Clinton spokesman Nick Merrill tweeted a response to Trump's onslaught, saying Trump "crossed the line this evening. Disgraceful."
In 2010 when Weiner was still in Congress, Trump actually donated $2,000 to his campaign, according to The Washington Post.
Trump's campaign estimated that 1,500 people attended the Friday night party. The well-dressed crowd enjoyed catered food and drinks while they milled about Boch's well-groomed lawn. A crowd of attendees mobbed Trump before and after he spoke for a quick second with the billionaire.
The party was advertised as a private event, and the invitations and signs outside the house posted an entrance price of at least $100. But Trump insisted numerous times that it was not a fundraiser because the charge was aimed at offsetting the cost to pay the bills for the event. However, the signs at the party's entrance read, "Please have checks made payable to: Donald J. Trump for President, Inc. or cash ready on entry."
"We have by far the richest campaign maybe ever launched," Trump told NBC News. "I have more money than anybody who ever did this."
Additional reporting by Hallie Jackson.