Democrats in tight races have found a new villain this election cycle: student debt. 
"It totally limits your options of what you can do," said one student in an ad from Kentucky U.S. Senate candidate Alison Lundergan Grimes, who accuses Senate Minority Leader Mitch McConnell of having "turned his back on the students" for blocking Sen. Elizabeth Warren's student loan refinancing bill. 
"New Hampshire students leave college with an average of $33,000 in debt—it can slow them down for years," said Sen. Jeanne Shaheen in another campaign ad supporting Warren's bill. 
"It's supposed to mean the sky's the limit. But for this generation, attending college too often results in skyrocketing debt," said Hawaii's Sen. Brian Schatz, in the weeks before a tight Democratic primary. 
With student loans topping a record $1 trillion last year, Democrats also argue is that skyrocketing debt is not only hurting individual borrowers but the entire economy along with it. "And by the way, this is one of the biggest things hurting the housing market. When a family — age 32, 31 — has all these student loans, they're not going to buy a mortgage," Sen. Chuck Schumer said at a May hearing.
"Wisconsin students have everything it takes to compete for the jobs of the future, but we need to be doing everything we can to reduce the financial burden that they graduate with," said Mary Burke, the Democratic candidate challenging Gov. Scott Walker, who's put student loan reform at the heart of her jobs plan. "More money in the pockets of Wisconsin's students and families also means more money being spent in Wisconsin's economy."
But the long-term economic impact of rising student loans is more complex and ambiguous than the political rhetoric suggests—and the Obama administration has acknowledged as much as well.
A college degree still pays major dividends to both individuals and the economy as a whole. "A four-year degree yields approximately $570,000 more in lifetime earnings than a high school diploma alone, while a two-year degree yields $170,000 more," Deputy Treasury Sarah Bloom Raskin said this week, according to prepared remarks. 
While noting that student debt has "become a serious burden for far too many borrowers, Raskin argues that "student loan debt is not inherently bad, until it becomes too costly to propel people to a place they could not reach without it; until the investment cannot pay off at both the individual and societal level."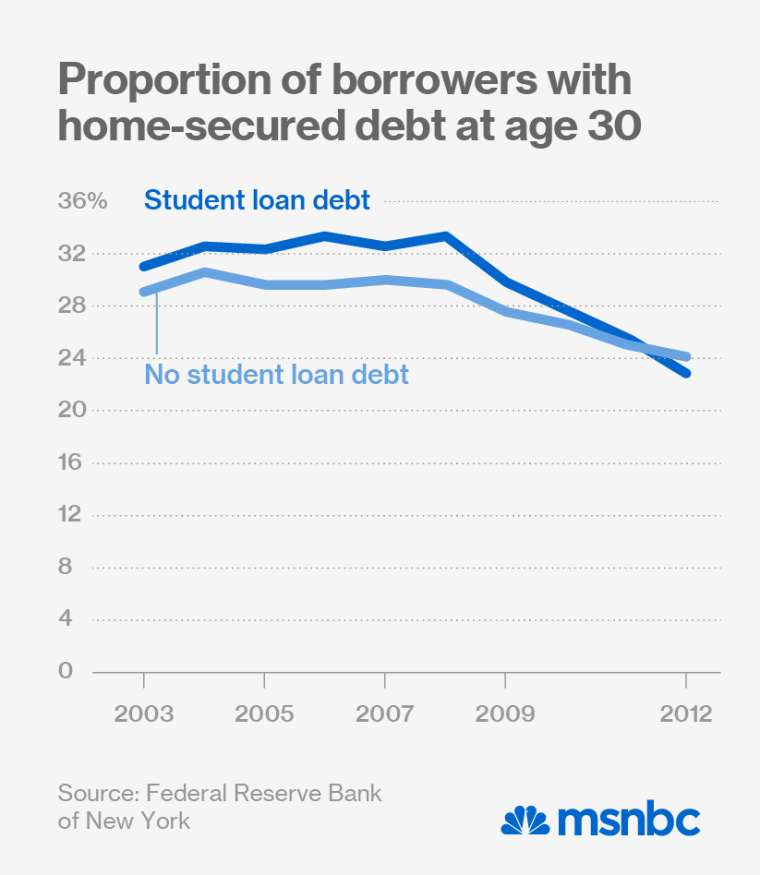 The returns on such investment have been slower to come by since the housing bust. Young people with student debt actually used to be more likely to buy homes, as they were likely to be more highly educated and in higher paying jobs. In recent years, the opposite has held true: "Now, for the first time in at least ten years, 30-year-olds with no history of student loans are more likely to have home-secured debt than those with a history of student loans," the New York Federal Reserve bank said in a 2013 study. A similar trend holds true for auto loans. 
That said, it's unclear how strongly these developments are due to student debt, and how much is due to a weak labor market that's preventing young people from benefiting from their investments in their education. Student debt "has some effect on the economy but it's outweighed by other factors—the job market and stagnant wages are far more important for the economic growth and the housing market," says Cristian DeRitis, senior director of Moody's Analytics. 
The total number of student borrowers has grown in recent years, along with the outstanding debt load per borrower, which increased from $21,000 in 2007 to $25,000 in 2012, according to the New York Fed. But the outlook has begun to improve as the economy has turned around as well. "Total federal originations have fallen since their 2012 peak and originations per borrower have fallen since 2010," said Treasury's Raskin notes. "If these trends continue as the recovery strengthens further, they may noticeably slow the growth of outstanding student loan debt."
Not all the headline-grabbing stories on student debt take other economic and social factors into account. A new study from John Burns Real Estate Consulting estimates that student debt will prevent more than 400,000 home purchases from happening in 2014. But the study doesn't account for the other factors that are likely to be keeping young potential homeowners out of the market, including the weak job market and an average marrying age that continues to creep higher.
In fact, the rising delay in marriage and having kids "end up explaining the entire decline in homeownership," says Jed Kolko, chief economist for Trulia, a housing research and real estate site. "Young adults are equally likely to own a home as young adults twenty years ago with the same demographic."
That suggests that student debt won't hold young people back forever, particularly as the labor market improves and they'll see a return on their college education; milestones like homeownership will simply happen further down the road than for earlier generations. 
Rick Palacios, director of research for John Burns Real Estate Consulting, agrees that student debt won't be a permanent barrier to growth. "We're not saying that getting a college education is a bad thing. In fact, overall we think it will eventually help homeownership. Our thesis is that it will just take longer to achieve homeownership for millennials." 
Ultimately, having a college degree affects people's economic outlook more so than student debt, concludes a new study from Hamilton Place Strategies and CivicScience. "Those with student debt have lower economic confidence than those who don't. However, college graduates with student debt have slightly higher economic confidence than those with just some college and no student debt," concluded the study, drawn from a web-based survey of 3,000 respondents. While student debt loads have grown, average monthly payments have stayed about the same over the last twenty years, as borrowers are simply taking longer to pay back their loans, according to a 2014 Brookings study.
What's more, there's considerable research showing that people who are already in debt tend to feel more comfortable taking on even more debt afterwards, according to Abigail Sussman, a professor at the University of Chicago's school of business.
"What students loans might be doing is starting them off by putting people in debt—that's a bad place to start," said Sussman. But after the initial shock, people in debt tend to feel less badly about accumulating more. "When you feel like you have a lot of debt, you feel less bad about taking on more debt."
The Senate Democrats' proposal to refinance student loans would reduce some of the debt burden on borrowers, saving about 25 million borrowers about $2,000 on their loans, according to the Obama administration."That would probably stimulate consumer spending, just as the ability to refinance your mortgage frees up money to spend on other things," says Kolko.
But the most vulnerable borrowers aren't necessarily those with the highest debt loads, who are more likely to be higher-income students attending graduate school. Those most likely to default on their debt are college dropouts, who tend to be lower-income borrowers who aren't able to reap the benefits of a degree. 
"The largest predictor someone struggling with a student loan is if they drop out," said Mark Huelsman, a senior policy analyst at Demos, a New York-based think-tank. Most of the reforms out there "deal with students who currently have debt—the tougher nut to crack is how to prevent tomorrow's students from taking on debt," he adds.