Washington, DC – The fight for control of the Senate may be the top political story in 2014. But under the radar, national Democrats are preparing for a fight that could have an even greater impact on voters' lives: control of state legislatures. 
Democrats are still recovering from the 2010 GOP wave, when 20 state legislative chambers turned red. The resulting shift gave Republicans in many states the power to pass sweeping new gun laws, implement powerful anti-abortion restrictions, impose new requirements to vote, and redraw district lines to cement their majorities at the state and federal level alike. On the other side, states like California where Democrats took complete control have turned into laboratories of progressive legislation on issues like immigration and tax policy. 
"Frankly, I don't think races at this level have ever been as front and center for folks who care about good public policy as they are now," Kurt Fritts, the DLCC's national political director, told msnbc.
This week, the Democratic Legislative Campaign Committee gathered one hundred organizers from more than two-dozen states at American University in Washington for training in the latest voter turnout techniques and technology ahead of the November election. It's the second election cycle for the DLCC's new field training program, which was launched to respond to the 2010 Republican tsunami.
At the heart of the training session this year is guidance on how to use new data techniques modeled after the much-heralded program the Obama campaign used in 2012 to analyze individual voters and determine how best to turn them out. The data itself is collected from a variety of sources, including party email lists, door-to-door contacts, and even consumer information that might help identify voters' preferences. 
Tom Bonier, whose Clarity Campaign Labs is working with the DLCC on its data programs, said the new system had an encouraging test run in New Jersey last November when Democrats poured big money into a campaign to hold their state Senate majority amid an anticipated blowout win by Republican Gov. Chris Christie.  
"With Christie cruising to victory, the challenge was that he was going to win these state legislative districts by large margins," Bonier said. "So we needed to identify who these 'Christie-crat' voters were and what issues these voters were most concerned with." 
Democratic activists used the information to tailor their message to likely ticket splitters, emphasizing issues ranging from gun control to Hurricane Sandy relief depending on what the data told them about voters' interests. In the end, Democrats held their majority by the same margin as before Christie's re-election.
This year, Democrats are on the defensive in a number of legislatures and Republican leaders are optimistic that a favorable national climate will translate into gains at the statehouse. Democrats counter that they're looking at some pickup opportunities of their own.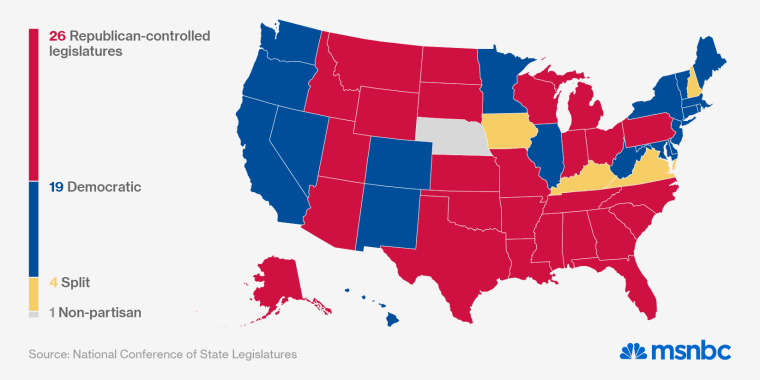 One especially hard fought state will be Iowa, where Democrats are hoping to take control of the House and Republicans are trying to knock out the Democrats' majority in the Senate. Iowa Gov. Terry Branstad is Republican and if the GOP gains full control of the Legislature they could rapidly pass the same kind of conservative laws enacted by other states with GOP legislative majorities.
As it is, Iowa is already a testament to the importance of a good field operation. Party turnout efforts usually are credited with influencing outcomes only at the margins in close races. In Iowa, Democrats barely held their Senate majority in 2012 because one state senator, Mary Jo Wilhelm, won her race by just 120 votes. 
"The reason we're not fighting in Iowa like we are in Wisconsin, Michigan, Ohio, and Pennsylvania is because we held that one seat," said DLCC national field director David Griggs, referring to states where GOP majorities have enacted conservative legislation. "124 votes: that's a field margin."
Regardless of which party wins a majority in the U.S. Senate, divided government should ensure that the last two years of President Obama's administration look a lot like the previous two years. With Washington on lockdown, the races for control of state legislatures deserve at least as much attention from voters of all partisan stripes.