When the five top Democratic presidential candidates take the debate stage in Las Vegas on Tuesday night, it will be before a unique crowd that combines two of the party's most powerful blocs: organized labor with a Latin twist.
Sin City has been a rare bright spot for the labor movement, which has been on the decline nationally for decades. Growing ranks of immigrant workers have allowed unions to thrive in Nevada, a crucial early swing state for Democrats as they look to secure support from the state's unique pro-immigrant, pro-labor base.
Leading candidate Hillary Clinton tried to sew up that last-minute home crowd support Monday night by taking a jab at Donald Trump at a union drive outside the Republican front-runner's Las Vegas hotel.
"I would think that the heart of the membership is with Bernie. There is a real kind of yearning to have a real liberal Democrat."'
"Some people think Mr. Trump is entertaining. But I don't think it's entertaining when somebody insults immigrants, insults women. That is just unacceptable behavior," Clinton said at the rally.
"When we're here together in solidarity to organize, we also want to send a message to Mr. Trump: That if you're going to run for president, then you should represent all the people of the United States, and that includes hard-working people."
Attacking Trump has been an easy way for Democratic presidential hopefuls to set themselves apart from the anti-immigrant rhetoric that has dominated the Republican primary and shore up support among Latino voters, the fastest growing group within the electorate. But while Trump will undoubtedly serve as a punching bag during the Democratic debate, the five candidates on stage still have to fight to stand out from each other. With Clinton weaker than expected heading into the debate, other candidates could seize the opportunity to deflate the air of inevitability surrounding her campaign by chipping away at some of her core support.
RELATED: Trump backs out of Q&A with Hispanic group
Las Vegas has a rich history of defying national trends that have seen union membership declining. In fact, the organized labor movement in Sin City has managed to grow despite Nevada's decades-old right-to-work law, which undermines union membership by allowing workers to not pay dues.
Workers at Trump Hotel Las Vegas, most of whom are Hispanic, started their union drive months before the celebrity real estate mogul entered the race, and they have the help of the city's most powerful labor union behind them. The Culinary Workers Union, which led Monday night's rally, combines the strengths of an immigrant and labor rights movement. Union leader Geoconda Arguello Kline, a former housekeeper and Nicaraguan refugee, is the first Latina leader in the history of organization. Roughly 56% of the union's 55,000 members are Latino.
It wasn't a coincidence that when Clinton chose to stake out a bold position on immigration in May, she made the announcement alongside DREAMers at a Las Vegas high school. Nevada, a key early state in the Democratic caucus, has turned solidly purple in recent years thanks to the growing power of immigrant and labor groups, a coalition that takes credit for hand-delivering Sen. Harry Reid's 2010 re-election victory and winning the state for President Obama in both 2008 and 2012.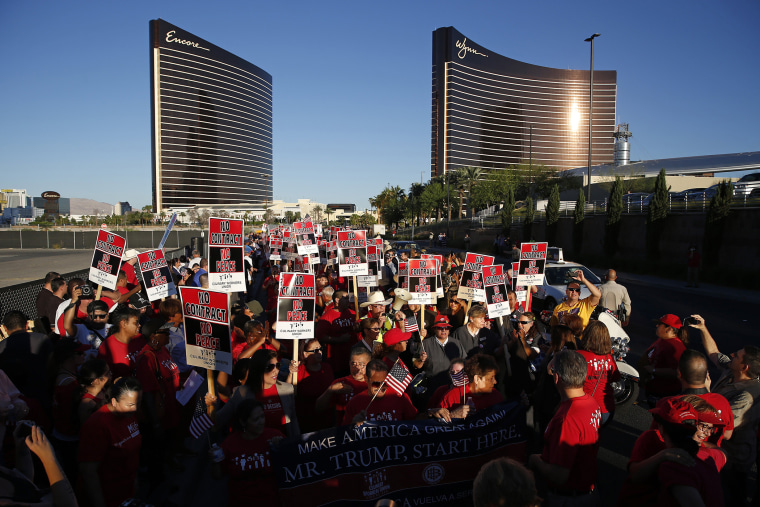 According to the latest polls, Clinton is now leading by a wide margin in Nevada. Still, some of her Democratic rivals hold equally bold -- and often more consistent -- positions on issues of immigration and labor. With other candidates gunning for the former secretary of state Tuesday night, that core support may be hers to lose.
Former Maryland Gov. Martin O'Malley attended a similar rally of Trump hotel workers in Las Vegas back in August. But it's Sen. Bernie Sanders, the self-described democratic socialist from Vermont, who could be the most appealing anti-Clinton candidate among union workers looking for alternatives.
Clinton has already picked up key endorsements from major union leaders and has cultivated relationships with the rank and file. But her silence on the Trans-Pacific Partnership (TPP) deal -- until she ultimately came out against it -- had union bosses very publicly uneasy. That, coupled with a long history of backing corporate interests (she was a member of the Walmart board of directors while the company was fighting its workers' unionization) has given Sanders an opening.
AFL-CIO president Richard Trumka, whose federation of unions boasts 12.5 million U.S. members, defended Clinton on Tuesday, telling MSNBC's Andrea Mitchell that the candidate's position on the trade deal was not a flip-flop. But he acknowledged that many union workers remain deeply divided between the top two Democrats.
"Some unions are with Hillary, some are with Bernie Sanders. That conversation is going on and it will continue to go on -- but it's an exciting one," Trumka said. "But when we do endorse, it will be a bottom-up endorsement that really speaks for our membership."
RELATED: Bernie Sanders: Some immigration hurts Latino youth
Sanders, who places second among Democrats with roughly 26% in national polls, has already picked up support from National Nurses United. And just last week, the Vermont senator introduced legislation into Congress that would beef up workers' rights.
Julius Getman, professor of law at the University of Texas School of Law and author of the book "Restoring the Power of Unions: It Takes a Movement," said he wouldn't be surprised if union bosses see Clinton as the most electable nominee, but workers would have Sanders signs out in their front yards.
"I would think that the heart of the membership is with Bernie," he said. "There is a real kind of yearning to have a real liberal Democrat. And he is appealing to that."