Charleston, South Carolina -- Jaime Harrison, the first African American chair of the South Carolina Democratic Party, is on a mission to engage young voters days before the South's first presidential primary on Feb. 27.
"We are finding a trend that younger generations of African American and Latino voters are claiming political independence as opposed to identifying as a member of the Democratic and Republican Party," Harrison, 39, told NBCBLK. "These two groups are core constituencies of the Democratic coalition and it is important to get them engaged and supportive of the party early."
RELATED: Democratic primary finds black feminists conflicted
Harrison pays close attention to surveys: A new NBC News/Wall Street Journal/Marist poll shows Hillary Clinton leading Sen. Bernie Sanders (I-VT) among South Carolina's African-American voters under age 45.
Jaquan Washington, 20, who is studying mass communications at Claflin University in Orangeburg, South Carolina, said he intends to vote during the primary election and is urging his peers to do the same.
Asked about key issues in the campaign, Washington listed several concerns.
"Probably healthcare, social security and college debt," Washington said. "College debt because I'm in college. I feel like education is very important but I shouldn't be in $100,000 worth of debt by the time I graduate. Social security because I live with my grandma and she's old and she's living only off of a stipend a month, which if it gets cut off, it's lower."
"South Carolina is not a Republican state, but it is a conservative state and we have to give our candidates a fighting chance."'
For his part, Harrison said he's embracing lessons from the past to ensure a victory for a Democratic president in 2016.
An attendee wears a Hillary Clinton campaign sticker and holds a campaign sign while listening during the King Day at the Dome event on the front steps of the South Carolina State House in Columbia, South Carolina, U.S., on Monday, Jan. 18, 2016.
"Young voters were crucial components of the Obama victories in 2008 and 2012 and in order for the Democratic Party to replicate that success we must engage and energize young voters now," he said.
Rayne Ocasio, 21, a senior studying politics and justice at Claflin University, said she's stayed informed about the Democratic and Republican candidates.
Student loans is the primary issue she is concerned with during this election, adding that she supports Hillary Clinton based on Clinton's college education policies. Clinton has momentum after beating Sanders in the Nevada primary.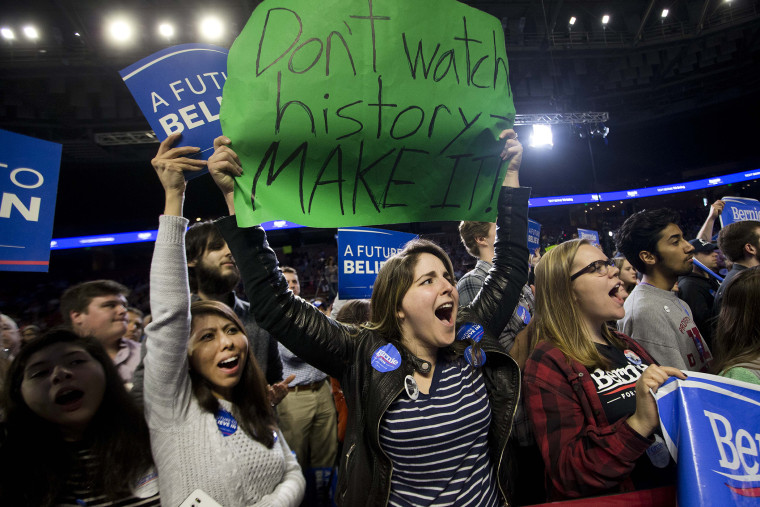 "The most unappealing candidate, I would say right now, would have to be Donald Trump," Ocasio said. "I just think he's taken the presidential campaign and he's turned it into something that it's not about. Campaigning and elections should be about what Americans needs and citizens need, what we're trying to do as a country, moving forward."
Supporters of senator Bernie Sanders carry signs before the Democratic presidential candidate debate in Charleston, South Carolina, U.S., on Sunday, Jan. 17, 2016.
Meanwhile, Harrison brings his own brand of energy to the South Carolina Democratic leadership post while engaging voters --especially young voters -- in a state where African Americans are expected to make up roughly half the Democratic electorate in the primary.
He is most proud of a new web venture called "Chair Chats," where he interviews local and national politicians, educators, and newsmakers. Harrison says he wants to "humanize" politicians and other influential guests so South Carolina voters, young and old, can make informed decisions.
Harrison said the concept for "Chair Chats" started "when I was sitting on the porch rocking with my granddaddy and talking about family."
"So during 'Chair Chats,' I talk to a variety of people, sitting in rocking chairs, sipping lemonade, and talking politics and about life," he said.
So far, Harrison's interviews have included Democratic presidential candidates Hillary Clinton and Sen. Bernie Sanders; civil rights activist Dr. Cornel West; and Rep. James Clyburn, (D-SC) the third-ranking Democrat in the House who endorsed Clinton last week.
RELATED: In SC, younger blacks lean toward Clinton, not Sanders
Originally from Orangeburg, South Carolina, Harrison was a former director of floor operations and counsel for Clyburn where he worked closely with the House and Senate leadership. As a first-generation college graduate, Harrison earned a bachelor's from Yale University and a law degree from Georgetown University Law Center.
House Majority Whip James Clyburn, D-S.C., and aide Jaime Harrison, director of floor operations and counsel, call democratic members to determine where they stand on Friday's vote on the economic bailout plan, October 2, 2008.
"South Carolina is not a Republican state, but it is a conservative state and we have to give our candidates a fighting chance," said Harrison, now in his second term in the position.
Young voters, says Harrison, will play a critical role in that fight.
Bryan Hall, 19, a freshman studying criminology at the University of South Carolina, is a member of the Young Republicans Club. He said he identifies as a Republican because he believes in low taxes and personal freedom. This is his first time casting a ballot during a presidential election.
"It feels great," said Hall, who is African American. "Ever since I was younger, I've always wanted to vote in a presidential election and I'm glad the time has finally come for me to be able to do that."
Ithaca College students Emily Masters, Sara Kim, Ciara Lucas, Emily Fedor, Emily Varga, Sydney O'Shaughnessy and Kenneth Bradley contributed to this report.
This story originally appeared on NBCNews.com.