Shortly after midnight on a Sunday – a well-known, non-peak hour for Twitter users – the junior senator from Texas launched his 2016 presidential bid with a 30-second YouTube video, "A Time for Truth."  
While a seemingly good enough start in this brave, new, online world of political campaign fundraising, it took no time at all and some sticky fingers while Googling "Ted Cruz" for the Internet to realize that tedcruz.org appears to be:  1) the one, and perhaps only, domain owned by Ted Cruz at this time, and 2) as secure as the domain of nigerian-prince.com.  
Hat tip to @pwnallthethings for calling this fact out.  
Aside from the fact that Team Cruz could have chosen a better name than "tedcruz" -- perhaps a name that has NOT been owned since 2004 as a dot-com (tedcruz.com) or that is now being used to troll Cruz over his stance on immigration: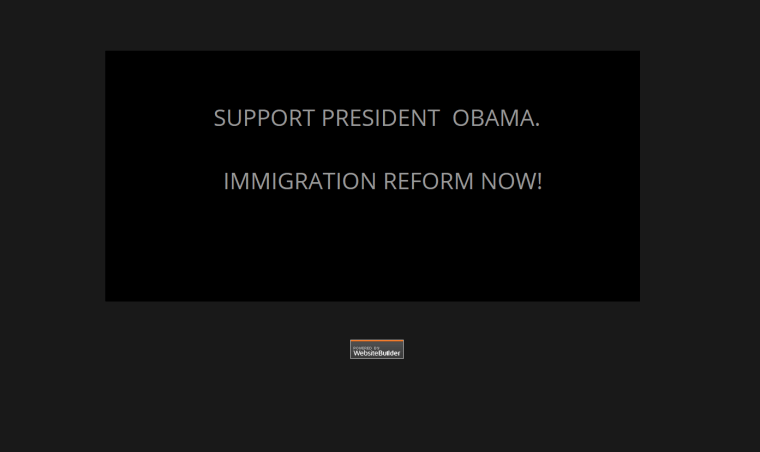 The more serious concern for Team Cruz to address is the question of online security. One big no-no in online fundraising is an un-secured donation page.  As Vox illustrated, there was no padlock icon in the address bar of the donation page of tedcruz.org to indicate that the entire donation process online is SSL-protected 13 hours after the website had launched. (It was updated later in the day and fixed).  
Here's an example of a website with a padlock icon in the address bar:

Here's a screenshot from the Ted Cruz for President donation page: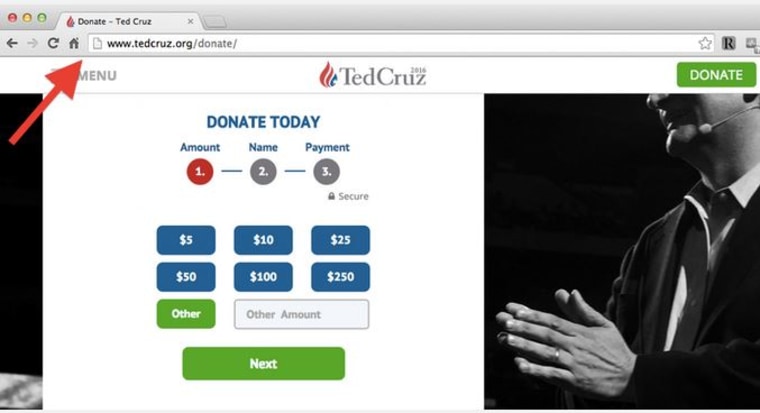 Although tedcruz.org is SSL-protected for anyone who navigates directly to the donation page, anyone who arrives at the donation page via another channel may encounter this message: "This page includes other resources which are not secure." The idea that not everything in that donation page is encrypted is enough to make you rethink even hanging around the webpage for too long. Okay, not really, but it's not a very comforting message to see right before you input your credit card information.
Someone donating via tedcruz.org is not SSL-protected from start to finish for that transaction. There is an opening for what cyber-security specialists call "man-in-the-middle attacks" (MITMA), in which an attacker is able to take advantage of a user by successfully impersonating one of the endpoints. In this case, all it would take is one attacker with the ability to impersonate tedcruz.org to then redirect a donating user to a malicious site instead. 
Or in this case, a non-malicious, but still not-so-good for Ted Cruz redirect: http://TedCruzForAmerica.com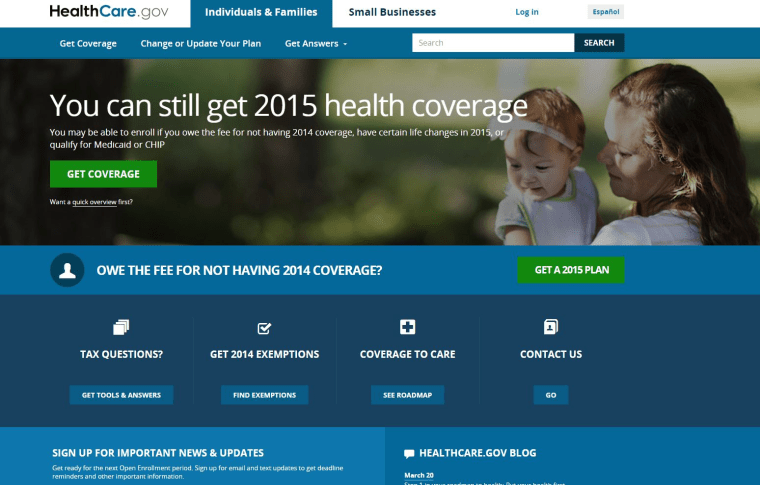 Ted Cruz doesn't get his campaign donation. Some poor user is now a victim of credit card fraud.
If Ted Cruz is not even the master of his own domain name, how is he going to run a comprehensive, sophisticated online fundraising campaign?  
As a digital native, I cannot in good conscience watch a potential security risk play out no matter how funny the tweets are about this train wreck of an online launch, and they are hilarious. So, I am going to "imagine" a different future for tedcruz.org. Ted Cruz and any other candidate for president can still make some necessary adjustments and follow these very basic and essential must-dos before launching an online list-building and fundraising campaign:
1.  Own your name online. 
It's a cheap upfront investment. Kind of like insurance for your online reputation. I hope Ted Cruz can appreciate the irony here.
Buy your domain names, like yesterday. Don't wait for the news to leak to the media. Don't wait to assemble a team of advisers or an exploratory committee. Don't wait for your opponent to buy it or an enemy who is going to start trolling you.
Buy every combination of your first and last name, including nicknames. I'd even recommend common misspellings if they show up high on search results.
Buy the trifecta of common urls: dot-com, dot-org, dot-net. 
2. Build an SSL-secure website to accept online donations.
There have never been more digital-political consulting agencies to choose from, Republican and Democrat: Blue State Digital, Bully Pulpit Interactive, NGP VAN, CMDI, Targeted Victory, the list goes on.  
Even if you go your own route in building your website, you can still help secure your donors. How? PayPal. It's free, it's easy, it has an App.  Most importantly, it's secure. 
Make sure the site is easily updatable by members of your digital team and that they are trained to handle anything from regular data backups to emergency situations such as when the site goes dark or gets hacked. 
3. Get set up with lead generation and mass email software.
Once you see a spreadsheet of hundreds of thousands of email addresses given to you by online donors, supporters and volunteers, you suddenly realize how grateful you are to the person who developed lead generation and mass email software. You'll want to be able to use that massive email list that you've now collected, and you'll be in a better position to report and accurately account for donations. 
4. Test the launch. Test everything.
Digital follows Murphy's Law to a tee. 
So get ready to fake it until you actually make it go live. Test the website. Test leaving a donation. Test the security of your page. Literally test everything! This is the time for you to make sure all those logos and fancy images look great. 
Follow these tips and you'll already be one-step ahead of Ted Cruz for President online. Just imagine. 
"Oh the things you can find, if you don't stay behind!"'