KABUL, Afghanistan -- A truck bomb exploded near an army compound in the Afghan capital Friday, killing at least 10 civilians and wounding 400, police and health officials said.
The explosion shook the heavily-populated center of Kabul, carving a hole more than 33 feet deep, and destroying buildings and cars, a witness told Reuters.
Some 50 homes were damaged by the blast, which also injured around 400 — most of them hurt by flying glass, according to Wahidullah Mayar, a spokesman for the country's health ministry. The death toll was likely to rise as rescue workers sifted through the remains of homes, he added.
The attack was the biggest biggest truck bombing Kabul has ever experienced, Kabul Police Chief Gen. Abdul Rahman Rahimi told Radio Free Europe, and shocked even residents who've survived decades of war and violence.
"Around midnight as we were sleeping I suddenly felt a huge boom that I even cannot describe," shop-owner Hamidullah told NBC News. The 32-year-old said he lost consciousness for a few minutes and does not even remember leaving the building.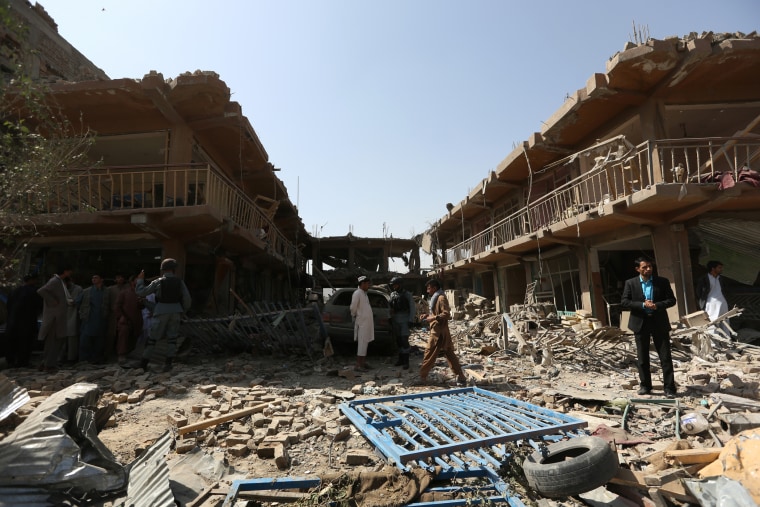 His neighbor Mahmood Wasiq, a government employee, said he was watching a video of his younger brother's wedding when he heard the enormous explosion and the room went dark.
"It was total chaos, some of the family had managed to find the door and get out to the courtyard, but my wife was lying unconscious near the door and my six-year-old son was also covered in blood lying near the window," the 44-year-old father-of-seven said.
"I have lived through all wars here and have seen a lot of bombs and explosions, but have never seen anything like this. I am still in shock," he added.
The attack "shows a complete disregard for human life," the U.S. Embassy said in a statement. "Our thoughts and prayers are with the victims and their families at this time."
The United Nations Assistance Mission in Afghanistan (UNAMA) also condemned the attack, and called for "the immediate ban of weapons which kill and maim indiscriminately, and to cease attacks in civilian-populated areas."
Nobody claimed responsibility for the blast, although Taliban militants have been stepping up attacks on the country's capital as foreign troops draw down sharply.