Official Washington is rife with talk about inequality—a theme that's expected to be at the heart of President Obama's State of the Union Address on Tuesday. But right outside Congress' doors—east of North Capitol Street, across the Anacostia River, camped out on the steps of Union Station—the residents of D.C. are living it. 
Alicia Burton, 47, lost her job doing payroll for a health-care firm last March and has been trying to find work ever since. Every morning, it's been the same routine: "I wake up, I have my moment with God, then I get on a computer," Burton says, dressed in the pink blouse and black pantsuit that she used to wear to the office. But the very same job that she got with her high school diploma now demands a Bachelor's degree—effectively shutting her out of the running. 
"They are competing against a higher skilled workforce, fighting for the same opportunity," says Paulette Francois, D.C.'s deputy director of workforce development.
Burton is now among the thousands of District residents who've been unemployed for longer than six months—a group that makes up nearly half of D.C.'s 33,000 unemployed workers. Despite a new wave of prosperity that's brought jobs and growth to the region, in the District, as elsewhere in America, many are being left behind.
"The Walmart they opened up here—it's for the minimum wage person," says Burton, who spent nine years doing administrative work in human resources before she was laid off. "It's not for me, with my career."
The disparity between D.C.'s new arrivals and its long-time residents is nothing new. But the differences have grown even more stark with the surge of young, highly educated workers, an unequal economic recovery, and the growing barriers facing the lifelong residents of a majority-black city. 
"You have these minimum wage jobs that are less than full time, and there's no way anyone can support themselves," says Marina Streznewski, executive director of the D.C. Jobs Council. "On the other hand, you have these great jobs with benefits that require the minimum of a Bachelor's degree."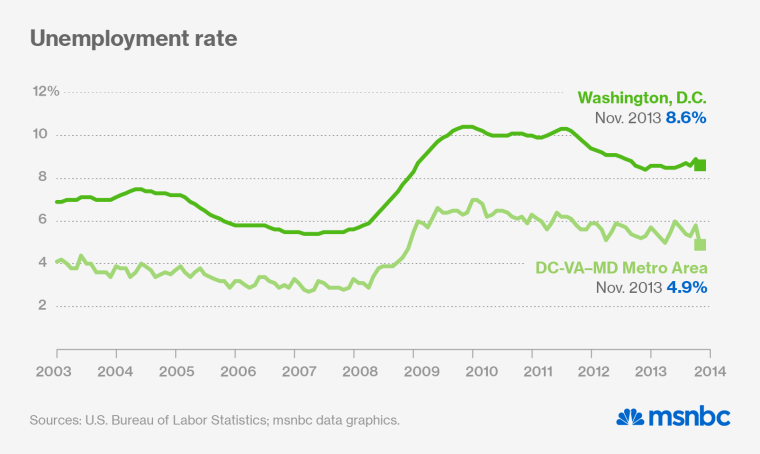 The gap between low- and high-income households in D.C. is one of the biggest in the country—the third-highest of the 50 largest cities in the U.S., according to the D.C. Fiscal Policy Institute. While the D.C. metro area was spared the worst of the recession, the downturn and subsequence recovery have exacerbated the long-standing differences between the area's rich and poor.
Between 2007 and 2012, 18.5% of D.C.'s residents were in poverty, compared to 8.4% in the entire metro region, which includes six of the 10 richest counties in the U.S. The massive growth in federal contracting dollars—hitting $80 billion in 2010 alone—helped push the median household income to nearly $120,000 in Virginia's Loudoun County. But the disparities aren't just in terms of income. While the region's unemployment rate has dipped to just 4.9%—far below the national rate—it's stuck at 8.6% in the District. Within the city itself, the differences are even starker: The jobless rate in Ward 8, one of the city's poorest areas, is 18.6 percent; in tony Ward 3, it's 1.8 percent.
Locally, the debate over D.C.'s inequities invariably turns to gentrification—the vegan bakeries, artisanal cocktail bars, and glass-walled lofts that have arrived as the District has added an estimated 44,000 people over the last three years. Local building restrictions have put even more upward pressure on the housing market in a city that remains intensely segregated. But D.C.'s poorer, less educated residents are also feeling the squeeze in the labor market, as the new money hasn't been enough to overcome deep-rooted barriers to employment—and at times has made it even harder for D.C.'s less privileged residents.
White-collar workers without advanced degrees are finding it increasingly difficult to find jobs—or keep the ones they have. Over the last eight years, due to budget cuts and increasing automation, the federal government has eliminated 40,000 clerical jobs, many of which were held by women without college degrees. 
"It used to be that the Government Printing Office was a wonderful job to have as a District resident," says Jim Dinegar, president and CEO of the Greater Washington Board of Trade. "We're not doing much printing any more." It won't be easy for many to re-enter the workforce, either: The jobless rate for D.C. residents with only a high-school diploma is 17 percent, while it's 4 percent for those with a Bachelor's degree, according to the DC Department of Employment Services. 
In D.C.—as in the rest of America—such trends have hastened the disappearance of the city's middle class: More than 45 percent of the area's households make more than $100,000 a year, while one-third make less than $60,000, according to the New York Times. And the demand for even the lowest-paying jobs has been overwhelming: After opening its first two stores in D.C. in October, Walmart received more than 11,000 application for just 1,800 positions within the first week. 
Among those still looking for work is Alvin Deese, 39, who lost his job as a retail clerk at a music store in Southeast D.C. after the entire complex was torn down for re-development. "It's been strenuous," says Deese, waiting at an unemployment office in D.C.'s Congress Heights, a leather folder tucked under his arm. 
Deese had been earning $11 an hour before the store closed six months ago and is now scraping by on odd jobs to support himself and his daughter. But he faces yet another barrier in his job search: a felony conviction from 2000 for a firearm that he carried after being robbed.
The murder rate in D.C. has plummeted since the 1980s and early 1990s. But arrests for non-violent offenses are still high—more than 140,000 adults between 2009 and 2011—and the vast majority have been African-American, according to a recent report by the Washington Lawyers' Committee for Civil Rights and Urban Affairs. 
"When I came home from prison, I was fortunate enough to know somebody" to help get a job, says Deese, who received his GED while he was incarcerated. But now he has to put his criminal history down on one job application after another. Even before it's time for an interview, "they already know," he says. 
Local politicians have clamored for the government to help address the struggles of its poor and unemployed residents. After Mayor Vincent Gray vetoed a bill that would require large retailers like Walmart to pay $12.50 an hour, the D.C. city council recently voted to hike the minimum wage from $8.25 to $11.50 an hour by 2016. Business leaders like Dinegar believe the hike will ultimately drive jobs out of the District and into neighboring states, arguing that improvements to public transportation should be a bigger priority. Worker advocates point out that the high cost of child-care is also a major challenge to finding and keeping a job.
There's also a major push for worker training and adult education to help lower-income Washingtonians better compete for jobs. Deese is currently enrolling in a D.C. program called Project Empowerment that provides training and subsidized jobs for ex-convicts. Both Deese and Burton also completed a training program for jobs at a new Marriott hotel that's under construction downtown.
Backed by $2 million from the local government, the program trains D.C. residents in customer service and hospitality through the University of the District of Columbia, the local public university. Participants aren't guaranteed a job, but they will have a first crack at them when the hotel opens in May. 
Deese is hopeful that still believes the new investment coming into the District will be for the best. "It's time for a change," he says. "So long as they help people." 
What remains unclear is whether the federal government will feel compelled to do anything — either for the jobless in their own backyard, or anywhere else in America. Like 1.3 million other jobless Americans, Burton lost her long-term unemployment benefits on Dec. 28 when Congress failed to renew federal jobless aid. The likelihood of another extension doesn't look great—and neither do the prospects of tax reform, immigration reform, or another other major changes that would improve the country long-term employment prospects. 
For local residents, that neglect feels particularly frustrating. "A significant number of members of Congress don't even realize who lives in the District of Columbia," says Streznewski. "We don't have a vote in Congress. They walk on by the homeless. They don't even know we're here."