TUCSON, Arizona -- Daniel Neyoy Ruiz spends his days and nights living behind a steel-barred door. Meals are brought to him; his young son comes to visit.
This 12 by 15 foot room isn't jail; it's what it takes for Neyoy to be free in America. Facing deportation after a driving infraction, Neyoy found safe haven in a place he's called home his whole life: the church.
"I never thought that this would happen," Neyoy said. "I say this is better than being locked in (prison). Because there you are really locked. Here people can come visit you, they bring you food, we have all the comforts that you need."
Every day that Congress stalls on immigration reform, thousands of undocumented immigrants are put under threat of deportation. Desperate to keep families together and to protect their flock, a growing number of religious leaders are putting themselves between individuals at risk and the authorities that want them removed.
There is evidence that it is working. Immigration officials are holding back from seizing individuals under church protection.
"It's up to the religious leaders to step into that gap and to bring a moral voice to what's going on, and try to remind our politicians that while you're playing politics in D.C., real families are being affected," said Rev. Alison Harrington, standing outside Neyoy's converted bedroom.
The space, just big enough for a bunk bed, a mini-fridge and a few chairs, is slightly larger than the average American prison cell. It used to be Harrington's office.
Defining 'more humane' deportations
Like many undocumented immigrants caught in deportation proceedings, Daniel Neyoy wasn't a target for law enforcement.
He and his wife Karla were newlyweds when they left Mexico 14 years ago. Their son Carlos, born in Tucson a year later, just finished the 7th grade and plans to try out for his school's football team in the fall.
The family home, along the outskirts of Tucson, is a stone's throw away from where Karla's sister, mom and grandmother live. Daniel has had a steady job, and paid taxes.
But in 2011, he was pulled over by a highway patrolman because the car was emitting too much exhaust. The local law enforcement flagged Neyoy to Border Patrol after he was unable to present government-issued identification. He was thrown into a holding cell for several nights and later spent 30 days in a detention center.
Once released, Neyoy exhausted all of his legal options for reprieve. When the time came for his final order of removal, Neyoy took safe haven at Southside Presbyterian Church.
"Mr. President, I don't mean any disrespect with this but I'm just telling you to please don't turn your back on us and not only help my family stay united but all families that are being separated by immigration laws," Neyoy's son Carlos wrote in a letter he mailed to 1600 Pennsylvania Avenue.
Carlos wants to go to Disneyland with his dad. He wants him there for graduations and for when he accepts a hoped-for law degree one day.
"The values of a family are universal," Karla said, tears rolling down her cheeks.
Obama has vowed to take a "more humane" approach to deportations. Under new policy priorities, federal agents were to focus on individuals with criminal records and not families. The president had ordered a review of the administration's deportation policies, but put it on hold to give congressional Republicans a final opening on reform.
But Republican Rep. Eric Cantor's stunning primary defeat this week could spell the end for reform this year.
Of the nearly 370,000 undocumented immigrants who were deported last year, the vast majority were caught at the border. Roughly 134,000 were removed after already being settled in the U.S. That number is down from 238,000 deportations under similar circumstances four years ago. Of those who were deported from the interior of the U.S. in 2013, 82% had criminal records.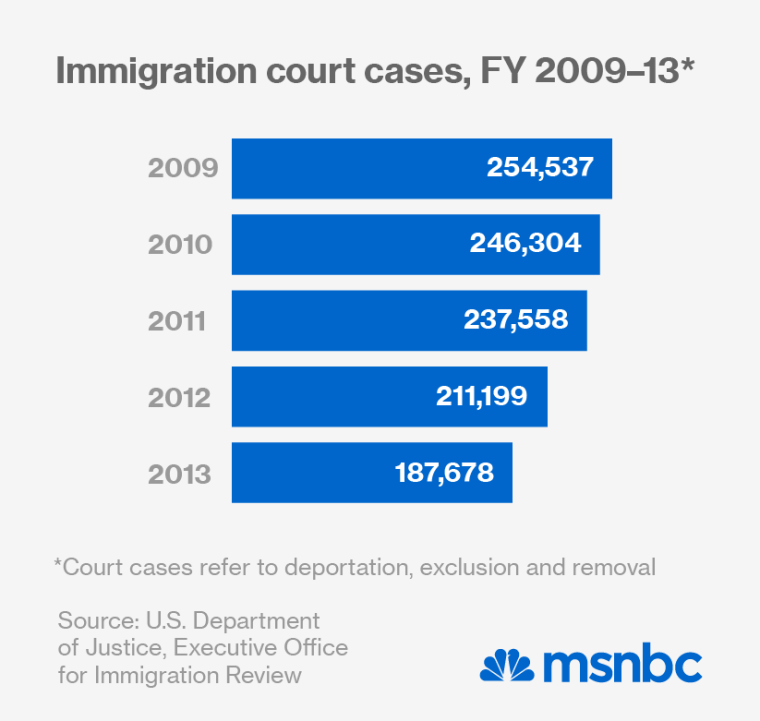 According to a report out by Syracuse University's Transactional Records Access Clearinghouse (TRAC), 47,249 of the total deportations last year were triggered by traffic violations, not violent crime. A separate New York Times review of Immigration and Customs Enforcement (ICE) deportation statistics, found that two-thirds of the nearly 2 million deportations under the Obama administration targeted people who committed minor offenses. Some had no criminal record at all.
A number of traffic-related arrests stem from a 2012 program called Secure Communities. Under the program, local law enforcement shares any information on undocumented immigrants in their communities, including fingerprints, with federal officials. That places anyone slapped with a speeding ticket or fine on ICE's radar.
The effort was supposed to pinpoint undocumented criminals in the system, but when congregants started disappearing from their church communities, faith leaders began to take notice. The backlash to Secure Communities spawned a new wave of what is known as the Sanctuary Movement -- a collection of interfaith organizations fighting for the rights of immigrant communities.
"Folks came together in their faith spaces because when undocumented people began being deported by police, the first thing they did was turn to the church," said Nicole Kligerman, a community organizer for the New Sanctuary Movement based out of Philadelphia.
Mirroring success stories from New Orleans, Newark and Miami, the New Sanctuary Movement in Philadelphia worked to cut off a local law enforcement pipeline to ICE agents. After organizers lobbied city officials for more than five years, Philadelphia Mayor Michael Nutter issued an executive order in April mandating that city police would no longer detain immigrants for ICE officials to take them into custody. Federal agents must now present a warrant.
"Now more than ever, we need to respond to the higher values and higher laws that we adhere to in honoring basic human dignity," Kligerman said. "Though state and federal governments refuse to acknowledge that dignity, people of faith can lead the way."
'We're not law-breakers, we're families'
The original Sanctuary Movement took roots in Tucson in the early 1980s out of Southside Presbyterian Church, where Daniel Neyoy took safe haven. Extreme violence in Central America was driving scores of families from Guatemala and El Salvador into the United States.
For Tucson, a sprawling city just under an hour's drive from the U.S.-Mexico border, the influx of immigrants was impossible to ignore.
The church set up what leaders called an underground railroad connecting families to a network of safe havens, moving them far away from the border region. Men, women and children slept on the church's floor at night and were set up with legal aid to formally seek asylum.
"We need to respond to the higher values and higher laws that we adhere to in honoring basic human dignity."'
The federal government caught onto the church's efforts. In 1984, Southside Presbyterian's leader at the time, Rev. John Fife, and seven others were convicted of breaking federal immigration laws.
"Most of us understood the government was probably going to criminalize the Sanctuary Movement at some point -- especially if we were becoming successful," Fife told msnbc. Fife and the others served five years' probation for the charges and the Sanctuary Movement spread to more than 500 churches and synagogues nationwide, a point of pride for Fife.
"The government succeeded in doubling the Sanctuary Movement," Fife said.
Elvira Arellano and her family were some of the beneficiaries of the moment.
The Adalberto United Methodist Church in Chicago became her home in 2006 after ICE agents swept her up in a sting operation targeting O'Hare International Airport workers who were employed without valid social security numbers.
At the time she took safe haven at the church, Arellano's American-born son was just eight-years old. The constant threat of deportation presented Arellano a set of choices: Be separated from her son or rip him away from the only home he has ever known for a country of few opportunities.
She was eventually deported after leaving the church's refuge in 2007. Her son Saul joined her in Mexico. But the experience made her into the human face of the Sanctuary Movement, sparking a rise of church leaders rushing to keep immigrant families together. The Chicago church that offered Arellano safe haven called on others to join the movement. Arellano earned a spot as Time magazine's Person of the Year.
"Many people identified with her and came out of the shadows," said Pastor Emma Lozano, founder of the activist group Familia Latina Unida "They had courage and they were saying, 'we're not law-breakers, we're families.'"
Arellano returned to the states earlier this year, seeking refuge after becoming a vocal, and oftentimes targeted, advocate for the rights of immigrant families. She presented herself without documentation at the U.S. border in March along with roughly 150 others in protest of America's immigration laws. She has urged others who fear for their lives to do the same.
'We stay together' 
"No matter what we do, we're put in a hot seat because we have parts of our community who want strong immigration enforcement while others accuse us of ripping families apart."'
In 2010, Arizona became the poster-child for enacting harsh anti-immigration laws as Congress stalled on reform. SB-1070, including what became known as the "Papers Please" measure, empowered state cops to determine the immigration status of anyone stopped or arrested.
"This level of criminalization makes people afraid to go to school, afraid to go to church, just normal things on a day to day basis," Juanita Molina, executive director at Border Action Network, a human rights group based in Arizona, told msnbc.
The ripple effects played out just as Tucson Police Chief Roberto Villaseñor predicted. Residents who supported the measures expected cops to ramp up arrests, while immigrant communities became fearful to speak to police or report crimes, making the job for law enforcement that much harder.
"No matter what we do, we're put in a hot seat because we have parts of our community who want strong immigration enforcement while others accuse us of ripping families apart," Villaseñor said. "With both sides being upset right now, that means I'm probably on the right track of being in the middle of the road."
Leaders at Southside Presbyterian have been cautious of the legal consequences of sheltering Neyoy -- the church hadn't offered sanctuary to anyone since the original movement petered out over a decade earlier. He was on the lam with a formal order of deportation against him, meaning he could be removed from the country at any time.
Church leaders decided it was worth the risk.
"Our congregation understands that this is part of what we do," said Leslie Carlson, a church member who volunteered during the original Sanctuary Movement. "They feel very strongly that Arizona's response to the needs of immigrants that currently live here is morally wrong."
ICE officials reacted by informing the church that they would use "favorable discretion" and not arrest Neyoy. Federal agents already had a policy in place against making immigration-related arrests in sensitive locations like schools or churches, and local law enforcement had no reason to get involved. "If Border Patrol would not respond, then why should we?" said Villaseñor.
"We should not be deporting people just because we can … it's wrong to tear families apart," Neyoy's lawyer, Margo Cowan, said.
During a visit with reporters Sunday, Neyoy and his family seemed desperate. They had been huddled in a single room for nearly a month, facing uncertainty about their future.
But on Monday, he got the answer he had been waiting for. Neyoy was granted a one-year stay of deportation, which he could renew annually. He was issued a work permit which he could present as identification if ever asked by law enforcement. Neyoy went back to the apartment complex where he used to work to ask for his old job back as a maintenance supervisor.
"We stay together," Neyoy said in English, embracing his family in front of their Tucson home. The timing was perfect -- the family would be spending Father's Day together, and at their own home.