RALEIGH, North Carolina – More than 1,000 mourners gathered at a funeral service at the Islamic Center here in the state's capital to remember the three Muslim-Americans who were shot to death on Tuesday by a gunman – a tragedy that has rocked the community and sparked concerns that the violence may have been racially-motivated.
The father of the two women who were killed, Yusor Abu-Salha, 21, and Razan Abu-Salha, 19, told the crowd after a prayer that he was "not seeking any revenge" only justice. He did call on President Obama, in addition to federal and state authorities, to investigate how race may have played a role in the shooting.
"This has hate crime written all over it," said Dr. Mohammed Abu-Salha. It was "not about a parking spot," he said, referring to authorities' preliminary investigation suggesting the killings may have been the result of a simmering parking dispute. Officials have not ruled out the possibility that it may have also been hate-motivated. He added the he "has peace" knowing his two daughters and son-in-law are in heaven.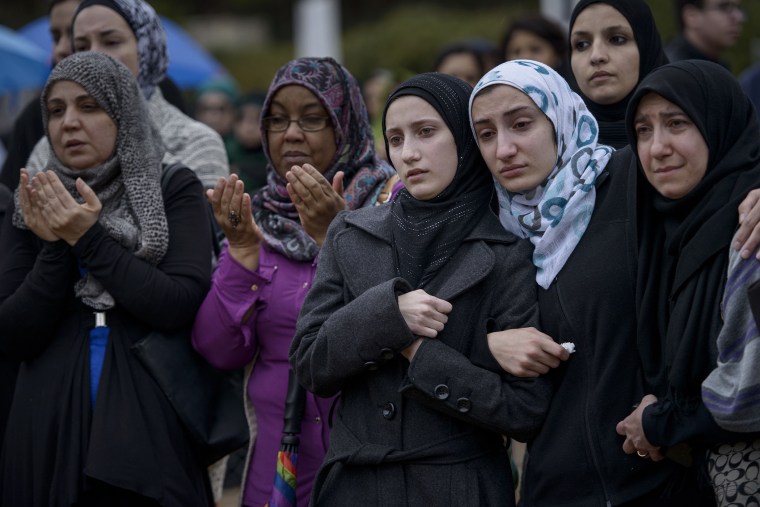 Craig Stephen Hicks, 46, of Chapel Hill has been charged with three counts of first-degree murder of the two sisters and Deah Barakat, 23.
"The FBI is continuing to provide assistance to the Chapel Hill Police Department to process evidence related to a triple homicide investigation. The FBI has also opened a parallel preliminary inquiry to determine whether or not any federal laws were violated related to the case," an FBI spokesperson said in a statement released late Thursday. 
After the funeral service, which had to be moved from the mosque to a soccer field across the street accommodate for the big crowd, the three victims' bodies were taken to a cemetery in Wendell, N.C., about 12 miles away, to be buried.
RELATED: Huge crowd attends Chapel Hill vigil for Muslim shooting victims
Barakat, a second-year student at UNC-Chapel Hill's School of Dentistry, had married Yusor Abu-Salha in December. The new bride had planned to start her dental studies at the same school this fall while younger sister Razan was an undergraduate at the nearby North Carolina State University studying architecture, according to authorities and school officials. Barakat had been fundraising for a trip this summer to Turkey, where he was going to provide dental care to Syrian refugees. After his death, many took to his fundraising page to donate and to express sympathy. 
The shootings have sparked concern that Barakat and the Abu-Salha sisters were targeted because they were Muslim, with the hashtag #MuslimLivesMatter going viral after the news of the killings surfaced. Hicks, on his Facebook page, had a history of posting anti-religious articles and photos. His wife has since spoken out, insisting the killings were not racially-motivated. 
When asked if he thought the deaths stemmed from race, Barakat's older brother, Farris, 24, told msnbc on Wednesday night, "I think so. My family thinks so."
RELATED: #MuslimLivesMatter trends in wake of Chapel Hill shooting
He recounted how Yusor Abu-Salha was afraid of Hicks and that he frequently came to the door to complain about noise or guests using too many parking spots. "She was afraid of him, uncomfortable, threatened," Farris Barakat recounted. "He once came, opened up his jacket and showed his gun."
At the funeral, many said they were in disbelief, including Nashid Lateef, a vice chairperson of the Islamic Association of Raleigh, who knows both of the families well. "We're devastated and concerned that something like this is happening, that productive people are dying for no reason at all," said Lateef.
After the burial, hundreds of students, faculty and community members gathered at a vigil in the evening to remember the victims at North Carolina State University, where Razan was enrolled as a sophomore. A similar event on Wednesday night at the University of North Carolina Chapel Hill also drew a huge crowd. 
At Thursday's vigil, Firdaws Chahrour, a 20-year-old sophomore who was friends with Razan said, "Everyone is in shock. It really hit me when they were being buried." Chahrour described her fellow student as having a "bubbly personality"  and someone who frequently went out in Raleigh to feed the homeless.
Chahrour said the Muslim-American community is on edge at the school. "It could have been any one of us. The shooting happened in the middle of the day. They didn't drink, do drugs or party. They  never hurt a fly."