Most people would be surprised to find guns and ammo on a pharmacy shelf. Yet we hardly blink when cigarettes—a far bigger killer—appear on colorful display alongside our vitamins and cough remedies. Other developed countries have long barred pharmacies from peddling tobacco products. It's still the norm in the United States, but it seems that's about to change.
On Tuesday morning, one of the nation's biggest pharmacy chains, CVS Caremark, announced that it will clear its shelves of cigars, cigarettes, and other tobacco products this year, giving up almost $2 billion in sales in order to brand itself as a health care company rather than a convenience store.
"Every day, 26,000 of our pharmacists and nurse practitioners are on the front-line of healthcare," CVS Pharmacy President Helena Foulkes told NBC News. "They're working with our patients and our customers who have chronic conditions like high blood pressure and high cholesterol and diabetes. We we know that smoking is extremely antithetical to helping people with their healthcare needs. So, it's the right thing to do, and it's also underscoring our position as a healthcare player."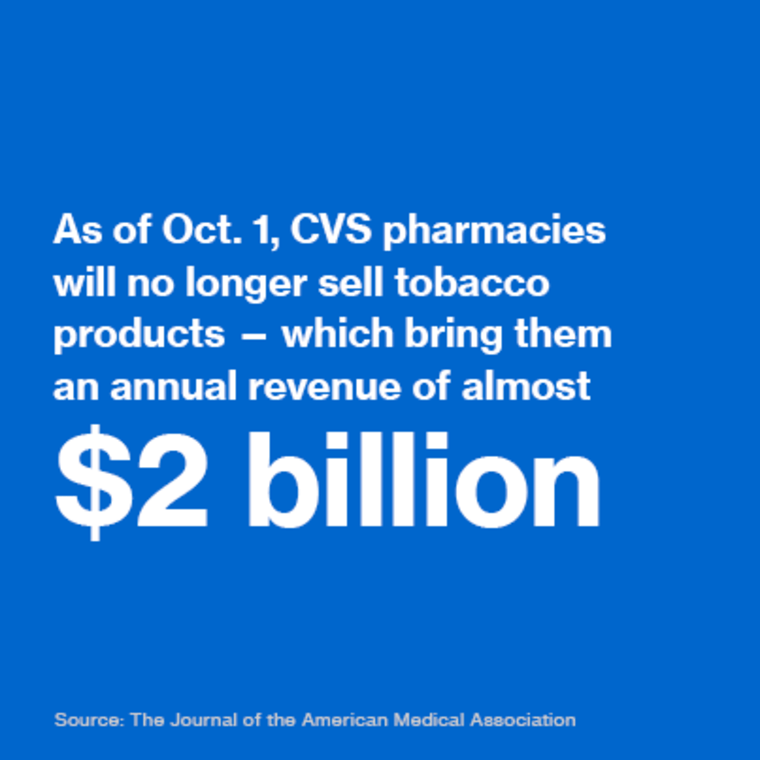 The decision will obviously affect the company's revenues in the short-term—but it puts CVS at the forefront of a sea change in the pharmacy business. Health care is rapidly expanding into storefront settings, as chains like CVS, Walgreens, and RiteAid hire clinicians to offer basic care on site. "It's very important to us, as we're working with doctors and hospital systems and health plans, that they see us as an extension of their services," Foulkes said. "So it's virtually impossible to be in the tobacco business when you want to be a partner in the health care system"
The CVS move will reduce the number of retail tobacco outlets by 7,600 between now and October 1, but no one expects it to put a big dent in the nation's smoking rate. People addicted to cigarettes will have plenty of other places to buy them.
But the move will put pressure on other pharmacy chains to follow suit. And by denying the tobacco industry all that display space, it will help drive smoking out of the mainstream. Research suggests that one of the surest ways to reduce smoking is to change social attitudes about it. Cigarette taxes and smoke-free-air laws have helped make it less socially acceptable—a trend that health experts call "denormalization." As CVS Medical director Troy Brennan and UCSF tobacco researcher Steven Schroeder write in a medical journal commentary released in tandem with the announcement, "Making cigarettes available in pharmacies in essence 'renormalizes' the product by sending the subtle message that it cannot be all that unhealthy if it is available for purchase where medicines are sold." 
Pharmacists themselves have long opposed the sale of cigarettes in their stores. So have the American Heart Association, the American Cancer Society, the American Lung Association and the American Medical Association. Boston and San Francisco have both banned cig sales in pharmacies, but drug stores remain a major source of a lethal, addictive product that kills nearly a half-million Americans every year—more than any other health hazard. 
"If other retailers follow this lead, tobacco products will become much more difficult to obtain," Brennan and Schroeder write. "Moreover, if people understand that retail outlets that plan to promote health, provide pharmacy services, and house retail clinics are no longer going to sell tobacco products, the social unacceptability of tobacco use will be substantially reinforced. . . . If pharmacies do not make this effort voluntarily, federal or state regulatory action would be appropriate."
Now that CVS has set the bar, its competitors may not wait for that to happen. If the First Lady's response is any indication, Americans are ready for smoke-free pharmacies. "Thanks @CVS_Extra," she tweeted Tuesday morning. "Now we can all breathe a little easier, and our families can live healthier."