For the first time in her adult life, Crystal Moore was unemployed. Town officials demanded she hand over her badge and her gun, ending a 23-year career with her South Carolina town's police department. Moore had a spotless record in that time, and just a few years ago she worked her way up to becoming the town of Latta's first female police chief.
That came to an end when Latta Mayor Ed Bullard, who's served in his position for four months, slapped her with seven reprimands in a single day, and asked her to go. But Moore believes the infractions were a disguise for Bullard's true feelings: He wanted her out because she's openly gay.
Bullard maintains that Moore's firing has "not a thing" to do with her being lesbian. But even if he did fire Moore because of her sexual orientation, the shocking part is that it would have been legal.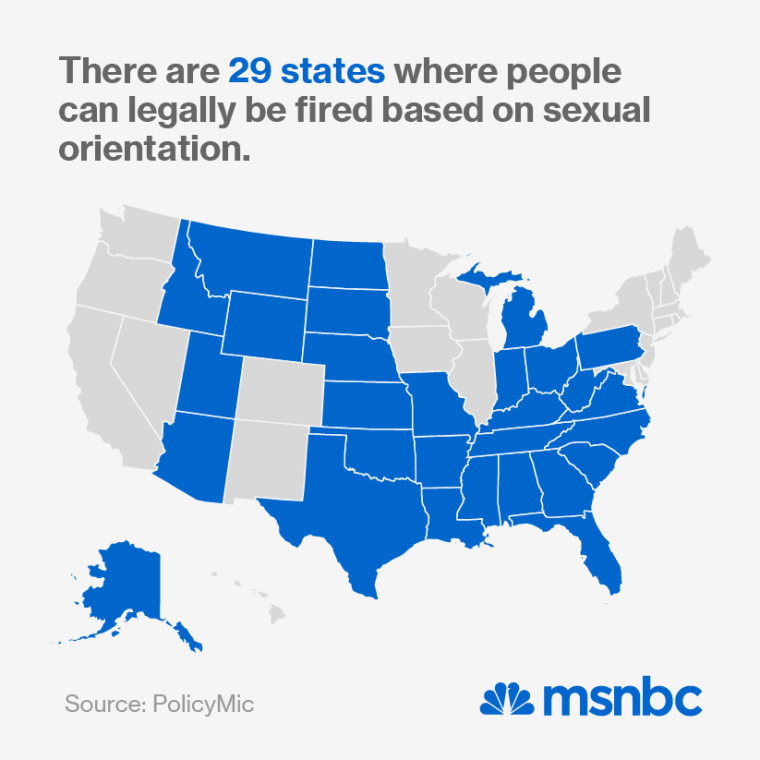 In 29 states, including South Carolina, it is legal for employers to fire workers based on their sexual orientation. While the Supreme Court shattered the bedrock foundation of same-sex marriage bans by allowing people to wed the ones they love, still half the country risks being fired or turned down for a job, simply for being gay.
"This type of discrimination isn't prohibited by federal law and most people live in a state where there is no protection," David Stacy of the gay rights advocacy group Human Rights Campaign told msnbc.
In Iowa, a store clerk said he was fired after a manager chastised him for his "feminine" behavior. A former park police officer in Kentucky claimed he lost his job last year for objecting to harassment over his sexual orientation. In Pennsylvania, a vice principal was ousted after he applied for a license to marry his partner.
Many assume laws that fight workplace discrimination -- over race, religion or gender -- protect LGBT individuals. In fact, 75% of respondents in a national survey February incorrectly believed discrimination based on sexual orientation was already illegal. But on top of the 29 states where it's perfectly legal to fire a gay or lesbian employee, some 33 states allow terminations based on sexual identity as well.
Then there's the rub: The Senate already approved a bill that could have largely protected those who were discriminated against. It now languishes before the House.
Last November, the Employment Non-Discrimination Act, or ENDA, sailed through the Senate with bipartisan support. Ten Republicans sided with Democrats on an issue with a battle history that spans over four decades.
House Speaker John Boehner flatly said that he would not bring ENDA up for a vote this session -- especially considering the upcoming midterm elections when Republicans are vying to reclaim Congress -- calling the provisions "unnecessary." With Boehner stuck in the mud on extending workplace protections, gay rights advocates are left to lobby moderate House Republicans to push the speaker's hand.
"We are committed to pushing the House to try and get a vote this year. It's very important to get this legislation down and to the president's desk," Stacy said. "We have to build it and then the speaker will come."
Advocates must now also contend with a social landscape in a country where a person can lose their job for being gay, while just the opposite, a prominent CEO can be ousted for his anti-gay past. Activists say the Obama administration gave the movement a jumpstart for a climate to accept the growing number of states that now allow gay marriage, but some are left puzzled watching the president resist calls for executive action.
Republicans frequently chide President Obama's lengthy record on circumventing Congress by taking executive action on issues from immigration to guns to climate change. In February, the president met promises to raise the minimum wage by issuing an order to hike wages for federal contractors; activists say it's within his power to do with same for gay rights. When President Obama signed two executive orders promoting equal pay for women earlier this month, many wondered why LGBT equality was left out.
"The administration should take heed and listen to the calls from advocates," Ari Waldman, activist and professor at New York Law School, told msnbc. "The fact that the president raised the minimum wage for federal contractors suggest that he is aware he can use his executive powers in protecting sexual orientation."
Waldman is optimistic Obama will take action and suggested the president may wait until the LGBT community celebrates gay pride month in June. "It would certainly be a pride month present," he said.
Meanwhile, residents in the small South Carolina town where Crystal Moore was fired, are trying to take matters into their own hands. In the last week, supporters in the small town of just 1,400 have rallied behind their former police chief. The town's Council Tuesday voted unanimously to block the mayor from hiring a replacement for 60 days as they try to reinstate Moore to her position.
"The situation we find ourselves in is one where most people think it's against the law to terminate somebody by virtue of discrimination whether it be race, national origin, religion or sexual orientation," South Carolina state Rep. James Smith said on msnbc. "That's where, unfortunately, South Carolina falls short and where we're trying to make a change here."