The events happening in Ferguson, Missouri, have shocked the nation — beginning with the Aug. 9 shooting death of unarmed teen Michael Brown by the now-former local police officer Darren Wilson, to the resulting protests and the heavy-handed response by law enforcement officials. Here is a timeline of those events, and the photographs that captured them.
March 12:
Two police officers were shot just after midnight during a rally in Ferguson, just hours following Police Chief Thomas Jackson's resignation. One officer, described by authorities as a 41-year-old man and 14-year veteran of law enforcement from the St. Louis County Police Department, was shot in the shoulder. The second officer, a 32-year-old and 7-year veteran from Webster Groves, was shot in the face.
Both officers have sustained non-life threatening injuries, but are in serious condition.
March 11:
Chief Jackson resigned, effective March 19. The City of Ferguson and Jackson agreed to a mutual separation, including a severance payment and health insurance for one year. The embattled police chief, who faced repeated criticism for his handling of the protests that wracked Ferguson in the aftermath of Brown's death, had weathered rumors of his resignation before. He previously denied any knowledge of a behind-the-scenes effort to negotiate his ouster, amid reports last October of a possible backdoor deal between local, state, and federal officials that would include his resignation as part of a plan to overhaul the department. But the push for change appeared to gain momentum after the revelations made public recently in the DOJ report.
Lt. Col. Al Eickhoff will become acting police chief as the city begins a nationwide search for a new leader for the beleaguered department. Jackson's decision was the latest in a series of Ferguson officials who stepped down from their roles. 
March 10:
City Manager John Shaw resigned, following a unanimous vote by the Ferguson City Council on a mutual separation agreement with him, effective immediately. His duties included the supervision of the Ferguson Police Department and the city's finances. He was mentioned several times in a recent, scathing report from the U.S. Department of Justice as presiding directly over a predatory court system that aggressively fined black residents as a way to pad the city's coffers.
March 9:
Ferguson municipal judge Ronald Brockmeyer declared his resignation. The DOJ report named him for participating in a system-wide scheme to generate revenue for the City of Ferguson by issuing unnecessary citations, especially to African-Americans.
The Missouri Supreme Court decided that all Ferguson municipal court cases will be reassigned to the circuit court to help restore public trust and confidence in the Ferguson municipal court division.
March 4:
The DOJ cleared Wilson of committing any civil rights violations in Brown's death.
"Michael Brown's death, though a tragedy, did not involve prosecutable conduct on the part of Officer Wilson," said Attorney General Eric Holder.
March 3:
The DOJ released a 103-page scathing report that found the police and justice system in Ferguson disproportionately targeted black residents and engaged in abusive behavior. The document was the result of a months-long investigation following Brown's death.
RELATED: 11 alarming findings in the report on Ferguson police
The DOJ findings included the following: (1) a pattern and practice of disproportionate stops and arrests of blacks without probable cause, (2) unreasonable force, (3) racially biased handling of warrants by municipal courts, and (4) a pattern of focusing on revenue over public safety that violated the rights of poor, black residents.
Dec. 28:
Ferguson Public Information Officer Timothy Zoll was placed on unpaid leave after reportedly making dismissive comments about a memorial for Brown.
The makeshift memorial had been partly destroyed. When a reporter for The Washington Post asked the Ferguson Police Department about the incident, Zoll said: "I don't know that a crime has occurred. But a pile of trash in the middle of the street? The Washington Post is making a call over this?"
Dec. 26:
Residents rebuilt a makeshift memorial set up in memory of Brown, after a car destroyed the remembrance.
Dec. 23:
Another young, black teen was shot and killed by a white police officer, just five miles from the site where Brown was killed in August. Demonstrations and angry clashes between police and protesters erupted as the community reacted to the shooting.
Dec. 19:
St. Louis Prosecuting Attorney Robert McCulloch admitted that he believed multiple witnesses lied under oath while testifying before the grand jury that previously heard Brown's case.
Dec. 1:
President Barack Obama hosted a variety of civil rights, youth, community, faith, and police leaders in the Oval Office to discuss the lessons of Ferguson. The federal government shared plans to spend $75 million on body cameras for law enforcement nationwide. The money could buy as many as 50,000 police cameras.
Nov. 29:
Wilson, a veteran officer, resigned from the Ferguson force, citing his fear that his presence could endanger other Ferguson police officers. His decision was effective immediately.
He had been on administrative leave from the police department since Brown's death. He maintains that he acted in self-defense when he shot Brown multiple times outside the housing complex where the 18-year-old lived. The now-former Ferguson officer testified to grand jurors that he feared for his life and did what he had to do to defend himself. 
Nov. 24:
Violence broke out in the streets of Ferguson following news that a St. Louis County grand jury did not indict Wilson in the shooting death of Brown. Demonstrations that began peacefully in the wake of the announcement took a nasty turn as looters plundered local stores and protesters flipped cars and set buildings and police vehicles ablaze.
County prosecutor McCulloch announced the grand jury's decision around 9:30 p.m. ET in a lengthy statement at the Justice Center in Clayton, the county seat. He said that while it was undeniable that Wilson had shot and killed Brown in an altercation on Aug. 9, the grand jury "determined that no probable cause exists" to indict the white officer in the killing. "It doesn't lessen the tragedy that it was a justifiable use of self-defense," McCulloch added.
Oct. 9-11:
A few thousand protesters participated in a "Justice for All" march in St. Louis, one of the largest and most diverse gatherings since activism began over Brown's death.
Unions, religious groups, and student organizations gathered behind banners as flags and posters bobbed down the street while drums thundered above a loud din of chants of "Black lives matter! Black lives matter!"
Peace-keepers and volunteers lined the march route while handfuls of police officers leaned back on their squad cars serving as barricades for the protest. But their precautions proved unnecessary because for the second day in a row the demonstrations remained non-violent.
More than 100 protesters marched peacefully down W. Florissant Ave. in Ferguson on Friday night carrying a mirrored coffin in Brown's honor, kicking off what organizers coined a "Weekend of Resistance," a multi-day event designed to pay tribute to the lives of young, black men who have died at the hands of the police. 
When protesters arrived at the Ferguson Police Department, they began playing hip-hop music. Some verbally confronted the 20-or-so police officers standing on the sidelines.
"If you touch a police officer, you will be charged with assault," police warned over a megaphone. But the crowd remained mostly calm – a distinctly lower level of energy than the groups gathered in the days and weeks here after Brown's death. 
Aug. 26 — Early October:
Nearly two months after the shooting, tensions in Ferguson were still notably high, though violent protests and arrests had tapered off. Missouri Gov. Jay Nixon lifted a state of emergency on Sept. 3. Nonetheless, Wilson remained in hiding as the grand jury heard testimony from him and other witnesses. Protesters continued to call for Prosecutor McCulloch to step down from the investigation, claiming bias.
On Sept. 25, Chief Jackson issued a video apology to Brown's family. He later tried to join protesters only to have a scuffle break out. 
In early October, demonstrators interrupted a St. Louis Symphony performance by singing and unfurling banners in support of Brown. Following that event, supporters of Wilson confronted Brown supporters at a St. Louis Cardinals baseball game. Insults and chants were shouted back and forth between the groups. 
Aug. 25:
Politicians, dignitaries, and celebrities gathered inside the Friendly Temple Missionary Baptist Church in St. Louis to pay respect for the teen. They were joined by the families of other young, unarmed black men who have been killed by police officers or white gunmen, including the families of Trayvon Martin, Jordan Davis, and Oscar Grant.
While speaking at the funeral, Brown's family attorney Benjamin Crump and Rev. Al Sharpton reiterated their calls for justice, and called on the world to remember the teen for more than just the rioting and looting that followed his death.
Aug. 21 — 24:
Ferguson saw a string of relatively peaceful nights, with no tear gas or shootings after Attorney General Holder left the St. Louis suburb. After returning, he said in a press conference that "this Department of Justice stands with the people of Ferguson." 
Meanwhile, African-American leaders in Missouri called for the resignation of Ferguson Mayor James Knowles, and protesters continued to demand authorities fire Wilson. Gov. Nixon ordered the National Guard to begin withdrawing from Ferguson, where they had been in place for a couple days. 
The NAACP organized a march, which took place on Saturday, hoping to channel outrage into political action in the community.
On Sunday, Brown's parents, along with families of Martin and Grant, came together for "Peace Fest 2014" in Forest Park in St. Louis, an event hosted by The Trayvon Martin Foundation and Better Family Life. 
Michael Brown Sr. called for a day of peace and calm on the day of the funeral service. 
"Tomorrow, all I want is peace while my son is being laid to rest," Brown said Sunday. "Please, please take a day of silence so we can lay our son to rest. Please. That's all I ask. And thank you."
Hundreds of people attended the rally, which sought to bring attention to the shootings of young African-American men.
Thousands of dollars have been raised for the officer who fatally shot unarmed teen Brown through a crowdfunding website created at the beginning of the week.
Aug. 19 — 20:  
In what Missouri Highway Patrol Capt. Ron Johnson called a "turning point" for Ferguson, the city saw a calmer night of protests with no bullets or tear gas fired, although some bottles were thrown around midnight, leading officers to don protective gear. By early Wednesday morning, there were 47 arrests and two handguns seized. 
Aug. 18: 
Ferguson was once again wracked by violence and chaos overnight — the first night since the end of a police-imposed curfew — as police fired tear gas at protesters amid the sound of explosions. Shots rang out and armored police trucks sped down Florissant Avenue. At least two people, both males, were shot "in the dark of night," Capt. Johnson said. Two guns and a Molotov cocktail were confiscated. There were two fires, one at a local business and another at an unoccupied residence, Johnson said. Police were hit with bottles and rocks. Seventy-eight people were arrested overnight. Two journalists were reportedly taken into police custody overnight and a Getty photographer was detained and later released.
Aug. 16 — Early Aug. 17: 
A citywide curfew went into effect at midnight on Aug. 17, hours after Gov. Nixon declared a state of emergency in the largely African-American suburb of St. Louis, where protests and the disproportionate police response roiled the community following the killing one week ago of an unarmed black teenager.
A day of healing and uplift took a violent turn as protesters were doused with tear gas yet again after Molotov cocktails were reportedly hurled at police. Gov. Nixon announced early Monday that he was "directing the highly capable men and women of the Missouri National Guard to assist," in restoring peace and order to the community.
Aug. 11— 13: 
Several hundred police officers confronted crowds for a second night, as peaceful day protests turned violent and authorities arrested 15 people by nighttime. There were reports of tear gas fired, as well as taunting and yelling from drivers toward police as they passed various intersections.
A peaceful demonstration turned violent as militarized police wearing fatigues and riot gear tear-gassed dozens of protesters, fired stun grenades into a crowd and arrested reporters in a third night of chaos in the aftermath of the police shooting of Brown. Young black men and women protesters, with their hands held high in the air,  had refused to heed police orders to disperse as the sun set. As darkness descended, police moved in, announcing on a bullhorn that the gathering was no longer peaceful and began firing tear gas and stun grenades, choking protesters lined along a main thoroughfare in Ferguson.
Aug. 9:
Brown was shot and killed by Wilson. Riots broke out the next day in Ferguson, where people smashed car windows and broke into stores following the teen's death. Roughly 150 police officers were called to contain the scene, and 32 individuals were arrested.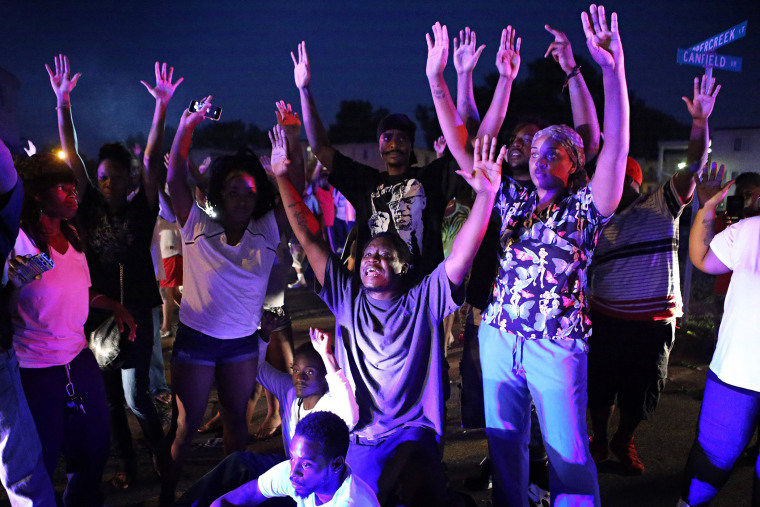 Michele Richinick contributed to this report.