It's not just Republicans who get riled by the thought of Democratic front-runner Hillary Clinton ascending to the presidency. Some people on the left lock horns over Clinton often enough to suggest that Team Hillary still has a long way to go before she has shored up the traditional base of progressive voters.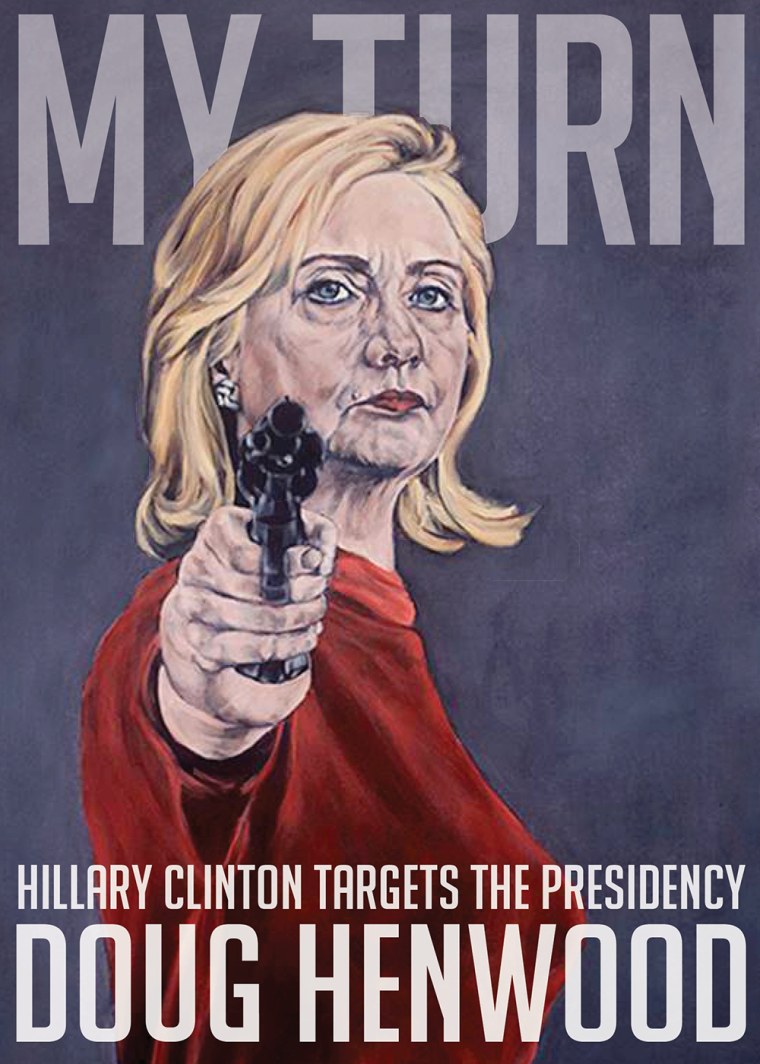 A controversial book cover is the latest flashpoint to lay bare the divisions in the Democratic base over the Clinton candidacy. The forthcoming book, "My Turn," by Nation Magazine Contributing Editor Doug Henwood, critiques the former secretary of state's decades-long political career, calling out her foreign policy positions and purported connections to big-money interests, among other contentious points.
And the book cover's flamboyant illustration -- featuring a stoic Hillary Clinton, in a blood-red dress, pointing a gun at the reader -- has sparked a heated debate among her supporters and detractors.
Salon editor Joan Walsh and former Obama speechwriter Jon Lovett both called the drawing "gross":
Meanwhile, liberal blogger Amanda Marcotte tweeted:
Others called it the "cover of the year":
Even the author and the artist have different takes on the imagery.
"People often see in texts what they want to see. The reaction to this cover, which has been circulating less than 48 hours, has been a vivid reminder of this," Henwood told MSNBC. "When I first saw the design I knew it would attract a lot of attention. … But I couldn't have predicted the diversity of reactions."
Where Henwood sees "ruthlessness and hawkishness," in the image, the artist, Sarah Sole told the International Business Times she sees it as "pulpy and sexy."
Henwood is a well-known Clinton critic on the left who skewered the former secretary of state, senator and first lady in a controversial 2014 Harper's Magazine cover story titled "Stop Hillary." In it he wrote, "She has experience, she's a woman, and it's her turn. It's hard to find any substantive political argument in her favor."
But the intimidating image glaring out from the front of "My Turn" was created long before Henwood penned the book, which he says was developed out of the Harper's piece and goes into greater detail about "her long history in shaping the 'New Democrat agenda,' " — an agenda which "she now purports to be running against," Henwood told MSNBC.
And then there's Sole, a diehard Clinton supporter and also a fan of Henwood's, according to International Business Times. 
Sole debuted the painting, along with other similarly themed pieces, last year. Later, the pieces were published in Politico magazine under the headline "Extremely Ready for Hillary," according to the International Business Times.
"I love Hillary Clinton, I support Hillary Clinton, I very much want her to be president. I will certainly vote for her," Sole told International Business Times.
"What I don't get is the reaction that calls the cover sexist," Henwood told MSNBC. "Hillary is tough and determined, characteristics that shouldn't be seen as off-limits to women. The political question is what she or anyone else does with toughness and determination, and that's what my criticism of her focuses on.
"I have no problem with ball-busting women," Henwood continued. "I kinda like them, in fact. I just don't like [Hillary Clinton's] politics."