A California ruling this week that struck down teacher tenure on the grounds that low-income and minority students are disproportionately shackled to bad teachers is the latest in a string of hits taken by pro-tenure groups that could very well upend how American teachers are hired and fired.
Tenure, which essentially guarantees a teacher a job for life, has been one of the most hotly debated issues in education reform. Critics argue it's a weapon that prevents bad teachers from being fired and protects teachers based on seniority rather than how well they perform in the classroom. But it's also one of the most attractive benefits of the profession and one that teachers unions, charged with keeping their members employed, have fought hard to maintain.
In recent years, though, lawmakers, state legislatures and education leaders across the country have pushed to weaken teacher tenure, citing budgetary woes, educational stagnation and academically bankrupt school systems.
The plaintiffs in the California case Vergara vs. California argued that the state's poor children in particular are subject to a second-class education. Those children are more likely to be yoked to weak tenured teachers who are difficult and expensive to fire, the plaintiffs said. 
Superior Court Judge Rolf Treu agreed, saying in his Tuesday ruling that the state's tenure laws obstruct students' fundamental right to equality in public education.
"Evidence has been elicited in this trial of the specific effect of grossly ineffective teachers on students," Treu wrote in Tuesday's decision, noting that up to 3% of the state's teachers could fall under that label. "The evidence is compelling. Indeed, it shocks the conscience."
In California, a teacher can receive tenure after just two years on the job -- one of only five states that require two years or less. The cost of firing a bad teacher could take upward of 10 years and cost from $50,000 to more than $450,000, the judge said.
Randi Weingarten, president of the American Federation of Teachers, said the plaintiffs in the case originally sought to get the required years for tenure pushed back from two years to three, which she said was a legitimate idea. But the judge's decision essentially penalized every teacher in the state of California, the good along with the bad, Weingarten said.
"I have no quarrel with anyone who says the tenure statute was too short in California," Weingarten told msnbc. "That is a political process that needs to happen." 
The decision is the first of its kind. 
Civil rights arguments have been used around education-related court cases in the past, most notably in the landmark Brown v. Board of Education Supreme Court decision that unraveled school segregation. In later years, civil rights arguments were cited in cases that argued for fairer school funding formulas for poor inner-city schools. But the California case is unique because it rules that guaranteeing a teacher a job is unconstitutional and has a vast and disparate impact on students.
Kathy Christie, vice president for information and knowledge management at the Education Commission of the States, which tracks education policy trends, said it is too early to determine how broad of an impact the California ruling will have nationally as state laws vary as much as political will, power and policy. But the implications are clear, she said.
"There has been no lack of nudging on legislatures to carry bills that would amend teacher tenure laws. The significance of the California case will probably hinge tremendously on whether similar challenges pop up in other states," she said.  "The one thing this case could do is put a little more fire under the political viability of making changes."
Ruthann Robson, a professor at City University of New York School of Law, said the Vergara decision is heir to earlier cases that used a civil rights platform to establish equity in school financing laws, but "Vergara turns the focus from state resources to "bad teachers" and can tap into anti-teacher and anti-union and anti-government worker sentiments."
She said legislative solutions in school equality can have an extended career in the courts and that it's likely Judge Treu's decision "will itself be subject to further judicial interpretations in the appellate process."
The state of California and its largest teachers unions are planning to appeal the decision.
The Vergara case was pushed by a reform group called Students Matter, funded by a wealthy Silicon Valley technology magnate named David Welch. Welch has said that the group would be willing to financially backing similar legal cases across the country.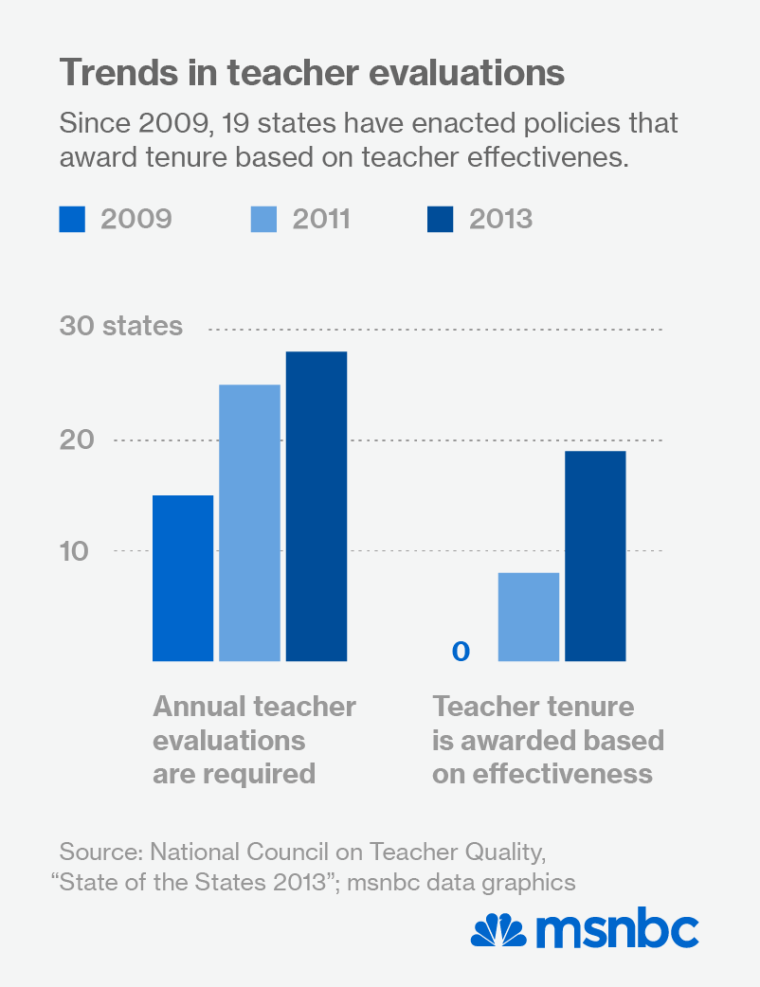 Three states— Florida, Kansas and North Carolina— have in recent years done away with tenure and due process laws. There are challenges pending in each of those states. Other states have introduced or passed laws to weaken teacher tenure that later were repealed. Lawmakers in Idaho recently struck down tenure there only to have voters reverse the repeal later. Ten states prohibit teacher tenure and the use of seniority in layoff or firing decisions.
U.S. Education Secretary Arne Duncan applauded the California decision, calling it a "mandate to fix these problems."
"For students in California and every other state, equal opportunities for learning must include the equal opportunity to be taught by a great teacher," Duncan said. "The students who brought this lawsuit are, unfortunately, just nine out of millions of young people in America who are disadvantaged by laws, practices and systems that fail to identify and support our best teachers and match them with our neediest students."
Duncan said the decision offers an opportunity to "build a new framework for the teaching profession" that protects students' rights and providing teachers with support and respect. But he also lit what could be construed as a smoke signal for those rallying to undermine tenure laws.
"My hope is that today's decision moves from the courtroom toward a collaborative process in California that is fair, thoughtful, practical and swift," he said. "Every state, every school district needs to have that kind of conversation."
Duncan said the administration is "committed to encouraging and supporting that dialogue in partnership with states."
Judge Treu noted in his ruling "a significant number of grossly ineffective teachers currently active in California classrooms" and that there was a "disproportionate impact on poor and minority students." 
Earlier this year the Department of Education and the Justice Department released a staggering report on civil rights data collected from every public school in the country, including 97,000 schools and 49 million students.
Among the report's highlights were the wide gaps in access to high-quality, experienced teachers for poor, black and Latino students.  
According to the report, students of color are more likely than their peers to attend schools with a higher concentration of first-year and inexperienced teachers. Black students are nearly four times as likely as their white counterparts to attend a school where fewer than 80% of their school's teachers are certified. Latinos are twice as likely as whites to attend such schools.
Diane Ravitch, an educational historian, took Duncan to task on her popular education blog, lambasting him for applauding the ruling but not uttering a word about "the real causes of unequal opportunity: poverty and segregation."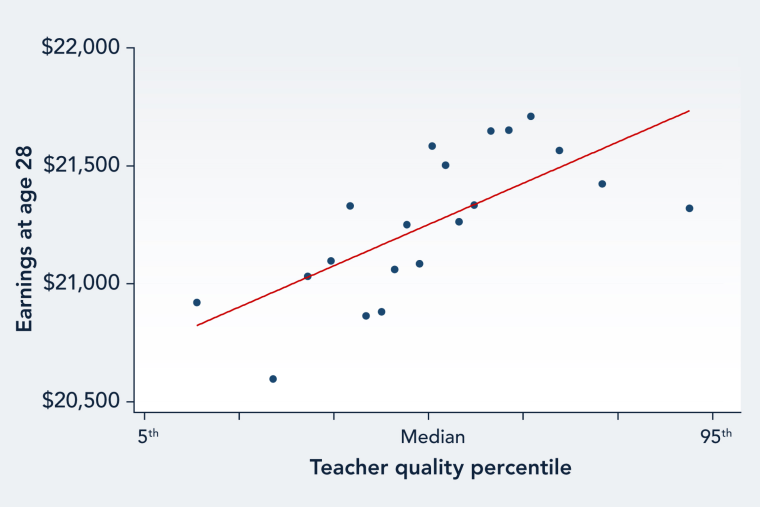 "Who would have believed that a Democratic administration would stand by silently as collective bargaining rights are rolled back (Wisconsin) and would hail a court decision removing due process from public school teachers?" Ravitch wrote.
Alex Caputo-Pearl, the president of the Los Angeles teachers union, called the ruling "an attack on teachers, which is a socially acceptable way to attack children."
The National Education Association, the largest labor union in the country with 3 million members, said Judge Treu's decision is "deeply flawed."
The ruling, the group said in a statement, "would make it harder to attract and retain quality teachers in our classrooms and ignores all research that shows experience is a key factor in effective teaching."
"Let's be clear," the NEA's statement continued, "This lawsuit was never about helping students, but is yet another attempt by millionaires and corporate special interests to undermine the teaching profession and push their own ideological agenda on public schools and students while working to privatize public education."
Marcus McRae, an attorney for the plaintiffs, told the Los Angeles Times that "The law was on our side and the evidence was overwhelming."
Judge Treu in his decision cited the testimony of expert witnesses brought by the plaintiffs that highlighted the long term impacts of students exposed to bad teachers and the likelihood of those students being students of color.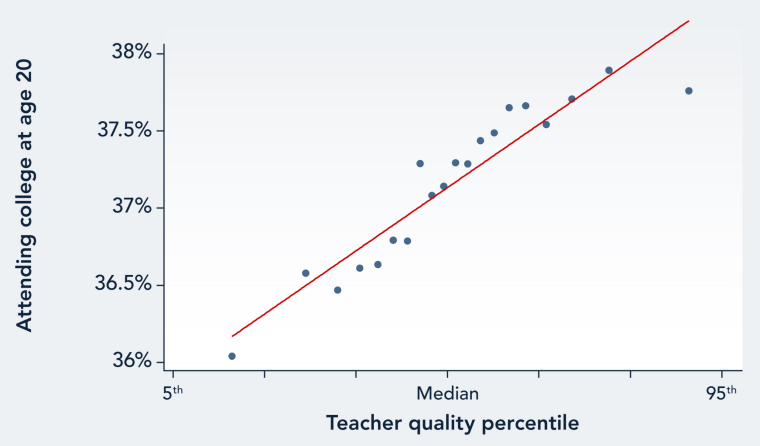 Some of the evidence included testimony from Raj Chetty, an economist who calculated the financial cost of poorly performing teachers on students. Just one year of exposure to a bad teacher can cost a child $1.4 million in lifetime earnings, Chetty said. Chetty's findings were largely based on a 2011 study he co-authored that was published by the National Bureau of Economic Research.
What's revealed in the study is troubling. Chetty analyzed data on 2.5 million students from third through eighth grade between 1989 and 2009, and then examined the correlation between their math and English scores to income on their tax records as adults. Students who experienced higher quality teachers were more likely to attend college, avoid becoming pregnant as a teen and earned more money once they entered the workforce.
Christie, with the Education Commission, said that as the debate around teacher tenure intensifies on the heels of the Judge Treu's ruling, she believes the onus of finding a fair and equitable solution should be spread to all sides of the debate.
"Good teachers don't want to tolerate poor teachers any more than anyone else does. But the teachers associations, because they represent the full spectrum of teachers are less proactive about this," she said. "I really hope they will step up and start to help craft pieces of these types of laws that they can live with and they want to live with and are fair. You don't want teachers fired willy-nilly and that's the big thing. I just keep hoping they'll step up and take on some of the burden of creating a solution."