There are candidates you'd like to take out for a cold beer after watching them speak. In Rick Santorum's case, you mostly just want to give him a hug.
The ex-senator who won the Iowa caucus in 2012 can't seem to find any traction this time in the Hawkeye State or anywhere else. Barring a miracle, Thursday's undercard debate was likely his last chance to get his message out to a national audience. Currently, that message includes a lot of complaints about the debate itself.  
"This race, this debate, was called the 'undercard debate.' The undercard debate," Santorum said in his first answer. "It wasn't advertised significantly. In fact, the entire hour lead up to this there was no conversation about any of the four people on this debate stage, and that is the chronic situation."
WATCH NOW: Santorum criticizes the GOP undercard setup
After the debate, Santorum met reporters in the spin room, where he continued to pile on Fox News, complaining he hadn't been booked on Megyn Kelly or Bill O'Reilly during the race while "a certain candidate in the race" with high ratings value enjoyed unfettered access.
"This is a guy who won the Iowa caucuses four years ago," he said. "I know by speaking out, Roger Ailes will have a field day to make sure I don't have access to his shows in the future, but at some point you have to speak out and realize the game is being stacked."
It's hard for any candidate to lose gracefully, but even within the large group of Republican also-rans, Santorum is going out in exceptionally bitter fashion.
As the senator described it on Thursday night, he was the victim of a vicious cycle. He has decades of scars from fighting abortion and same-sex marriage alongside the Christian conservatives who turned out for him four years ago. But with Trump sucking up attention, he can't get coverage, and without coverage he can't move up in the polls, and without moving up in the polls, voters see him as a lost cause.
"We hear this all the time: 'We really like you, we really want to support you, but we aren't sure you can win,'" he told me. "And why aren't they sure I can win? Because nobody ever talks about Rick Santorum!"
With that, Santorum left for a special guest appearance with the same person he had just complained to the press had hijacked the political conversation: Donald Trump. If you can't beat 'em, join 'em.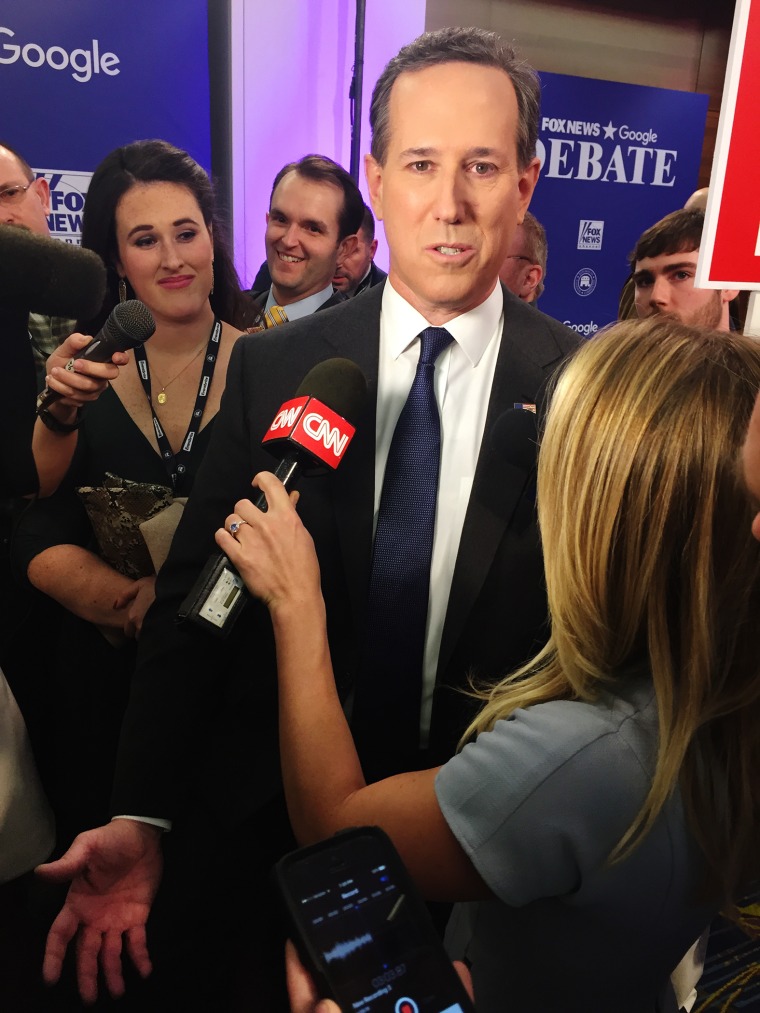 At the event, a hastily arranged veterans fundraiser to counterprogram the Fox debate, Trump – after one of his signature self-aggrandizing monologues -- called on Santorum to speak. The podium, however, was emblazed with a giant logo for Trump. Wary of being caught on camera with his rival's campaign material below him, Santorum awkwardly stood to the left of the sign and leaned into the microphone to speak.
"I'm supporting another candidate for president," he explained to the crowd. "That doesn't mean we can't work together when it comes to helping our veterans."
The next morning, Santorum was scheduled to arrive at a town hall at the Heritage Gallery in downtown Des Moines, which is hosting an exhibition of photos and art featuring presidential candidates.
All his tormentors were there on the walls. There was a pop art Marco Rubio, a sepia-toned Rand Paul, an installation of illustrated "Trumpisms," as well as some depictions of his fallen foes, like a stark black-and-white Scott Walker.
Arriving first were three devoted out-of-state Santorum supporters who had driven long distances to volunteer for him. "A lot of people in Iowa know Rick and obviously like Rick, and I feel very encouraged about things," said Dan Minick, a 66-year-old who knew Santorum from his Senate days and had come from Pennsylvania to help. 
About two-dozen more people filed into the exhibit. It was the kind of group that tends to show up for a fringe contender. There were activists on a mission to grill the entire field on a specific issue – Social Security, patent law, the gold standard. One man in a Jesus fish tie showed up to get Santorum to autograph his weathered Holy Bible, which already featured signatures from Carly Fiorina, Jeb Bush, and two from Rafael Cruz, the father of Senator Ted Cruz.
Much of the crowd consisted of Chinese teenagers in matching blue t-shirts visiting Iowa as part of a program to learn about American democracy. Two students visiting from Mercer College in Georgia for a political science class showed up to see the last Iowa winner in person. One was voting for Bernie Sanders, the other for Hillary Clinton.  
RELATED: Ben Carson's campaign makes its last stand
Frank Luntz, the GOP messaging expert and Fox News commentator, milled about looking at the exhibit. To him, Santorum's problem was not any media conspiracy to shut him out, but instead tougher competition than 2012, when Santorum was one of the few conservative alternatives to Mitt Romney. "It's the strongest Republican field in the time I've been alive," he said. "It's that easy."
Santorum walked in, pursued by several cameramen, and spotted Luntz, who he buttonholed for another extended whine session about everything wrong with the media and debates as gallery visitors quietly looked on.    
"…Their job is to do what their board members want them to do, which is make a profit…"
"…The whole concept of bifurcated debates from the beginning…"
"…Four years ago, yes, I was on the debate stage, but if you look at my time in the debates…"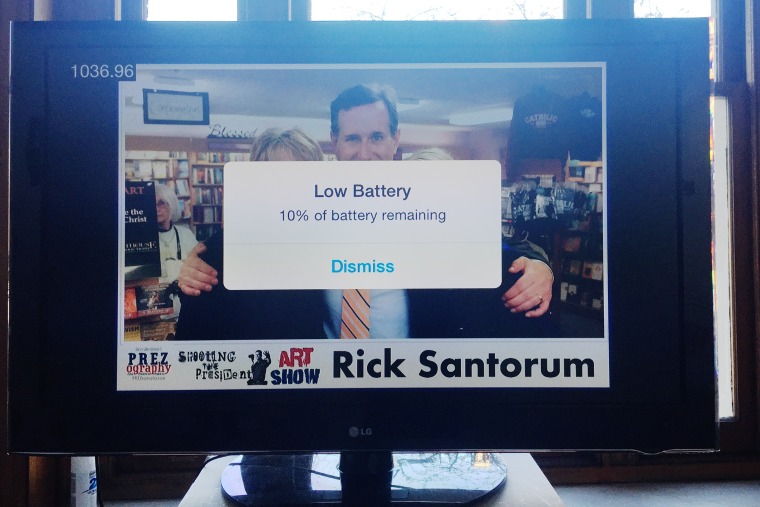 Finally, he made his way to the back of the gallery where there was a section devoted just to him. He stood directly in front of a screen showing images from his comeback run in 2012: Santorum hunting, Santorum smiling from a podium, Santorum shaking hands. 
Dave Davidson, the photographer behind the exhibition, introduced Santorum to the crowd. He took special pride in showing off a new art piece composed of tweets from a parody account of Santorum's signature sweater vest from his heyday four years ago.
"How many of you know Rick's sweater vest?" he asked. Three or four hands shot up.
Santorum delivered a short speech warning voters not to overlook decades of government experience in favor of a political neophyte who will "pull the pin, drop a grenade, and walk away." He compared nominating one of the outsider candidates to replacing a football coaching staff with nuclear physicists.
"If you believe the national polls – which I don't – the more experience, the more record of accomplishment you have, the lower you're doing in the polls," he said.
He took some questions. There was a mildly combative exchange over racism in the justice system and another one over defunding Planned Parenthood. Then one man asked about vocational schools and manufacturing jobs and Santorum lit up.
"Have you been coming to my town halls?" he asked. He told him he had pledged to make America the number one manufacturer in the world and had all sorts of ideas to encourage work training in high schools and how affordable useful degrees were often more important than $70,000 liberal arts ones.
In fact, manufacturing has been one of Santorum's top issues for years. His biggest complaint about Mitt Romney after President Obama's re-election was that he failed to engage blue-collar voters and psyched up their bosses instead. Trump, who talks about factory jobs and trade imbalances in blustery terms, picked up this baton and ran with it.
RELATED: Santorum talks PTSD at Trump veterans event
"People say my message doesn't resonate,'" he told me after the event. "I say no, my message has been replicated."
It's one of the ironies of Santorum's presently low position. In many ways, he predicted the Republican electorate's mood correctly and earlier than some of its top contenders.
Long before Trump declared for president, Santorum – alone among Republican contenders – was delivering speeches decrying not just illegal immigration, but legal immigration as well, which he complained was driving down workers' wages. Now much of the field has shifted right on the issue, with Trump calling for a freeze on immigration levels and Cruz following with a similar proposal after previously supporting major increases in work visas and green cards.
"I can't complain when I hear my lines being repeated by other candidates that I said four years ago," he said. "It's flattering, but I can understand how voters can say 'Well there's not much difference between candidates on these issues.' It's like whether you want Kleenex or generic tissues."
Maybe the cruelest part of Santorum's current position is that he's already had one miracle comeback, which makes it impossible to let go of the hope for a second one.
For nearly the entire 2012 race he was almost as marginal a presence as he was this cycle. Flavor-of-the-month candidates like Michele Bachmann and Herman Cain shot above him then crashed to earth until eventually he got a hard look. Polls put him near the bottom of the field in Iowa, where he had put all his energy, as late as a week before the vote.
I asked Santorum when he realized his luck had turned in the last Iowa contest.
"Really, just the last couple of days," he said.
There are two days before the Iowa caucus.