A dozen conservative leaders are calling on Republican Gov. Rick Perry of Texas to stop the execution this week of an inmate they claim is "one of the most seriously mentally ill prisoners on death row in the United States."
Scott Panetti, 56, is scheduled to die by lethal injection on Wednesday night in Texas. In September 1992, dressed in camouflage, Panetti killed his in-laws with a hunting rifle at their Texas home, and forced his wife and toddler daughter to watch. Panetti then engaged in a standoff with the police before eventually surrendering. His wife and 3-year-old daughter were released unharmed.
"Mr. Panetti is one of the most seriously mentally ill prisoners on death row in the United States."'
During his capital murder trial three years later, Panetti admitted to the act. Jurors convicted him and sentenced him to death.
Twenty-one conservatives joined mental health and death penalty reformers in opposing the execution, and wrote a letter to Perry asking him to change Panetti's sentence to life in prison. In addition, more than 94,000 people signed an online petition by Tuesday asking the Republican governor to spare the inmate's life.
"Mr. Panetti is one of the most seriously mentally ill prisoners on death row in the United States. Rather than serving as a measured response to murder, the execution of Mr. Panetti would only serve to undermine the public's faith in a fair and moral justice system," they recently wrote.
RELATED: Rick Perry: Not sure if botched Oklahoma execution was 'inhumane'
Panetti has been admitted to the hospital at least 14 separate times, and has a more than 30-year history of schizophrenia and other mental illnesses. He hasn't gone through a mental evaluation since 2007. Consequently, his attorneys are seeking to remove him from death row, or at least postpone his execution date to undergo additional psychological testing to determine if he is competent for execution. Panetti's legal team wasn't aware of the judge's decision to execute him on Dec. 3 until they read about the plan in a newspaper article. But they filed a motion earlier this month requesting that Perry stay the execution for 30 days, a period of time they say is sufficient enough for another assessment.
However, the Texas Board of Pardons and Paroles on Monday voted unanimously against delaying Panetti's scheduled execution. Perry can't reduce the sentence on his own; board members must first recommend clemency, per Texas law.
"There is an unprecedented conservative response to this case."'
Perry's office didn't immediately respond to msnbc's request for comment.
Panetti previously dressed like a cowboy and acted as his own attorney during his trial. While representing himself, he attempted to subpoena the pope, John F. Kennedy, and Jesus Christ, among hundreds of others. He once nailed shut the curtains in his house and buried his furniture in the backyard because he thought the devil occupied the items.
"There is an unprecedented conservative response to this case," Marc Hyden, advocacy coordinator for Conservatives Concerned about the Death Penalty, told msnbc. "This is another example of an utterly broken system. This person shouldn't have been allowed to represent himself."
"It is clear," the conservatives continued, "that he has been suffering from severe mental illness since long before he committed the offense that landed him on death row." But prosecutors argue that Panetti fakes his illness.
Among the nearly two dozen people who signed the recent letter to Perry were former Virginia Attorney General Ken Cuccinelli and former presidential candidate Gary Bauer. Republican Attorney General Greg Abbott, who is set to replace Perry as governor in January, represents the state in seeking to uphold the 1995 capital conviction.
RELATED: More drugs, fewer witnesses in Oklahoma executions
Former Texas GOP Rep. Ron Paul and Panetti's ex-wife have both asked to spare his life. Paul also wrote a letter to Perry. This is the first instance when the former congressman has spoken publicly in such a case, Hyden said.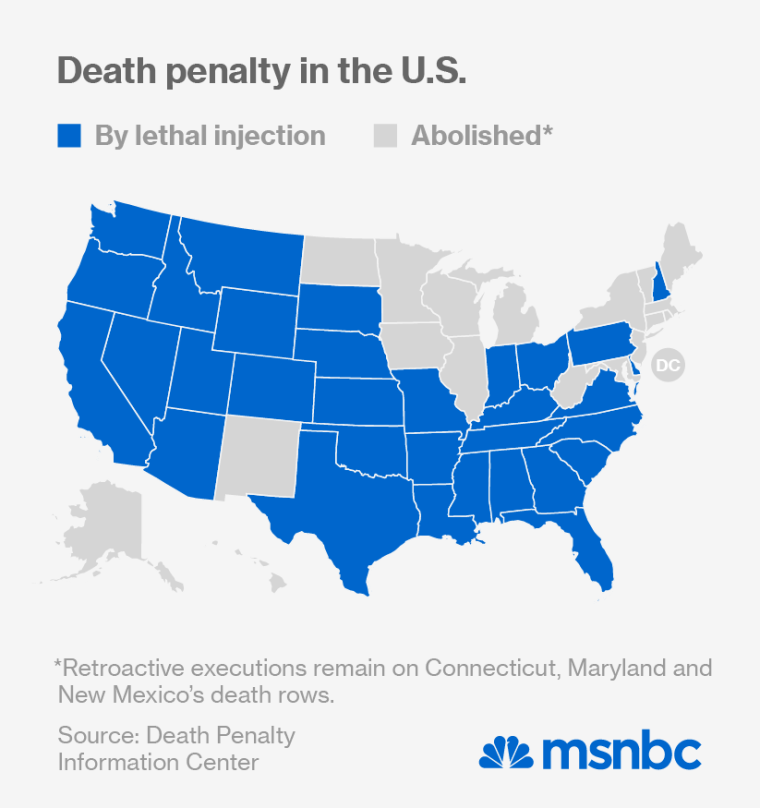 The United States is one of 40 countries in the world that still employs capital punishment. More than two-thirds — or 141 countries — have abolished the death penalty, according to Amnesty International. Annual death sentences have dropped significantly since 2000, when about 150 executions were administered. There were 39 executions in 2013, a 10% decline from 2012 when there were 43 deaths from lethal injections.
In 2002, the U.S. Supreme Court ruled that executing people with mental disabilities violates their Eighth Amendment rights against "cruel and unusual punishments," yet justices left the door open for states to define who qualifies as mentally disabled. The standard remains that the death penalty is constitutional if it imposes on individuals no more pain than is necessary. The justices ruled in Panetti v. Quarterman in 2007 that an inmate must have "rational understanding" of the state's reasons for execution.
There are currently at least 270 offenders on death row in Texas. If Panetti is executed this week, he will become the 519th person to die by lethal injection since the state adopted the procedure in 1982.
RELATED: Texas executes second woman this year
Officials in the 32 states that enforce the death penalty have scrambled recently to find new suppliers of lethal injection drugs after several pharmaceutical companies stopped carrying the medication because of criticism based on ethical concerns. In some cases, authorities have executed prisoners hastily with drugs — often obtained in secrecy — never before used for the purpose.
Questions about why and how the United States implements the death penalty have arisen following several high-profile executions earlier this year. Most states use a standard three-drug cocktail. But newer concoctions have proven to have troublesome effects on the offenders. In Ohio, for instance, a shortage of Pentobarbital forced the state to use a new combination of drugs. But then it took the inmate more than 26 minutes to die.
Earlier this year in April, Clayton Lockett and Charles Warner were scheduled to be executed with previously untested drugs two hours apart from one another at the state penitentiary in Oklahoma. Lockett, the first to die, suffered a heart attack after officials injected him with a lethal drug. As the drug was being administered, Lockett reportedly shook uncontrollably and gritted his teeth before the eventual failure of his vein. After the botched execution, Oklahoma's attorney general agreed to a stay of execution for Warner, issued until Jan. 15, 2015.
Perry previously defended the use of capital punishment and lethal injection, saying he was unsure whether the botched execution in Oklahoma fell short of proper human rights practices.