WASHINGTON -- Donald Trump earned a rare rebuke from a conservative audience on Friday after criticizing Sen. Marco Rubio, who as emerged as his prime sparring partner in recent days.  
Speaking to a social conservative crowd at the Values Voters Summit, where Rubio spoke earlier in the day, Trump was met with a wave of boos after calling his Republican rival a "clown" in his speech.
"You have this clown, Marco Rubio ..."'
"You have this clown, Marco Rubio," Trump said, prompting the jeers. Trump continued with his attack, however, laying into Rubio's role co-authoring an immigration bill that would have granted a path to citizenship for undocumented immigrants and then abandoning it.
"[He's] weak on immigration, nobody's weaker," Trump said. While Rubio had "changed his tone" since then, Trump added that "you never really change your tone, remember that."
Asked about the boos, a visibly irritated Donald Trump told NBC News outside the Values Voters event, "those weren't boos, they were cheers." Pressed again, Trump elaborated: "They were boos for you!"
While the audience loudly disapproved of Trump's Rubio bashing, they didn't turn on him completely. He earned occasional applause and laughs in the rest of this speech.
RELATED: Inside Trump's feud with Rubio
Trump got in more digs at Rubio while talking to the press before his speech, saying the senator was not "qualified" and criticizing him for missing more votes in the Senate than any other member this year.
The speech wasn't the only moment that called Trump's standing with the mostly evangelical crowd into question. Louisiana Gov. Bobby Jindal earned applause later in the day when he called Trump a "narcissist" in an extended critique of the GOP front-runner.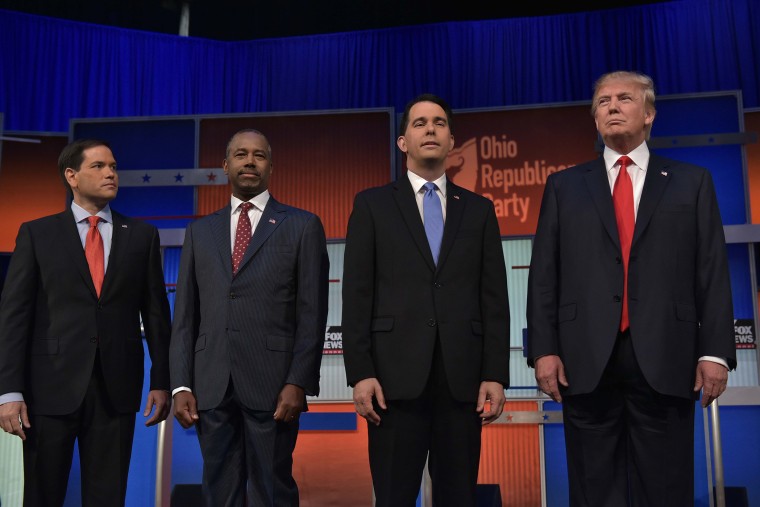 "Folks, he hasn't read the Bible," Jindal said. "You know he hasn't read the Bible, because his name's not in the Bible."
Rubio and Trump have gone at it throughout the week after largely avoiding confrontation earlier in the campaign. On Thursday, Rubio delivered an uncharacteristically harsh broadside against Trump in an appearance on Kentucky Sports Radio.
"He's not well-informed on the issues," Rubio said in that interview. "He really never talks about issues and can't have more than a 10-second soundbite on any key issue. And I think he's kind of been exposed a little bit over the last seven days, and he's a very touchy and insecure guy and so that's how he reacts, and people can see through it."
"He's a baby," Trump later shot back, criticizing the Florida senator as inexperienced and "obviously not a very hard worker." 
Rubio, for his part, earned a strong reception in his own speech on Friday, including a standing ovation when he broke the news to the crowd that Speaker John Boehner would resign. Trump, Rubio, Sen. Ted Cruz, and other speakers at the event all hailed the move. 
"The time has come to turn the page and allow a new generation of leadership," Rubio told the audience to applause. 
Additional reporting by Jane Timm and Katy Tur.