Republican Sen. James Inhofe, the ranking member of the Senate Armed Services Committee, has given the final stamp of congressional approval to a $750 million transfer from Department of Defense war funds to the fight against Ebola in West Africa.
The House Armed Services Committee and Appropriations subcommittee on Defense lifted their hold Thursday, leaving just Inhofe as the funding's final impediment. Citing lingering concerns about the safety of U.S. troops in West Africa and the mission's overall strategy, the Oklahoma lawmaker relented on Friday.
"After careful consideration, I believe that the outbreak has reached a point that the only organization in the world able to provide the capabilities and speed necessary to respond to this crisis is the U.S. military,'' Inhofe said in a statement. "But because of the failure of the Obama Administration to responsibly and strategically plan in advance for how the U.S. will be involved in West Africa, it will be difficult for me to support any further last-minute funding requests using military resources. That is why I have insisted another more appropriate funding source be identified for operations beyond six months.''
The U.S. is sending up to 4,000 military personnel to West Africa, where the current Ebola epidemic has claimed the lives of more than 3,800 people -- mainly in Guinea, Liberia, and Sierra Leone -- according to the World Health Organization. Thousands more are at risk worldwide. Speaking at a London event Thursday for the Royal United Services Institute, Dr. Marc Sprenger, director of the European Centre for Disease Prevention and Control, predicted that by January 2015, there will be between 500,000 and 1.5 million cases of Ebola globally.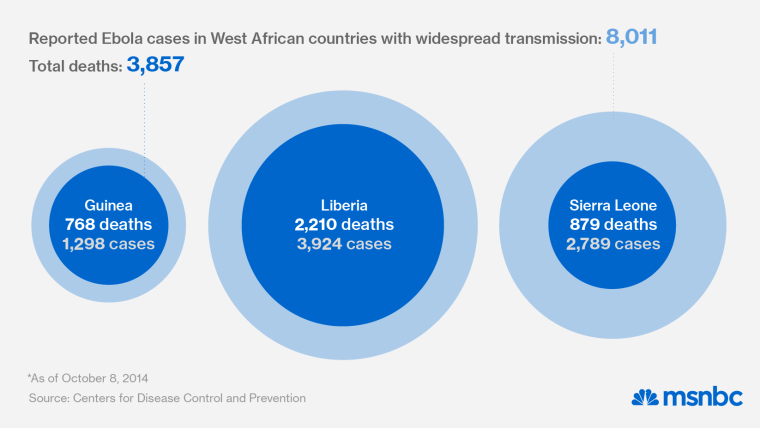 Earlier this week, a Liberian man passed away from Ebola while receiving treatment at the Texas Health Presbyterian Hospital in Dallas. He was the first person diagnosed with the deadly disease on American soil. No other Ebola diagnoses have since been made in the U.S. But in Spain, hospital officials have said that the condition of a nurse who become the first person to contract Ebola outside of West Africa has worsened. And in the United Kingdom, people are reeling from the news that a British man perished while on a business trip to Macedonia after presenting symptoms consistent with the disease. Sampling has been sent to Germany to confirm the cause of death.
Both the U.S. and U.K. have imposed new screening procedures at high-traffic airports. In the U.S., those include New York's JFK International Airport, Washington-Dulles, Newark, Chicago-O'Hare, and Atlanta. There, travelers from West Africa will have to fill out a questionnaire and have their temperatures taken. On Friday, U.S. Sen. John Cornyn and U.S. Rep. Michael McCaul formally requested that the Dallas-Fort Worth International Airport (DFW) and Houston George Bush Intercontinental Airport (IAH) be subjected to enhanced screening as well.
"As you may know, Texas is home to both Houston George Bush Intercontinental Airport (IAH) and Dallas-Fort Worth International Airport (DFW) where a combined 15.6 million international passengers visited in 2013," Sen. Cornyn and Rep. McCaul wrote to the U.S. Customs and Border Protection Commissioner R. Gil Kerlikowske. "Because those traveling from Guinea, Sierra Leone, and Liberia can transit to the United States from many other countries, we have concerns that the current decision to screen only at five airports may not adequately protect Americans and others traveling to America from the Ebola virus."
Despite calls to halt all travel from nations experiencing Ebola, health officials have insisted that the risk to American lives cannot be eliminated until the epidemic is controlled in West Africa. As part of that effort, the Pentagon has requested to transfer $1 billion from war funds to its Overseas Humanitarian, Disaster and Civic Aid account. The United Nations has also appealed for $1 billion in aid, but said on Friday that its target was so far only 25% funded.