Update: University of Missouri President Tim Wolfe has resigned. "It's the right thing to do," he said during a press conference on Monday morning. "Use my resignation to heal." 
Graduate students called for a walkout on Monday as protests demanding the University of Missouri president's ouster over racial insensitivity gained steam.
Black student groups all semester have criticized President Tim Wolfe's handling of racism on campus. A black graduate student went on hunger strike last week to draw awareness to the issue and black football players joined the movementover the weekend, backed by their coach.
RELATED: University of Missouri President Tim Wolfe resigns amid racial unrest
The protests have been percolating for months on Missouri's predominantly white campus, where students have complained of racial slurs and harassment.
Wolfe became the target of protesters' ire for allegedly failing to address the issues — and appearing to dismiss activists at the school's October homecoming parade by driving away.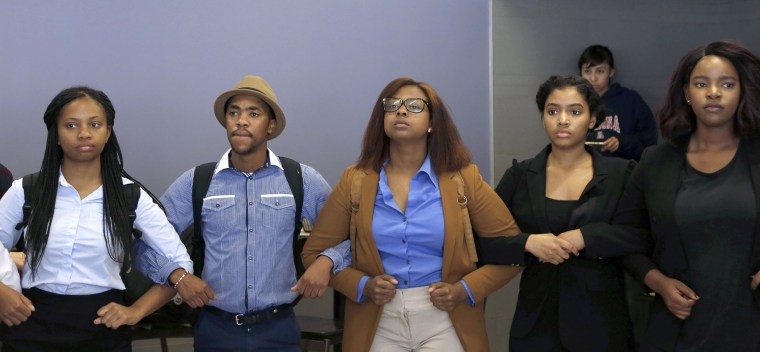 Wolfe's refusal to step down — saying in a statement Sunday he was "dedicated to ongoing dialogue — prompted two "outraged" graduate student organizations to call for a walk out to "stand in solidarity against systematic inequality."
"This step has not been taken lightly. We have chosen to do so because we believe an injury to any member of the campus community is an injury to all," the Sterling Committee of the Forum on Graduate Rights and Coalition of Graduate Workers said in a statement shared online.
The University of Missouri's Graduate Professional Council quickly backed the walkout, urging students to participate in protests and solidarity events.
Missouri's history department also expressed support, saying that students who walk out won't be sanctioned.
"The department of history understands the way in which institutionalized racism and other forms of social oppression have shaped and affected our society," it said in a statement. "We therefore support our students' efforts to address these problems."
The walkout comes as the university system's Board of Curators was due to hold a special meeting Monday on the Columbia, Missouri, campus.
Democratic Sen. Claire McCaskill, an alumna of the school, said she thinks "it is essential" that the Board of Curators sends a "clear message" to students underscoring an "unqualified commitment to address racism on campus."
Missouri's Attorney General encouraged the "immediate formation" of a task force to address issues raised by "Concerned Student 1950" — the activist group leading protests whose name pays homage to the year Missouri first admitted black students.
Graduate student Jonathan Butler launched a hunger strike last week to protest Wolfe's presidency, and in doing so became a public face of the outcry.
His protest got a boost from the decision by African American athletes to boycott games until Wolfe no longer leads the university — a move which drew backing from their white teammates along with Coach Gary Pinkel and prompted the cancellation of football practice.
"Our focus right now is on the health of Jonathan Butler, the concerns of our student-athletes and working with our community to address this serious issue," Pinkel said in a statement. "After meeting with the team this morning, it is clear they do not plan to return to practice until Jonathan resumes eating."
Members of Concerned Student 1950 have been conducting a sit-in on a campus plaza since last Monday, according to The Associated Press.
On Sunday night, NBC affiliate KSDK reported that members of the football team visited encamped protesters on campus. Dozens of faculty and grad students also came to show support.
On Monday morning, Michael Sam took to Twitter to support #ConcernedStudent1950. 
This story originally appeared on NBCNews.com