Nowhere is the demographic gap between the two leading Democratic presidential candidates more visible and more extreme than in South Carolina, where both are heading Friday for a jam-packed weekend of events aimed at appealing to African-Americans, anchored by a forum Friday night sponsored by the South Carolina Democratic Party and MSNBC.
The state plays a key role in the nominating process as the first contest in the South, as well as the first contest to feature a large number of African-American voters -- the most steadfast Democratic Party constituency.
Front-runner Hillary Clinton is currently swamping challenger Bernie Sanders in South Carolina, 71% to 15%, thanks to her large advantage among nonwhite voters, according to a new poll from Winthrop University, which will host Friday's forum. Among black voters, who make up a majority of the Democratic primary electorate in South Carolina, Clinton's support climbs to 80%, while Sanders' falls to just 8%, with 10% undecided.
"If the elections were held today, just among the African-American vote, we would lose," Sanders acknowledged bluntly in an interview with NPR Thursday. "But I think we have a real path to winning the support of the African-American community."
The senator, who has only ever won elections in 95% white Vermont, pointed to the fact that he is still largely unknown among black voters and touted what he called "one of the strongest records of any member [of Congress] in terms of civil rights."
"If the elections were held today, just among the African-American vote, we would lose."'
Clinton's campaign, meanwhile, is pointing to the progress the former secretary of state has already made in shoring up black support. In a memo on "The Importance of the African American Vote," sent to allies ahead of the South Carolina trip, Clinton's campaign notes that some recent polls shows her with a 50-plus point advantage over Sanders among African-Americans nationally.
"We are in a strong position to be successful," the memo states, claiming the campaign has already contacted 142,500 voters and held 1,100 organizing events in South Carolina alone.
It's ironic that a state where then-Sen. Barack Obama more than doubled Clinton's vote share in 2008, and a place where she and her husband were accused of making racially insensitive comments, could now be her ace in the hole. But without an African-American candidate in the race, Clinton is the clear favorite among black voters. And their portion of the Democratic electorate in South Carolina in is likely to be even larger in 2016 than it was in 2008.
RELATED: 'Black Lives Matter' protesters heckle Hillary
"Hillary Clinton's core agenda is an agenda for black America," said Maya Harris, a senior policy adviser to Clinton in an interview, saying her economic message should resonate especially with black voters.
Despite her huge lead, advisers insist they are not assuming they have the black vote in the bag. "The strategy is to go out and earn everyone's vote," said Marlon Marshall, who is the campaign's lead strategist for the early states. "We need to mobilize voters in South Carolina and take nothing for granted."
Clinton's campaign is pursuing two tracks in reaching African-Americans. The first is to offer a list of policies that position Clinton as a strong progressive on issues of race. She has proposed reducing prisons sentences for nonviolent drug crimes, requiring most police officers to wear body cameras, limiting the use of privately-operated prisons, and making it much easier to register to vote. She has called for a "new New Deal for communities of color."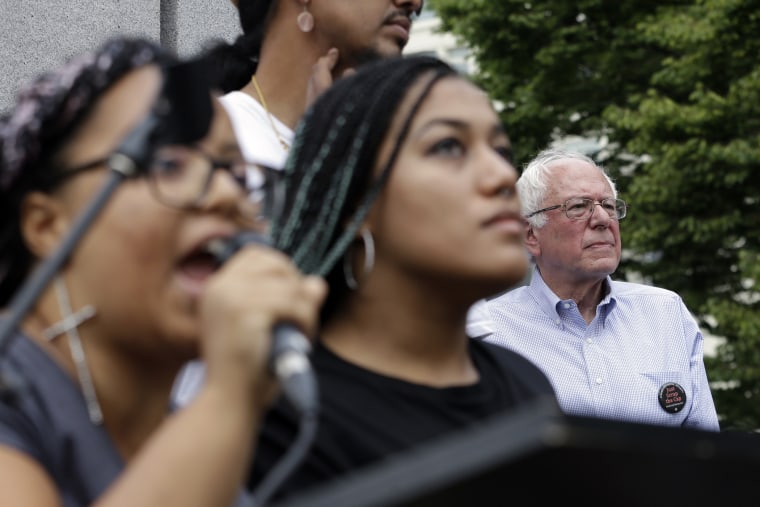 Her positions on race have put Clinton to the left of the Obama administration and eliminated space for Sanders to appear more liberal than Clinton on these issues. 
The second track, which is reinforced by Clinton's policy plans, is to build deep support among key black activists, who can then help build enthusiasm among rank and file black voters.
Clinton has already held more than a dozen events aimed at African-American audiences, according to her campaign, and locked down endorsements from 33 members of the Congressional Black Caucus and 50 black mayors. And the memo sent to surrogates Wednesday highlights a string of black celebrities in her camp, including musicians Pharrell Williams, Common and Usher, whom the campaign says may campaign on her behalf.
At the same time, Clinton has also appealed to the new core of activists that have emerged over the last two years. She has met privately with parents of black children who were killed by police and solicited policy ideas from the core activists in the "Black Lives Matter" movement.
RELATED: Clinton meets with families of black people killed by police
Sanders' South Carolina team acknowledges they have a lot of catching up to do. Still, they say they're off to a strong start, with 15,000 volunteer signups, 30 full time staffers and four field offices in the state, including one they opened just last week.
On Saturday, Sanders will announce his South Carolina leadership team at a press conference in Columbia, which will include about 20 prominent activists and officials, his campaign said. And they note 1,000 women recently started a Women for Bernie chapter in the state, according to the campaign.
"We're just getting started," said Sanders' state director Chris Covert, noting that Hillary and Bill Clinton have been campaigning in South Carolina for decades. He pointed to the relatively large number of undecided and soft Clinton supporters in recent polls as possible pickup opportunities. Television advertising would be "coming very soon," Covert added, which will help introduce Sanders to voters who don't yet know him.
Since he was interrupted by Black Lives Matters protesters in July, Sanders has made communicating with people of color a priority, and is often introduced at rallies by a person of color.
Still, Sanders' strategy in South Carolina likely depends on winning earlier contests in Iowa or New Hampshire to build momentum heading into the Palmetto State's primary.
And shortly thereafter, the contests will head into March, which features a string of southern states with large black populations. According to the University of Virginia, almost three-quarters of the delegates at stake on "Super Tuesday" March 1 will come from states where at least one in five voters is not white.