When President Barack Obama addresses an Arctic leadership summit in Alaska later this month, he might spot something unexpected outside his window.
Across the street from his venue in Anchorage's Town Square Park, the president who has done more than any world leader to avert catastrophic climate change won't see a cheering crowd. Instead, he'll be the subject of an angry rally — accusing him of not doing nearly enough.
The protesters, organized by Greenpeace USA and Rising Tide North America, among other organizations, tell msnbc that they hope to shame the president into revoking Shell's permit to drill for oil in the region. But the event is also bigger and broader than one man and one company. It's the start of a radical autumn, a months-long campaign of escalation that's more muscular and sustained than anything we've seen.
RELATED: Islamic leaders join growing religious outcry over climate change
Annie Leonard, the director of Greenpeace USA, said there's no other choice. They've already tried a gentler strategy. For years, they hoped to win by writing letters, gathering names on petitions, and politely waving a few signs.
But as the science of climate change grew scarier, the world's leaders seemed to do nothing or next to nothing. Global carbon emissions are up more than 60% since activists started working on the issue in the 1990s. At present, the world is on pace for a temperature rise of more than 2 degrees Celsius, a bright line beyond which climate scientists say life as we know it could end.
"There is definitely a change in the urgency," Leonard told msnbc. "We have exhausted all these mechanisms, and so we really are mutually compelled to up the ante and physically stop the problem."
Rising Tide spells out its plan in even greater detail. On a new website, the group calls on activists to "flood, blockade, occupy and shut down the systems that jeopardize our future." And not just for a little while: "This is not another protest," they write, calling on followers to commit for a long haul.
"We're looking at several dozen cities, and you can expect to see thousands of people in the street," said Ahmed Gaya, a member of Rising Tide's Seattle chapter and a chief organizer for all the planned mobilizations west of the Mississippi.
Although devoutly nonviolent and officially independent from one another, protesters from both Greenpeace and Rising Tide said they expect the months ahead to be defined by much more than bull horns and bandannas. Their goal is to stop the money and machinery of the fossil fuel industry with their own bodies. Both groups have already done it before.
RELATED: Obama's Climate Action Plan is under fire from all sides
Just last month they succeeded in blockading the mouth of Portland's Willamette River. Some activists hung in hammock-like pouches, dangling from a 408-foot bridge. Others slipped into kayaks, swarming the waters below. And the effort worked: They actually delayed by a day Shell's launch of a ship it needed to begin advanced drilling.
But direct action has defined both groups for years. Earlier in the spring, thousands of Greenpeace and Rising Tide protesters turned out in Seattle, waving "Shell No" flags at the entrance to the company's terminal.
In 2014, the founders of Rising Tide's New York chapter helped clog the arteries of downtown New York to protest the role of big banks in climate change. The event, dubbed "Flood Wall Street," went on for 11-hours and included an estimated 3,000 people. The climax of the event arguably was when a giant inflatable ball popped on the horns of Wall Street's iconic bull statue.
That same year, dozens of Greenpeace activists, determined to try to stop a Russian company from drilling in the Arctic, seized an oil platform in a Spanish port. They chained themselves to support beams of the rig and unfurled a banner reading "Save the Arctic!" About 30 of them were arrested, and charged with piracy.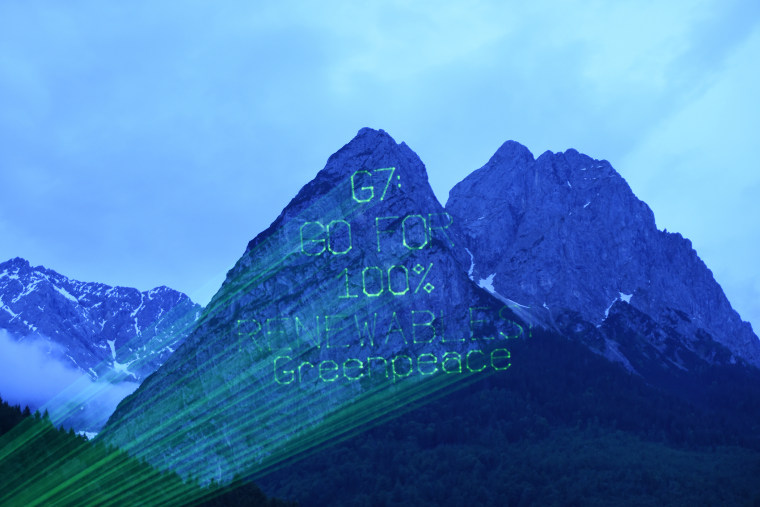 They said that such aggression is necessary, because the threat of climate change is itself aggressive. This is an environmental movement that isn't primarily concerned with polar bears and caribous anymore. This is about the survival of the planet.
The activist and author Bill McKibben established that framework a couple years ago. In the middle of the hottest summer in American history, he wrote an essay that got tens of thousands of social media shares. Published by Rolling Stone, the piece laid out "global warming's terrifying new math."
The key point, noted McKibben, is that we've already identified burnable fossil fuel with five times enough carbon to kill off civilization. A research letter published earlier this year in the journal Nature brought the same point home. Under the headline "unburnable carbon," the researchers itemized all the fossil fuel reserves we have to leave in the ground if we hope to survive.
To date, however, no major political leaders or business people have acknowledged this math, even as it's ratified by scientific consensus. That's why protesters are swinging harder and aiming bigger. They'll chain themselves to the gates of refineries, lay down in front of the oil trains, and deploy flash mobs to shut down the symbols of fossil-fuel driven growth. 
RELATED: Shell Oil faces long odds with Arctic drilling
Many of them call the movement "blockadia," a term that first emerged in a Rising Tide-led protest in the spring and summer of 2012. As contractors built the southern leg of the Keystone XL oil pipeline, people climbed trees along the path of the project and lived there for 85 days.
That's how Blockadia — aka "the fossil fuel resistance movement" — was born. But it's been popularized by the author Naomi Klein, whose book "This Changes Everything" has become a kind of bible for many front-liners. It argues that climate change can't be beat with new light bulbs or electric cars. And it can't be beat by political deals that inevitably defer to the interests of business.
"Our economic system and our planetary system are at war," she writes. The only hope, she concludes, is a radical push for economic and political change. It's a push that seems to have begun.
"This really is the determining decade," said Leonard. "Are we going to figure out how to live on this planet in a sustainable way or are we going to go down in flames?"